Fan Runs Onto Field at Dodger Stadium, Ball Girl Tosses Him Into The Stands
A crosstown baseball battle in the City of Angels turned into a viral moment for a ball girl Sunday afternoon. During the afternoon tilt between the Los Angeles Angels at the Dodgers, a fan ran onto the field at Dodger Stadium and did a pretty good job at evading multiple security personnel who tried to detain him.
As he neared the stands, though, he couldn't get past the ball girl. The fan tried rushing past the ball girl, who picked up the footloose fan and tossed him over the wall and onto the concrete, just in front of a row of seats. It looked like a scene from professional wrestling.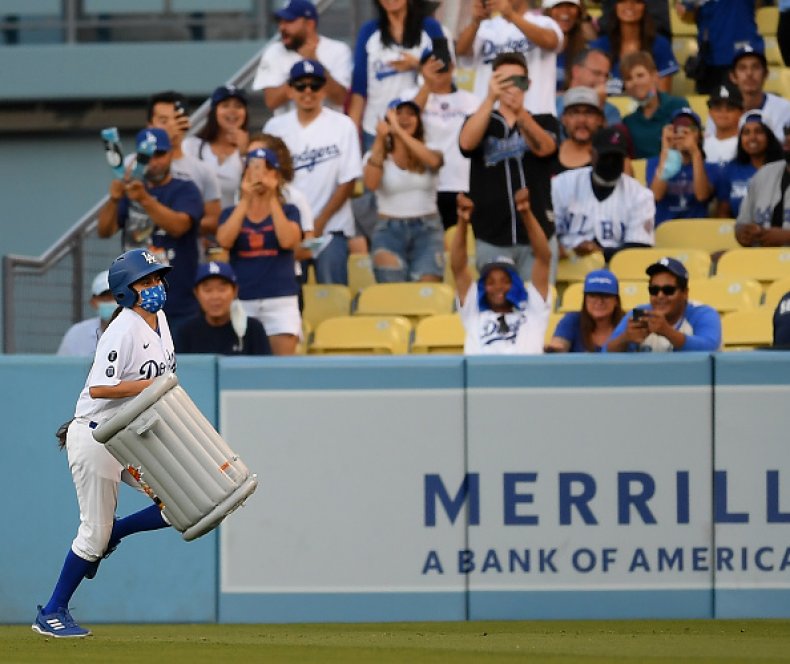 The ball girl nonchalantly walked away while the on-field security hurdled the wall to finally get the fan into their custody.
Here's the video that's just making its way onto the worldwide web.
It looked like a full house at Dodger Stadium on Sunday, and the Dodgers of the National League led the Angels, 8-2, in the bottom of the eighth—about an inning or so after the on-field shenanigans at the Freeway Series finale.
There's no official word on the person who ran onto the field, whether he was injured or will be further detained or banned from the ballpark. It's also unclear if he was a Dodgers fan or not.
Every Major League Baseball team has ball boys or ball girls down each outfield line to help corral foul balls so the game can keep flowing. The ball boys and girls, whose ages range from young teens to young adults, usually toss foul balls to fans along the stands, not people. It's unsure if this was in the Dodger ball girl's contract.
At a recent home series against the Houston Astros, the bat girls and ball girls had to pick up debris thrown onto the field, like inflatable trash cans. Why trash cans? During the 2017 season that culminated with the Astros beating the Dodgers in the World Series, the Astros were found guilty of using trash cans to signal pitches to their hitters. The signals were illegally gathered from the outfield and sent to the dugout, where the trash cans were banged on.
The Dodgers are currently in second place in the NL West, four-and-a-half games behind divisional leader San Francisco Giants. The Angels are in third place in the AL West, nearly eight full games behind the Astros.
The Dodgers are the defending World Series champions after knocking off the Tampa Bay Rays last fall, winning their first Fall Classic since the 1988 season.