'The Masked Singer' Fans Think They Know Who Is Hiding Behind the Taco, Frog, and Banana
Five singers are left in Group B on The Masked Singer after a shocking celebrity reveal last Wednesday night. In the first round for the group, Elephant was eliminated. When the mask was taken off, professional skater Tony Hawk was revealed.
While judges were in the pro athlete ballpark with their guesses, none were correct. Twitter comments pointed to Hawk almost immediately. In addition, viewers formulated a series of intriguing guesses for who could be under each mask.
In the show's three-season history, online conversations have been central to the show's formula, and have successfully identified more than a handful of the celebrity singers correctly. By Season 2's finale, which crowned Wayne Brady as the winner, online comments pointed to correct identities for all singers.
So far, the Season 3 guesses seem strong. Here are some of the best fan ideas for Group B, all of which will take the stage again on Wednesday night.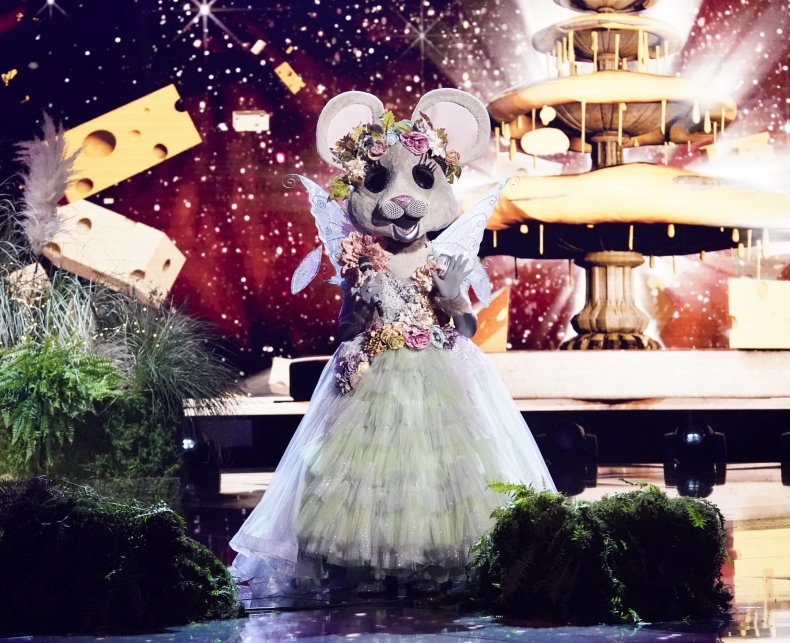 Mouse
This season, fans seem sure of one thing: Mouse's identity. Though there were rumors that Paris Hilton was under the mask ahead of the show's premiere, that theory was quickly debunked by viewers in agreement on a new celebrity.
Online conversations joyfully point to Dionne Warwick as the celebrity under the mask.
Taco
Taco impressed with stunning vocals in their first performance. Though their clues claimed they've been a household name in the entertainment world for decades, fans were torn on who could be under the mask. Tim Allen was a name that appeared in many guesses, as was Tom Bergeron.
Many admitted trying to identify Taco was difficult, and claimed Group B is harder to guess than Group A, which has been whittled down to just three remaining contestants.
Banana
Not as many online voices contributed to the possible identity of Banana, but those who did speak seemed certain. The country-twanged party mask was named as Bret Michaels.
A few other celebrities were named, like Bradley Cooper and Darius Rucker.
Kitty
Online comments couldn't come to a consensus on Kitty. Guesses were all over the map and included giant Hollywood names like Emma Watson and Keira Knightley. Others, however, pointed to a former Nickelodeon star: Elizabeth Gillies.
The clue package would make sense for Gillies, as it said Kitty is still known by someone they used to be. This could point to being locked into a child role on the station, though Gillies is grown up now.
Frog
Fans seemed to come to a general, immediate consensus that Frog could be a famous rapper. During his first song on the Masked Singer stage, fans claimed Bow Wow was under the dapper looking mask. Both judges and fans claimed the vocals from Frog sound incredibly familiar, though many viewers couldn't name how they knew the voice.