FanDuel Massachusetts: Final Days of $100 Pre-Launch Bonus Bets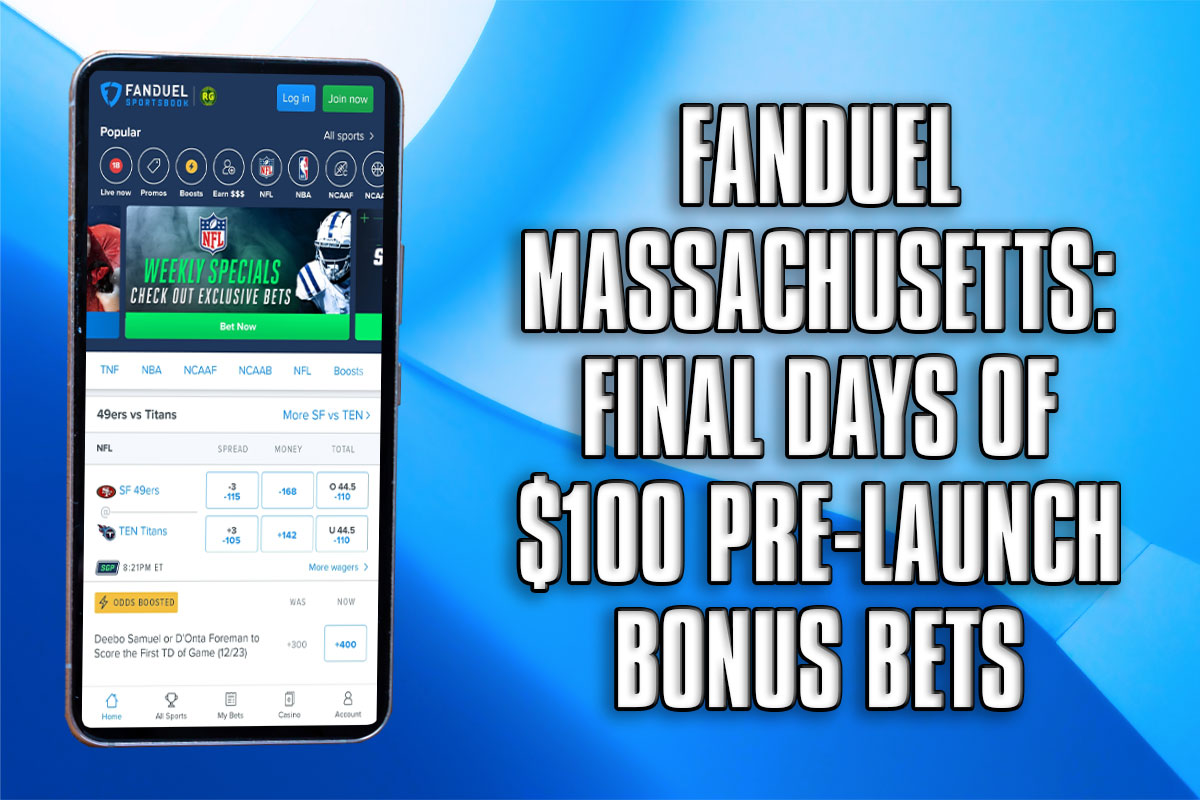 Sports Betting Dime provides exclusive sports betting commercial content to Newsweek, including real-time odds, picks, analysis and premier sportsbook offers to help sports fans get in on the action. Please wager responsibly.
Massachusetts is set to go live with online sports betting this week and FanDuel Massachusetts has a limited-time offer available to all prospective bettors. Pre-register for an account today to secure a $100 return in bonus bets.
FanDuel Massachusetts is offering players a pre-registration bonus, as well as the chance to get a new user promo at launch. Once sports betting goes live on Friday, you will be able to use your $100 pre-launch bonus bets.
It's critical to note that Massachusetts online sports betting is set to go live on March 10. On that day, the state will give online sports betting operators the clearance to launch. Once that happens, this pre-registration offer will no longer be available to sign up for.
Sign up early with FanDuel Massachusetts for $100 in bonus bets, plus the chance to get a new user promo this week.
FanDuel Massachusetts Offers $100 Bonus Bets Ahead of Launch
Sports bettors looking for a sizable pre-launch promo with a three-figure bonus need look no further than FanDuel MA Sportsbook. That's because FanDuel will give all pre-registrations $100 in bonus bets to use on a variety of betting markets in multiple sports leagues once the app launches.
Another thing to note about this offer is that it allows bettors to maintain their eligibility for a new user promo. The reason that's important to highlight is that the same cannot be said for some other offers on the market.
How to Sign Up Early With FanDuel Massachusetts
As bettors prepare for the launch of MA online sports betting, a number of sportsbooks are offering pre-registration offers. If you're interested in this $100 bonus bet offer from FanDuel Sportsbook, you'll need to complete the steps below:
Sign up

with FanDuel Massachusetts
Enter your full legal name, date of birth, residential address and phone number
Verify your location via a geolocation confirmation
Provide your email address and a password
After you finish pre-registering, FanDuel Sportsbook MA will add $100 in bonus bets to your account. When the app goes live, you'll then be able to grab a new user offer as well.
New User Promo Possibilities
There hasn't been a public confirmation as to which new user offer FanDuel Sportsbook will make available at launch in the Bay State. It's important to note, however, that the sportsbook has gone live in other states in recent months, including Kansas, Maryland and Ohio.
Given those launches, there's a chance that FanDuel Mass will go live with one of the offers they've brought out in other states. There's a chance that FanDuel will go live with a bet $5, win $150 bonus bets promo. This would pay out a 30x return in bonus bets. The other option is a $1,000 no-sweat first bet, which is currently available in all states where the app is live. A no-sweat first bet is incredibly valuable, because it gives new players two chances to earn their first win. If your first cash wager settles as a loss, FanDuel Massachusetts would return up to $1,000 in bonus bets to use on other games.
Lock-in a $100 return in bonus bets when you pre-register for an account with FanDuel Massachusetts.
Newsweek may earn an affiliate commission if you sign up through the links in this article. See the sportsbook operator's terms and conditions for important details. Sports betting operators have no influence over newsroom coverage. If you or a loved one has a gambling problem call the National Council on Problem Gambling 24/7 at 1-800-GAMBLER. Must be 21 or older to gamble.
21+ and present in Massachusetts. Gambling problem? Call 1-800-GAMBLER.