FanDuel Massachusetts: Grab Limited-Time $100 Bonus Bets Offer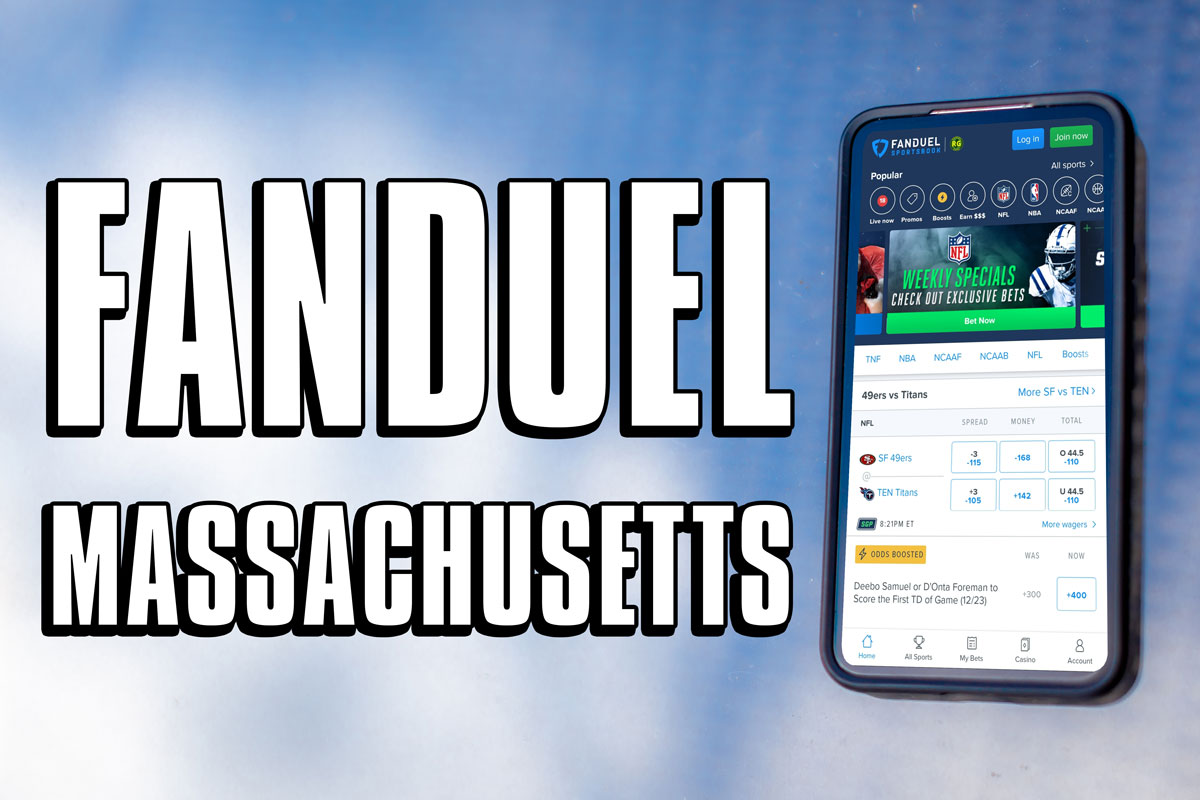 Sports Betting Dime provides exclusive sports betting commercial content to Newsweek, including real-time odds, picks, analysis and premier sportsbook offers to help sports fans get in on the action. Please wager responsibly.
The launch of FanDuel Massachusetts and online sports betting in the Bay State is expected to happen in the next few weeks. Ahead of FanDuel MA Sportsbook going live, you can sign up early for an account and lock-in $100 in bonus bets.
FanDuel Massachusetts is offering all prospective bettors who sign up early $100 in bonus bets. As soon as the app goes live, you can access these bonus bets, as well as a new user offer.
Boston sports teams are on an absolute roll. The Celtics have the best record in the NBA at 44-17, while the Bruins have racked up the most points in the NHL with 95. Players will be able to bet on these teams and more once FanDuel Massachusetts Sportsbook officially launches.
Pre-register with FanDuel Massachusetts and secure $100 in bonus bets to use once the app goes live.
FanDuel Massachusetts Continues Offering Limited-Time $100 Bonus Bets
The most important thing to note about this pre-launch offer from FanDuel Massachusetts is that it will only be available during the pre-registration period. That's critical to point out, as FanDuel Sportsbook will be offering a new user promo at launch. The moment that Massachusetts goes live with online sports betting, the pre-launch offer will no longer be available.
Any bettor who chooses to pre-register will benefit in two ways. The first is that pre-registering requires the personal information that a bettor would usually need to provide on launch day. As such, you can get that portion of signing up out of the way now so that you can start betting faster after launch. The second way bettors will benefit is that this pre-launch offer can be combined with a new user promo when the app goes live.
New User Offer Also Available
FanDuel MA Sportsbook hasn't publicly announced what their new user promo will be when the app goes live in the Bay State. However, FanDuel Sportsbook has launched in other states over the past few months, including Kansas, Maryland and Ohio. In each state, the offers have been pretty similar.
Bettors in states where FanDuel Sportsbook is currently live can get a $1,000 no-sweat first bet to use on any game or player prop. If the bet loses, FanDuel issues bonus bets for a player to use on another game. The other potential offer is something like a bet $5, win $150 bonus bets promo that would be eligible for use on any sports game.
How to Register With FanDuel Massachusetts
If you are in the Bay State and plan on betting on sports at some point, it's absolutely worth pre-registering with FanDuel Massachusetts. Follow our step-by-step instructions to secure $100 in bonus bets:
Pre-register

with FanDuel Sportsbook MA
Input your full legal name, residential address, date of birth and phone number
Accept a geolocation verification to confirm you are in Massachusetts
Enter an email address and password
FanDuel Mass will then credit your account with $100 in bonus bets. When the app launches, you'll be able to use the bonus bets on games in a variety of sports leagues.
Sign up with FanDuel Massachusetts for a $100 return in bonus bets when you pre-register for an account.
Newsweek may earn an affiliate commission if you sign up through the links in this article. See the sportsbook operator's terms and conditions for important details. Sports betting operators have no influence over newsroom coverage. If you or a loved one has a gambling problem call the National Council on Problem Gambling 24/7 at 1-800-GAMBLER. Must be 21 or older to gamble.
21+ and present in Massachusetts. Gambling problem? Call 1-800-GAMBLER.