FanDuel Massachusetts Sign-Up Offer Gives $100 Bonus Bets Before Launch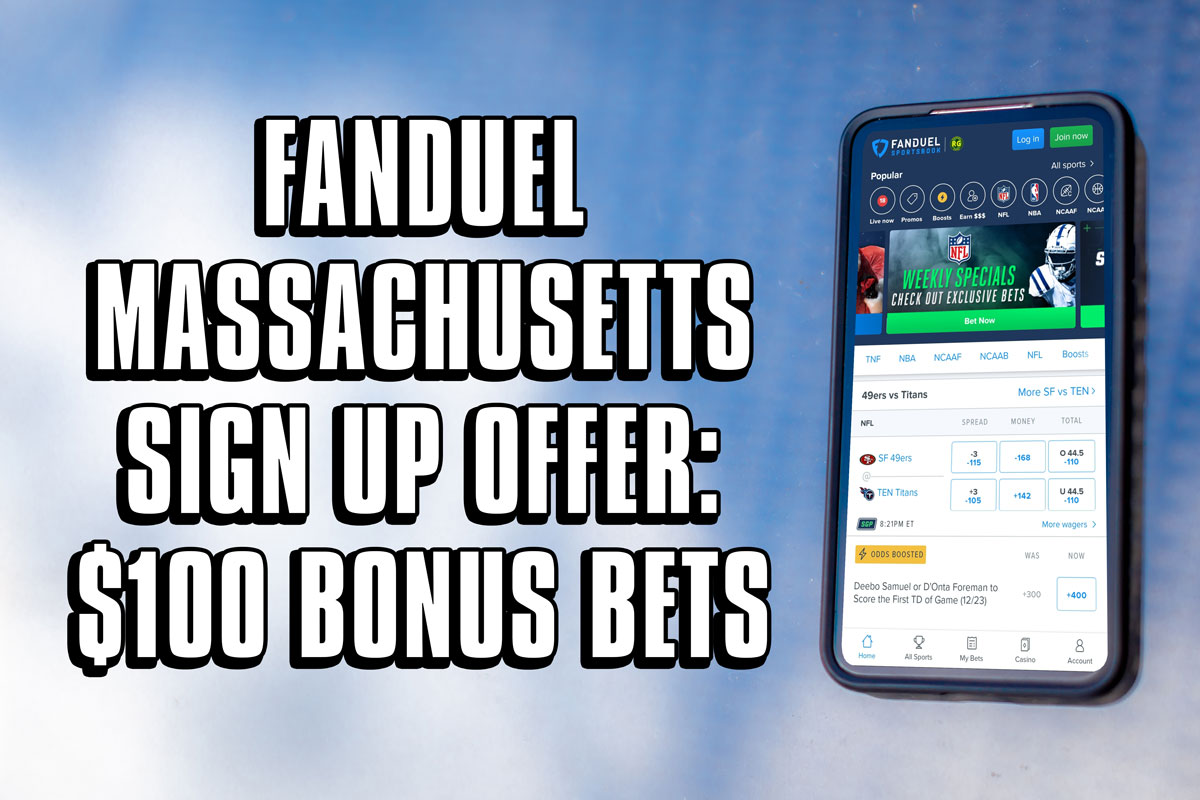 Sports Betting Dime provides exclusive sports betting commercial content to Newsweek, including real-time odds, picks, analysis and premier sportsbook offers to help sports fans get in on the action. Please wager responsibly.
The pre-registration window for sports betting is officially open, so take advantage of the latest FanDuel Massachusetts sign-up offer to enter launch day with a guaranteed $100 in bonus bets. Pre-register for an account to lock-in this return in bonus bets today.
Prospective Massachusetts bettors can lock in our FanDuel Massachusetts sign-up offer through the links within this post. Complete a brief pre-registration to earn $100 in bonus bets once FanDuel Sportsbook arrives in Massachusetts next month.
This spring, sports fans throughout the Bay State can place mobile wagers on FanDuel Sportsbook. The popular online betting site is expected to arrive in early- to mid-March, meaning new users are as close as a couple of weeks to legalized mobile sports betting on college hoops, the NBA, MLB and much more. In the meantime, eligible players can pre-register today to collect $100 in bonus bets before launch day.
Secure $100 in bonus bets after activating our FanDuel Massachusetts sign-up offer by signing up early.
Pre-Register for $100 in Bonus Bets With FanDuel Massachusetts Sign-Up Offer
Over the past several months, new FanDuel customers in states like Ohio, Maryland and Kansas have earned a pre-registration reward before their respective launch days. Now, it's Massachusetts' turn to grab bonus bets before FanDuel touches down in the Bay State.
Our offer lets interested players create a FanDuel Sportsbook account today, even if mobile betting isn't allowed until March. After taking a few minutes to complete pre-registration, open FanDuel on launch day to claim $100 in bonus bets. It really is that simple.
Best of all, pre-registration is not an alternative to FanDuel's TBD welcome offer. In other words, Massachusetts customers can score $100 in bonus bets today and still grab whatever welcome offer FanDuel unleashes in March, which should add more bonus bets to the mix and help grow your initial account balance for the spring.
Activating FanDuel Massachusetts Sign-Up Offer
Pre-registration is the only avenue for prospective Massachusetts players to land $100 in bonus bets on the house. Follow our step-by-step instructions below to successfully complete pre-registration before the offer expires for good:
Sign up early

via the FanDuel Massachusetts pre-registration page
Provide your name, date of birth, and other vital account information
Log into FanDuel on launch day (TBD date in March)
Finalize your account to receive $100 in bonus bets
Take part in FanDuel's Massachusetts-exclusive welcome offer
Our FanDuel Massachusetts sign-up offer is for Bay State customers only. Every eligible user must be within Massachusetts state lines to deposit and place bets on FanDuel Sportsbook.
NCAA Tournament, Opening Day Headline March Sports Calendar
Massachusetts sports fans are entering the legal wagering era at a fantastic time. FanDuel will have an incredible selection of odds and promotions tailored toward the many events on the upcoming sports calendar.
If FanDuel launches in the first half of March, Bay Staters can bet on the NCAA Tournament. Selection Sunday is March 12, with the First Four tipping off two days later and the Round of 64 two days after that.
While college basketball concludes, the MLB season returns. Opening Day is March 30, with the Red Sox hosting the Orioles at Fenway Park for game one of 162.
Pre-register with our FanDuel Massachusetts sign-up offer and earn $100 in bonus bets on launch day.
Newsweek may earn an affiliate commission if you sign up through the links in this article. See the sportsbook operator's terms and conditions for important details. Sports betting operators have no influence over newsroom coverage. If you or a loved one has a gambling problem call the National Council on Problem Gambling 24/7 at 1-800-GAMBLER. Must be 21 or older to gamble.
21+ and present in Massachusetts. Gambling problem? Call 1-800-GAMBLER.