Fulton County District Attorney Fani Willis was hit with an ominous sign by Judge Scott McAfee on Wednesday when he ruled that trials for former Donald Trump lawyers Kenneth Chesebro and Sidney Powell could be separated from the remaining 17 defendants.
Willis said she intended to try all 19 defendants charged under her anti-racketeering investigation into alleged criminal attempts to overturn the 2020 election in Georgia and said her office is prepared to begin proceedings as soon as October 23.
Chesebro and Powell, who were indicted along with the former president, moved to have their case severed so they can be tried separately from other defendants. All three have pleaded not guilty.
On Wednesday, McAfee ruled that separating the cases is "simply a procedural and logistical inevitability," also citing logistical concerns that the Fulton County Courthouse "simply contains no courtroom adequately large enough to hold all 19 defendants, their multiple attorneys and support staff, the sheriff's deputies, court personnel and the State's prosecutorial team."
Greg Bluestein, political reporter for The Atlanta Journal-Constitution and contributor for MSNBC and NBC News, took to X, formerly Twitter, on Thursday saying, "The ruling is a blow to Fulton County prosecutors who wanted to keep all 19 defendants together. In a court filing earlier this week, DA Fani Willis said trying defendants in multiple groups would create a 'logistical quagmire.'"
California attorney Neama Rahmani also posted to X saying, "Today's severance in Fulton County is not only a loss for DA Fani Willis, but Special Counsel Jack Smith has to be thinking why state prosecutors are giving Trump a preview of the witness testimony in the election fraud case. I'm liking Smith's surgical approach more and more. Willis' kitchen sink strategy won't work if defendants don't plead."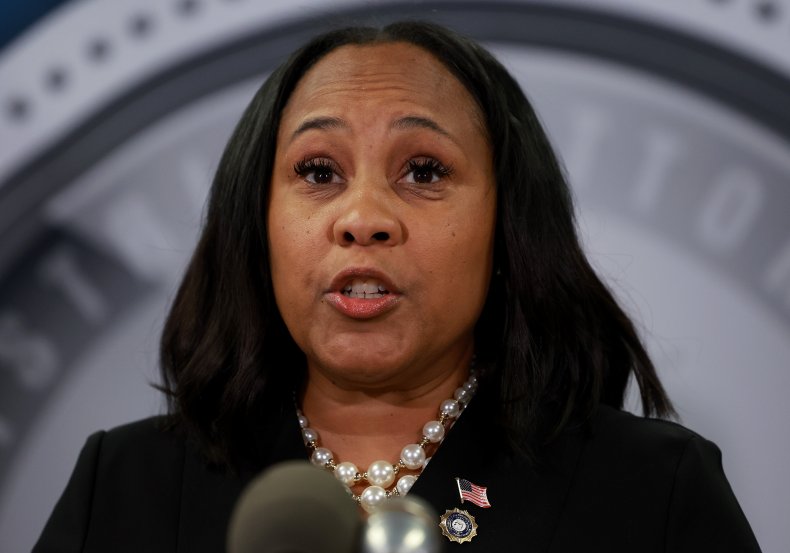 Meanwhile, Palm Beach County (Florida) State Attorney Dave Aronberg told Newsweek on Thursday, "I never thought it was realistic to have one trial for all 19 defendants, so Judge McAfee's ruling is no surprise. That's why I don't think this changes her strategy. The question is how many trials? The fewer, the better for DA Willis and her team."
Law professor Anthony Michael Kreis told Newsweek on Thursday that this isn't a blow to Willis because separating the cases has "always been a possibility." When asked if he thinks the ruling changes Willis' strategy, Kreis said, "Not at all."