Fans of '90 Day Fiancé' Shaken by Patrick's Sister's Black Eye
Sunday's episode of 90 Day Fiancé saw Patrick and his fiancėe, Thaís, visiting his home state of Massachusetts to see family—particularly Paula, Patrick's ailing mother, who can't make it to their Orlando, Florida, wedding. However, it was Patrick's older sister Tiffany, and her nasty-looking black eye, that got viewers talking.
"Soooo we really not gonna talk about Tiffany's eye," Twitter user @NettieNetta09 asked.
Despite her injury, Tiffany accompanied Thaís—who moved to the United States on a K-1 visa from Brazil to marry her boyfriend of nearly a year—to a wedding dress shop, where she confided her fears about seeing her divorced brother heartbroken again. Thaís' dad has not been shy about his disapproval of the marriage, recently asking his daughter to return to Brazil.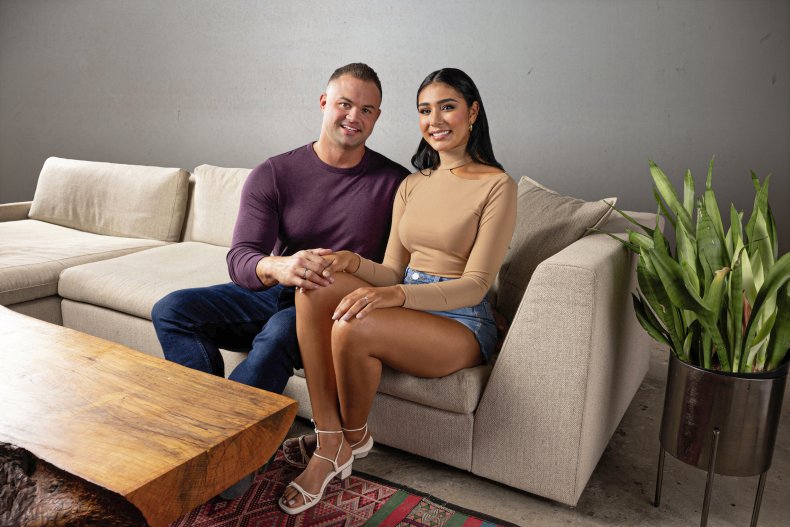 While fans of the reality show commented on the will-they-or-won't-they nature of the couple's relationship, others sounded genuinely concerned about Tiffany, especially given Patrick's past admissions of growing up in a dysfunctional home. Some Twitter users speculated Tiffany may have been the victim of domestic abuse, though there has been no evidence to support such claims.
"#90DayFiance producer asks Patrick's sister Tiffany how she got her black eye. She says she fell on the ice. 🚩 #RedFlag That is not what ice do. I can hardly watch; they need a #DomesticViolence trigger," tweeted user @chaurjacobson.
During the episode, a producer questioned Tiffany about the shiner, jokingly asking, "Are you a MMA fighter or something? How'd you get that black eye?"
Tiffany responded with a laugh, "I'm not a MMA fighter. I was on the ice, fell, hit my face, but it looks a lot better now." Talk of the injury ended there on the TLC reality show, but the discussion continued online.
"Nah we need to check to see if Patricks's sister really 'fell' on the skating rink," another fan tweeted, which prompted user @gloriagee29 to respond that it seemed like she may be "getting physically abused" because "that does not look like she fell on the ice."
Other people called Tiffany's explanation "extremely concerning" and expressed worry for her well-being.
"Okay seriously #90DayFiance producers, can you please follow up with Patrick's sister and see if she's okay?" user @wittle tweeted. "That's a very specific injury for an ice fall."
"Patrick's sister needs to get help. Nobody believes the ice story," @mnelson64 tweeted, who included a link to the National Domestic Violence Hotline.
Elsewhere in the episode, Tiffany and Paula discussed whether 25-year-old Thaís was mature enough to marry 31-year-old Patrick, and if she would eventually become too homesick for her native Brazil. Thaís also admitted she felt she had to marry Patrick in part because she didn't want to hurt Paula's feelings, especially given Paula's late-stage cancer diagnosis.
Newsweek reached out to TLC for comment.