Fans Call for Harry Styles to Boycott Pre-Super Bowl Event in Solidarity With Colin Kaepernick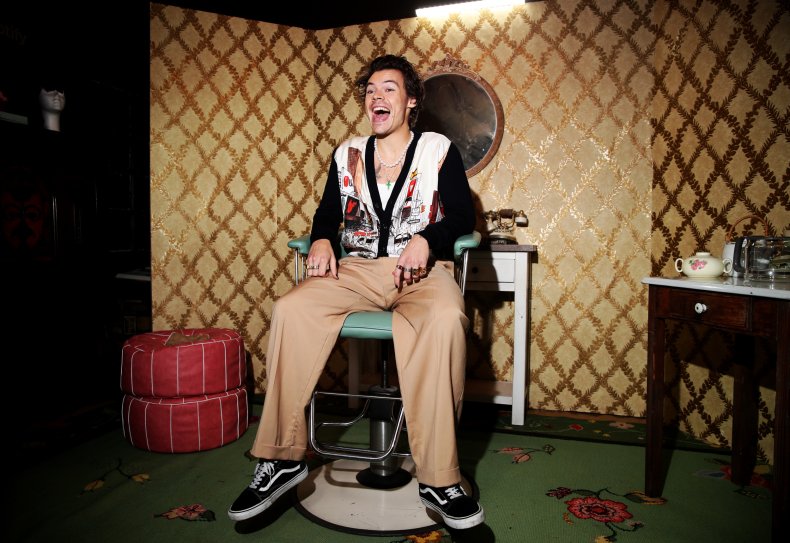 Singer Harry Styles will be the headline performer for the Pepsi Zero Sugar Super Bowl pre-party on January 31, but fans are urging him to back out of the performance.
Pepsi announced the performance on Thursday in a press release, which also included comments from Styles. "I'm excited to be playing the Pepsi Super Bowl party. I hear they're amazing and I'm looking forward to it. See you in Miami," Styles said.
Despite the announcement of Styles' performance, some fans have asked the singer to boycott the event due to the NFL's treatment of former quarterback Colin Kaepernick. Pepsi is a sponsor for the football league.
Kaepernick, who previously played for the San Francisco 49ers, made headlines for kneeling during the national anthem to protest police brutality against black Americans. Kaepernick has not appeared in an NFL game since 2016, shortly after he began his protest, and many feel that the NFL and team owners have conspired against him to keep him away from the league due to his protests and activism.
Fans have used Twitter to urge Styles not to perform, with many using the hashtag #harrybackout.
"even if contractually harry can't get out of performing he really needs to speak up about the matter and hopefully donate his earnings #harrybackout," wrote Twitter user Sunflower Shelbs.
"harry please do not stay silent on this. This means a lot to your black fans, including myself. Do better #harrybackout," wrote Twitter user Mel.
"let's not forget the nfl dropped kap after he was respectfully protesting police brutality but didn't do anything to Ben Roethlisberger and allowed him to play when he was accused of sexual assault TWICE. This is the type of organization that Harry is collecting a check from," Twitter user Katie wrote.
One Twitter user even brought up the controversial Pepsi ad featuring Kendall Jenner. In the ad, as protests occur, Jenner seems to resolve them by handing a can of Pepsi to a police officer and giving him a high-five. Many critics of the ad felt that Pepsi was trying to appropriate and profit off of images from the Black Lives Matters protests.
"are people forgetting Colin Kaepernick? Kendall's Pepsi ad? The sexual assault cases that are just swept under the rug in the nfl?? Just because an issue doesn't directly impact you doesn't mean you shouldn't care. STAND UP FOR OTHERS. #HARRYBACKOUT," Twitter user Danielle wrote.
Other celebrities have boycotted the Super Bowl since Kaepernick left the NFL. Last year, singer Rhianna was asked to perform the halftime show for Super Bowl LIII by the NFL and CBS, the network which broadcast the game, but according to US Weekly, she said no in support of Kaepernick.
Rapper Cardi B also turned down performing for the 2019 Super Bowl halftime show and told Good Morning America that the only way she would have said yes was "if they hired my friend [Kaepernick] back."