Fans, Current and Former NBA Players Urge League to Help Delonte West After Video Surfaces of Him in Handcuffs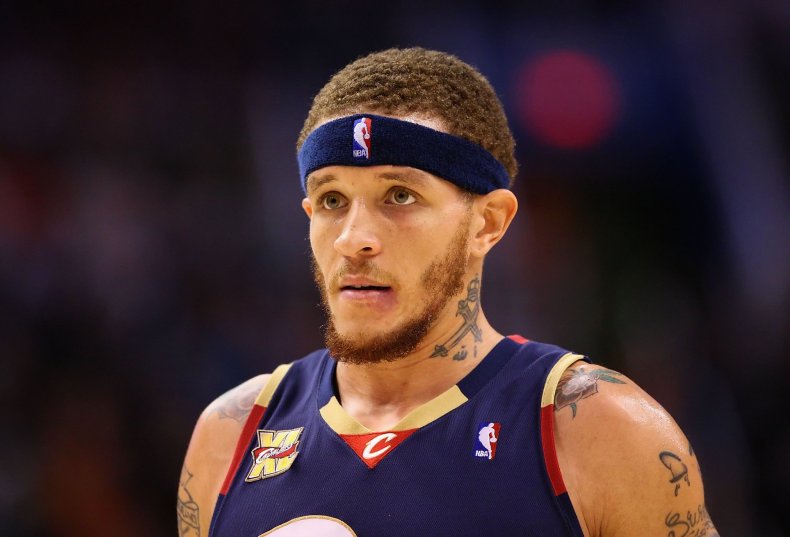 On Monday, videos surfaced on Twitter of former NBA guard Delonte West handcuffed and shirtless on the side of a street in Prince George County, Maryland, leading to a number of fans, as well as former and current players, to urge the NBA and NBA Players Association to help him.
According to the Prince George County Police Department, officers responded to a call of a fight between two men on Monday morning.
"The officers spoke to both men as well as an independent witness who was on the scene. That witness advised she saw both men fighting with one another. She told officers that she observed the handcuffed male first hit the other with a glass bottle and that man responded by striking the one who had thrown the bottle several times. A portion of the fight was recorded on a cell phone by a witness," the Prince George County Police department wrote in a statement.
While the department's statement does not name either of the suspects, West's former agent Aaron Goodwin confirmed to TMZ that West was the man in the video. He also told TMZ that West is currently recovering from the incident with his family members, but desperately needs medical attention. It is unclear what prompted the argument between West and the other man.
From 2004 to 2012, West played on a number of different NBA teams including the Boston Celtics, Dallas Mavericks and Cleveland Cavaliers, and averaged 9.7 points per game across his career. His final game in the NBA came in 2012 as a member of the Mavericks. Prior to the start of the season, he was suspended on two separate occasions after his involvement with arguments after two preseason losses. He was waived by the Mavericks on October 29, 2012, and went on to play in the NBA's D-League as well as international leagues in China. However, West has not played in an NBA game since 2012.
Jameer Nelson, one of West's former teammates, posted a tweet stating his support for West and that he hopes to help him in the near future. "I'm not sure what exactly is going on with DWest, but he knows I'm in his corner and will help him get through this," Nelson wrote on his Twitter account.
"I see a lot of dumb comments where folks making fun of Delonte West...this is not a joking matter...I'm going to figure out how I can help him...he need to be in rehab or something...," former NFL wide receiver Dez Bryant wrote on his Twitter.
"I think it would be great for the @nba to go and find Delonte West and force him to get help!!! They have the resources and they have been doing a great job with Current Players for as Mental Health and now it's time for them to show the same love to Former Players," former NBA center Kendrick Perkins wrote on his Twitter.
"Just catching up to the Delonte West video. We have a serious mental health crisis in this country, and that begins with the lack of available insurance to cover the costs and access to facilities. I truly hope he gets the help he needs," wrote CBS Sports' Seth Davis.
"These Delonte West videos are so sad! @TheNBPA help this man please," wrote Twitter user DhaSickest.
While many are urging the NBA and the NBA players association to reach out to West to help him, Spencer Haywood, former NBA player and current chairman for the NBA retired players association has stated that he plans to help West.
"As Chairman Of The Board for the NBA Retired Players Association. I'm going to get on this y'all," Haywood wrote on his Twitter in response to the video of West in handcuffs.
In recent years, the NBA and NBA Players Association have increased their awareness and treatment surrounding players suffering from mental health issues, but do not list anything regarding players who aren't currently in the league or retired. According to NBA.com, the mental wellness program will "allow players to seek counseling and treatment outside of the framework of their individual teams."
Despite Haywood's tweet, the NBA retired players association's website lists a number of benefits and programs they offer to retired players, but do not include any programs focused on mental health.
Newsweek reached out to the NBA Players Association about available programs or plans to help West to which they responded via email by saying, "the NBPA has been in contact with Delonte recently and has been supporting him. We are looking into what happened to him yesterday and we will continue to monitor the situation and do what we can to assist him."
Newsweek also reached out to the NBA Retired Players Association but they did not receive a response in time for publication.
Fans, Current and Former NBA Players Urge League to Help Delonte West After Video Surfaces of Him in Handcuffs | Sports