Fans Delighted by Foul-mouthed Chris Evans in 'Knives Out' Trailer: 'Absolute Gold'
The trailer for new murder mystery movie Knives Out has landed, and people seem to be particularly pleased by the foul-mouthed performance by Captain America star Chris Evans.
The movie, written and directed by Star Wars: The Last Jedi filmmaker Rian Johnson, is a whodunit murder mystery based around a family gathering. The event goes terribly wrong when the family's patriarch, played by Christopher Plummer, dies. Daniel Craig, Lakeith Stanfield, Jamie Lee Curtis, Toni Collette and Michael Shannon all star in the film, which is due to be released on Thanksgiving.
But the major talking point since the trailer dropped online on Tuesday has been how different 38-year-old Chris Evans appears in the movie. The Hollywood star, known for his squeaky clean image playing Captain America in the Marvel Cinematic Universe (MCU) movies, appears to play a wildly different character as sweary Ransom Robinson in the film.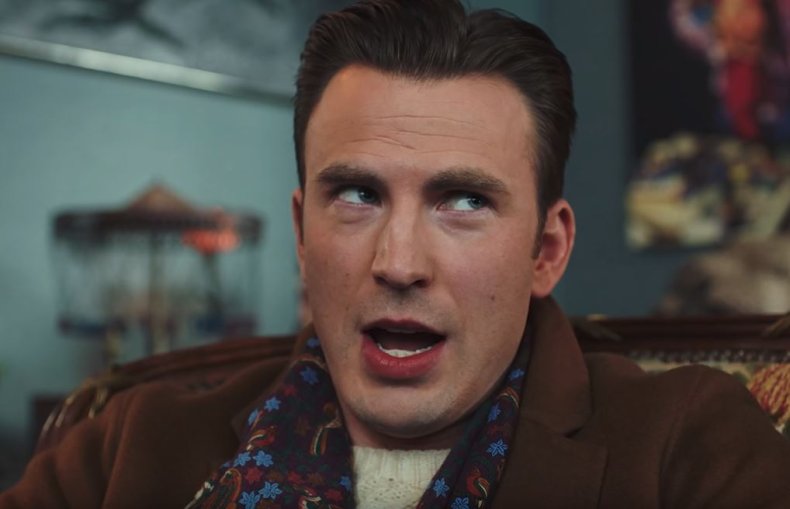 In a scene shown in the trailer, Evans' character goes around telling everyone in the room to "eat s***." Evans' character is also seen in the trailer mouthing the word "wow" and snidely remarking to Daniel Craig's southern-accented Detective Benoit Blanc, "What is this, CSI: KFC?"
Fans took to social media to express their delight at seeing Evans' sassy, expletive-laden turn in the upcoming feature.
"So they decided to make another star studded Murder mystery and of course had Captain America say foul words..I see this as an absolute win," commented one person underneath the YouTube trailer.
One person tweeted, "Oh wow I'm extremely here for Chris Evans's gleeful swearing in his films ever since that one terrible "Language!" Cap line in Avengers."
"Absolute gold! Playful Chris Evans is having a ball," another wrote.
Knives Out is due to be first theatrical feature film Evans has appeared in since his role as super-soldier Steve Rogers came to a dramatic conclusion in April blockbuster Avengers: Endgame. The movie, which looks likely to become the highest-grossing film ever made, will almost certainly be Evans' last time playing the role.
The official synopsis for the film states:
"Acclaimed writer and director Rian Johnson (Brick, Looper, The Last Jedi) pays tribute to mystery mastermind Agatha Christie in Knives Out, a fun, modern-day murder mystery where everyone is a suspect. When renowned crime novelist Harlan Thrombey (Christopher Plummer) is found dead at his estate just after his 85th birthday, the inquisitive and debonair Detective Benoit Blanc (Daniel Craig) is mysteriously enlisted to investigate. From Harlan's dysfunctional family to his devoted staff, Blanc sifts through a web of red herrings and self-serving lies to uncover the truth behind Harlan's untimely death.
"With an all-star ensemble cast including Chris Evans, Ana De Armas, Jamie Lee Curtis, Don Johnson, Michael Shannon, Toni Collette, LaKeith Stanfield, Katherine Langford and Jaeden Martell, Knives Out is a witty and stylish whodunit guaranteed to keep audiences guessing until the very end."
The murder mystery film will also be Johnson's first feature since he helmed the eighth installment in the Star Wars series, The Last Jedi. The movie, which was released in December 2017 received positive reviews from critics, but polarized some audiences.
Knives Out is due to be released in theaters on November 27.
Fans Delighted by Foul-mouthed Chris Evans in 'Knives Out' Trailer: 'Absolute Gold' | Culture