Fans Ejected After Massive Proud Boys, 'Trump Won,' Signs Unfurled at Miami Marlins Baseball Game
At least five people were ejected from Tuesday's Miami Marlins baseball game after they unfurled two large banners in the stadium. One banner stated former President Trump won the 2020 election, while the other sign declared that the right-wing group the Proud Boys "did nothing wrong."
Multiple photos show the signs reading, "Trump Won Take Back America" and "Proud Boys Did Nothing Wrong Free All Political Prisoners 1/6/21."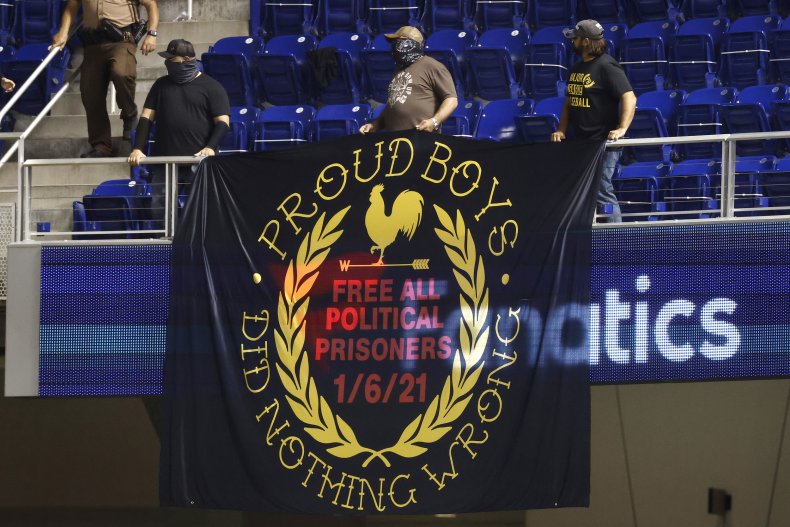 The people behind the stunt rolled the flags down from the rafters during the game between the Marlins and the visiting Colorado Rockies at Miami's loanDepot Park. A spokesperson for the Marlins told local NBC affiliate WTVJ at least five people were removed from the stadium for violating the park's rules on banner size and messaging.
The official website for the Marlins states banners cannot exceed 3 feet by 5 feet and cannot make statements "regarding political affiliation, social and economic matters or other statements that undermine civil liberties."
Andy Slater, a syndicated sports radio talk show host, posted photos of both banners on his Twitter account on Tuesday night.
The incident in Miami marks the second time this week that a banner with the same message regarding Trump appeared at a MLB ballpark. On Monday, a "Trump Won Take Back America" sign was unfurled over the wall of the bleacher section in centerfield at Fenway Park in Boston. The opposing team against the Red Sox in that contest happened to be the Miami Marlins.
One fan was reportedly removed for the political banner in Boston. There has been no indication that the incidents in Boston and in Miami are related.
The Proud Boys is a far-right and entirely male organization that has been blamed for promoting and engaging in political violence across the United States. Members of the group have been accused of spreading misinformation about COVID-19, as well as starting protests against pandemic lockdowns. The group is also considered to be anti-feminist and aligned against the Black Lives Matters movement.
Dozens of the group's leaders and members have been charged in the January 6 riot at the U.S. Capitol. The Proud Boys chairman is Enrique Tarrio, who owns the 1776 Shop, a Miami T-shirt business that sells right-wing merchandise.
Tarrio spoke with the Associated Press in an interview published on June 2, in which he said U.S. authorities were persecuting members of his organization by charging them for crimes related to the Capitol riot.
He described the riot as "horrible," and said he suspended Proud Boy rallies nationwide afterward. However, he said his group's members facing charges were being unfairly targeted by authorities.
Newsweek contacted the Miami Marlins organization for further comment but has not heard back as of press time.