Fans Mourn the Death of Famed Astrologer Walter Mercado
Longtime admirers took to social media on Sunday to mourn and remember Walter Mercado, the famed Puerto Rican astrologer whose daily horoscope readings reached millions of viewers every day in Spanish-speaking communities and countries. Mercado died Sunday at the age of 87.
According to a preliminary obituary published in The New York Times, Mercado read horoscopes for all 12 zodiac signs during the final segment of the televised Univision news program, Primer Impacto, for 15 years. He reportedly reached 120 million Latino viewers per day, according to the HistoryMiami Museum in Florida. Mercado was the subject of an exhibit at the museum this past August.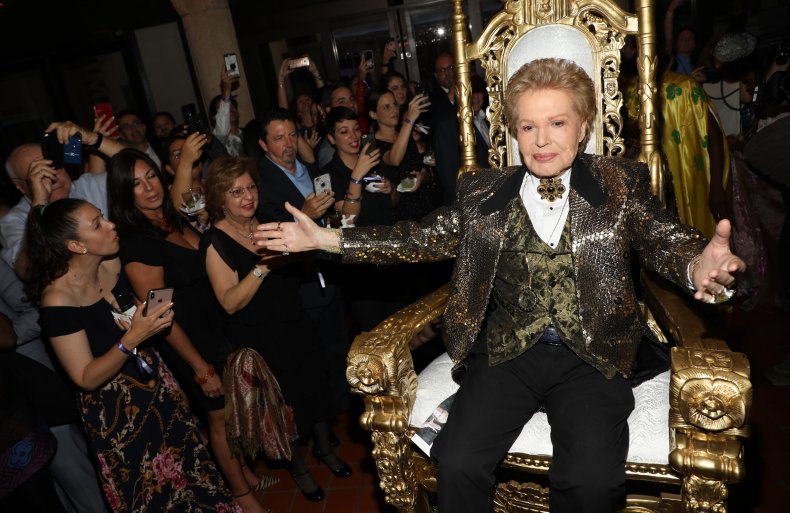 The Times reported that Mercado was known for wearing flamboyant capes and accessories, and that he ended every segment with the same blessing: "God bless you all, today tomorrow and always, and I hope you receive from me peace, a lot of peace. But above all, much, much, much love."
The apparent cause of Mercado's death was kidney failure, according to CBS News.
Sandra E. Garcia, the New York Times journalist who wrote Mercado's obituary for the paper, wrote in a tweet that she was a longtime viewer of the astrologer who fondly remembered how positive and loving he was on screen.
Actress Dascha Polanco, best known for playing Daya Diaz on the award-winning Netflix original series Orange Is the New Black, praised Mercado as an "icon" of the Latino community and said she wished she could have met him.
Rigoberto González, a Chicano poet and novelist, said Mercado "offered us so much wisdom and warmth."
Amanda Alcántara, an activist and writer, called Mercado "a legend" and "a great one."
Francheska Medina, a health and wellness advocate based in New York, related the reverence her grandmother had for Mercado, to the extent that she shushed everyone in the house when his segment came on television. To show that her respect for Mercado was authentic, Medina also shared a photo of a shirt she owns that bears a picture of Mercado with the words, "Walter Mercado is my spiritual adviser" on it.
Joel Martinez, better known as the Kid Mero, a comedian, writer and TV host, called Mercado a "Latinx legend."
And Gabe Gonzalez, a Puerto Rican professional comedian, producer and writer, tweeted of Mercado: "He never identified as queer, but it felt like he refused to be constrained by gender norms and antiquated ideas of masculinity."
Mercado himself acknowledged his reputation as gender non-conforming in an interview for a piece published in Remezcla three months ago.
"I'm so connected to people and to the divine for that," Mercado he said. "That I look feminine with a cape? Everyone knows we have two energies – yin and yang – and I know how to balance them. If I have to be a warrior, then I'll be that. If I have to be soft and subtle, I can be that, too. I broke the barriers."