Fans Praise Kacey Musgraves for Creating Instagram Account to Help Small Business Owner
Kacey Musgraves fans praised the country crossover artist for using her voice and social media talents to help a struggling local business.
The singer revealed she went to a digital photo studio in Los Angeles to get a few retro-looking portraits done and found business has been steadily declining since social media and self-made photos have become more popular.
Musgraves is a six-time Grammy Award winner, with her latest record, Golden Hour, claiming both Album of the Year and Best Country Album titles this year. She has used her fame to advocate for local businesses, especially in her hometown of Nashville, and has promoted equality in many forms, from businesses to human rights.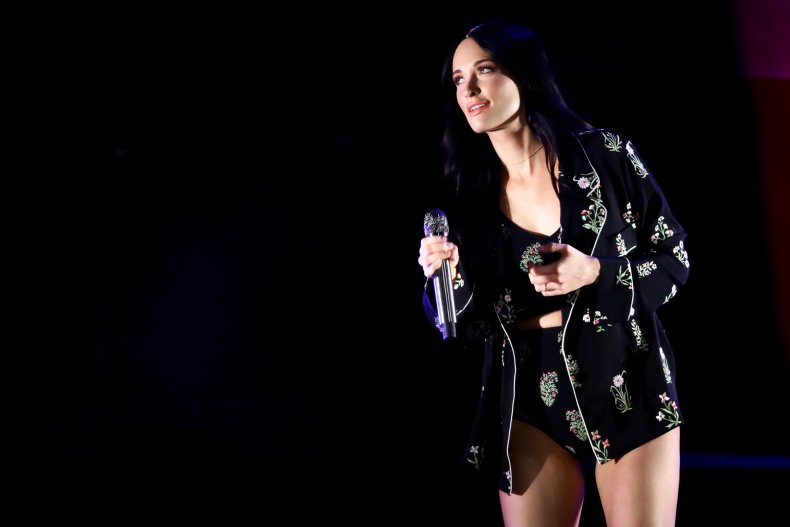 The artist shared a series of her dreamy portraits, along with a photo of the shop itself and a man who appears to be the store's owner. She explained how she planned to help bring him as much business as possible.
It was a simple idea: to set up an Instagram for the shop, which Musgraves revealed has no internet and no social media presence. After announcing the shop's Instagram account on Wednesday, @tomsonehourphotolab has over 20,000 followers.
Fans of Musgraves were thrilled at her idea, and impulse to do good. Many shared their appreciation for her kindness and genuine use of her platform on Twitter.
The Instagram account showcases the multiple backdrop options Tom's One Hour Photo & Lab gives visitors. Fans seem to appreciate the unique backgrounds, which look retro and 90s inspired. It's located in Korea Town, Los Angeles, and more than a handful of fans said they plan to visit.
Some were even concerned about the capacity of the small shop, and if Musgraves' good deed would overwhelm the employees.
Musgraves made news earlier this month for a less positive social media encounter after a falsified photo made it look like she had liked a tweet demeaning Taylor Swift. The tweet, authored by musician Kid Rock, accused Swift of only getting into Democratic politics because she "wants to be in movies."
The country singer initially told fans her Twitter account had been hacked before realizing that the image was fake. She took to Twitter to say that she too has been slammed for liberal commentary. She explained she had spoken with Swift to make sure the artist knew she was not sending snide messages on social media and that she did not support Kid Rocks "disgusting misogyny." Swift responded by publically liking Musgraves' explanation of the odd events.