Prince George's Striking Similarity to Princess Diana Awes Fans: 'The Look'
A viral video shared to the social media platform TikTok has highlighted the similarities between Prince William and Kate Middleton's eldest son Prince George and his grandmother Princess Diana.
George, who turns ten in July, saw his busiest year to date in 2022, making an increased number of official public appearances, including his first visit to Wales, important because he is expected to one day inherit the title of Prince of Wales when his father becomes king.
The prince is the eldest grandchild of King Charles and Diana, whose untimely death at the age of 36 in a Paris car crash took place 25 years ago.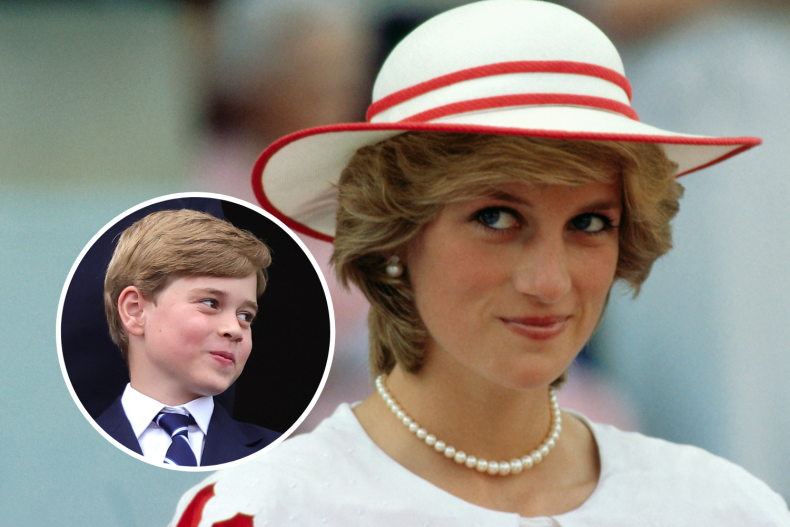 Around the time of the anniversary of the crash and since the accession of her ex-husband, a number of viral videos on social media relating to Diana have been posted ranging from edits concerning her fashion, to pieces exploring her charity work and relationships with royal family members.
This interest has been compounded by representations of the princess in popular culture such as the 2021 movie Spencer starring Kristen Stewart and the fifth season of Netflix's royal drama The Crown released in November, in which Diana was played by the Australian actress, Elizabeth Debicki.
The latest video to go viral, captioned "same emotion" by TikTok user 1ladyydianawales, compares archive footage Diana and Prince George, highlighting their many similarities.
A number of fans have praised the video in the TikTok comment section, with one writing: "Apple never falls far from the tree."
Another commented on the similarity of facial expressions shared by grandmother and grandson, writing: "Diana , William & George all do this .. the Spencer look! 🥺❤️"
"I can't believe that's her grandson and he missed the most adoring woman," posted another.
Though the princess passed away before the birth of her grandchildren, both Prince William and Prince Harry have spoken publicly about how they have made their mother a part of their family lives.
In the 2017 documentary Diana, Our Mother: Her Life and Legacy, William described how he consistently speaks with his three children, George, Charlotte and Louis, about their "granny Diana," adding: "We've got more photos up around the house now of her, and we talk about her a bit and stuff."
"It's hard because obviously Catherine didn't know her, so she cannot really provide that level of detail," he said referring to his wife. "So, I do, regularly putting George or Charlotte to bed, talk about her and just try and remind them that there are two grandmothers, there were two grandmothers in their lives, and so it's important that they know who she was and that she existed."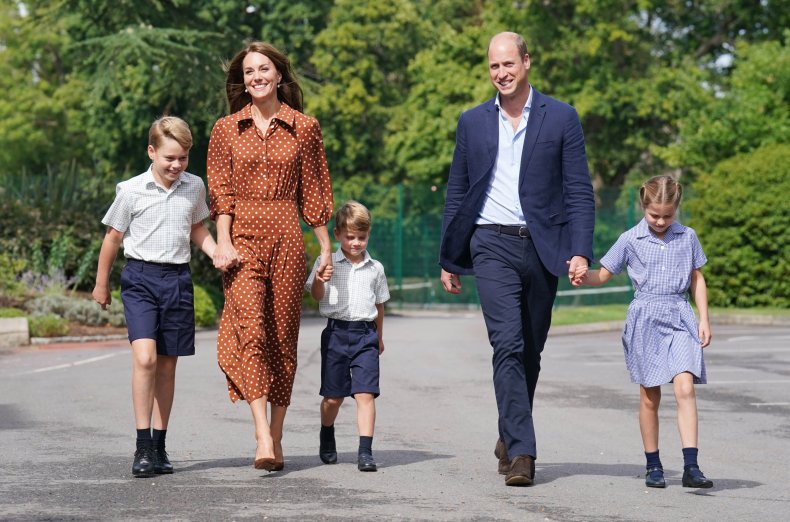 In 2021, to celebrate Mother's Day, William and Kate officially provided an intimate insight into how their children actively honor their grandmother, showing handmade cards dedicated to her on Instagram.
The royal couple posted the cards to Instagram during the COVID lockdown with the message: "Mother's Day will be different once again. Many of us will be apart from our loved ones, but looking forward to a time in the not too distant future when we can give our mother a hug again.
"But for those experiencing bereavement, today may be particularly challenging. Each year on Mother's Day, George, Charlotte and Louis make cards remembering their Granny, Diana, for William.
"Whatever your circumstances, we are thinking of you this Mother's Day 💐"
On the card drawn by George, the message touchingly read: "Dear Granny Diana, Happy mother's day. I love you very much and think of you always, sending lots of love from George."
James Crawford-Smith is Newsweek's royal reporter based in London. You can find him on Twitter at @jrcrawfordsmith and read his stories on Newsweek's The Royals Facebook page.
Do you have a question about King Charles III, William and Kate, Meghan and Harry or their family that you would like our experienced royal correspondents to answer? Email royals@newsweek.com. We'd love to hear from you.