Fans of Prince William and Kate Brave Rain, Cold for Glimpse of Royal Couple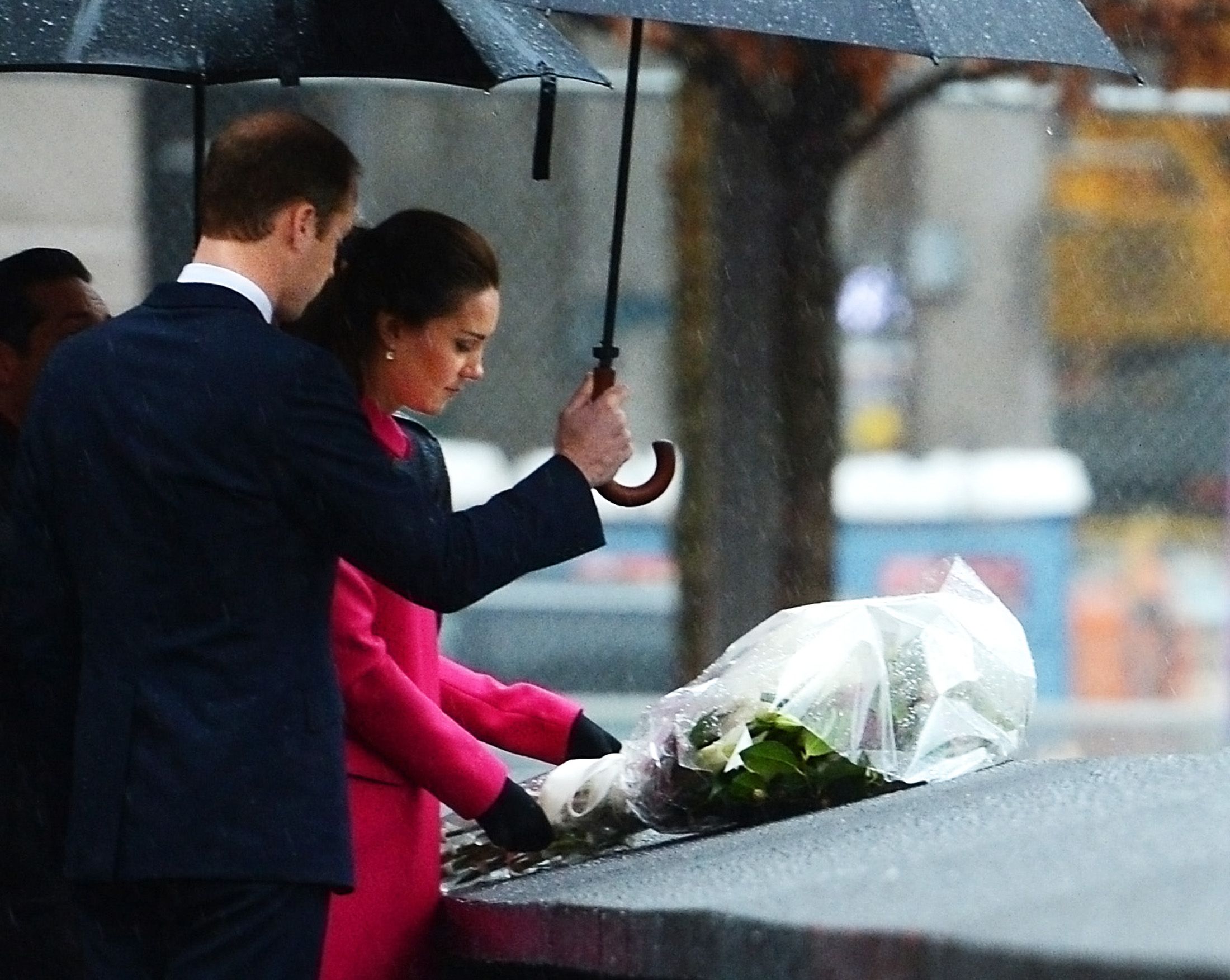 Freezing rain and strong winds didn't deter fans of the British royal family from gathering at the 9/11 memorial Tuesday for a brief glimpse of Prince William and Kate, who made a short stop there as part of a three-day visit to the U.S.
"I was a big Diana fan, and she came to New York and I missed it," said Susan Daglian, who commuted from Washington Heights to catch the couple. "She was three blocks from my office, and I couldn't go. So I was like, That's it, I don't care what it's doing today, I'm going to see them."
Kate's display of "grace under pressure," as well as getting a glimpse of her outfit, were among the reasons Daglian traveled downtown.
Around 50 fans began gathering around the south reflecting pool Tuesday morning, an hour before the Duke and Duchess of Cambridge arrived. Worried about missing the couple, one curious tourist ran to the other side of the pool and shouted, "But I can't see them!"
The stop at the National September 11 Memorial and Museum was one of a number of carefully choreographed events that took place during the couple's three-day visit to this country, their first since 2011.
On Monday, Prince William met with President Barack Obama about the illegal wildlife trade, which he called the "one of the most insidious forms of corruption and criminality in the world today."
Meanwhile, Kate visited a child development center in Harlem, where she wrapped gifts and met local children with New York's first lady, Chirlane McCray.
On Monday night, the royals attended a Brooklyn Nets basketball game, where they met Jay Z and Beyoncé—perhaps the closest thing the U.S. has to royalty. While there, Cleveland Cavaliers player LeBron James presented the couple with cupcakes and basketball jerseys, including a tiny one for Prince George.
Outside, undeterred by the poor weather, demonstrators protesting police brutality took part in a "die-in" while William and Kate watched the game.
The couple arrived at the 9/11 memorial Tuesday around 10:15 a.m., each holding his or her own black umbrella. The memorial includes two reflecting pools in the footprints of the Twin Towers, etched with the names of the nearly 2,900 people who died in the September 11, 2001, and February 1993 attacks on the World Trade Center. The museum features artifacts as well as testimonials from survivors.
Before they arrived, two workers wiped pounding rain off the names at the South Pool, which the couple would visit. After they spoke with Joe Daniels, president of the memorial and museum, about how the site was developed and plans for its future, Kate, wearing a fuchsia coat with black buttons, black tights and black-heeled shoes, laid a bouquet of flowers on the memorial, before escaping the deluge to go inside the museum.
The entire public appearance took around 10 minutes, and Kate waved to the crowd, which cheered loudly in response.
Prince William and Kate's visit has been greeted with some fanfare, although some commentators said there isn't a great deal of reason why Americans should care that they're being graced with the royals' presence.
Zara Cousins, 17, from Belfast, Northern Ireland, had been in New York for three days to celebrate her 18th birthday. She said she realized the royals were visiting only on Tuesday morning and was excited to see Kate, praising her sense of style.
"We were going to come here first anyway, and then my mum saw it in the news, so we were like, We'll go!" said Cousins.
"She's so original," Cousins said of Kate. "She was just an ordinary girl, and she got married to someone so famous. They just seem like really genuine people, even though I've never met them," she added. "You feel like you know them even though you don't."
Lauren Nichols, 16, and Annalise Becer, 17, were strangers until they met Monday outside the Harlem center visited by Kate. They have since formed a friendship over their shared admiration for the couple. Both girls took time off from school to see the royals. Nichols flew from just outside Cleveland and Becer from Pittsburgh.
"Kate's so classy and really cool and has a lot of charities that are good to be interested in," said Becer, who was traveling with her father, John Becer.
Nichols, wrapped in a red-fleece-lined blanket and clad in a knitted Union Jack hat, agreed with her friend's assessment of Kate. "I think she's really down to earth," she said.
John Becer said the trip to New York was a reward for his daughter's performance in school. He seemed bemused by the girl's enthusiasm for royal watching. "I've never been to one of these things before, and it's very interesting to see all the pomp and circumstance," he said.
The royal couple also attended receptions on Tuesday afternoon, including one for youth development and another for creative British talent based in New York. They will visit the Empire State Building with New York Mayor Bill de Blasio.
Prince William and Kate's final engagement will be at the Metropolitan Museum of Art on Tuesday evening, where they'll be celebrating the 600th anniversary of their alma mater, St. Andrews University. They will fly back to the U.K. straight after the dinner.