Fans React To Damien and Giannina's Wedding Day Reunion On 'Love Is Blind'
Damien and Giannina had a volatile relationship on Love Is Blind, but it isn't over. The couple may have declined to say "I do" on their Netflix wedding day, but made up and started dating almost immediately after.
The Love Is Blind couple made it to the altar after a fast-paced relationship, but ultimately decided to postpone their vows. Giannina said yes when asked if she'd marry Damien, though he claimed she wasn't ready to be a wife. That didn't stop him from continuing the relationship, they explained on the Love Is Blind reunion episode.
After their wedding, Giannina and Damien didn't break up. Though there was a moment of uncertainty, they've been dating happily since filming ended a year and a half ago. "Even after the wedding, I don't think either one of us was sure that we would see each other again," Damien told People. "We both had mixed feelings about each other at that point.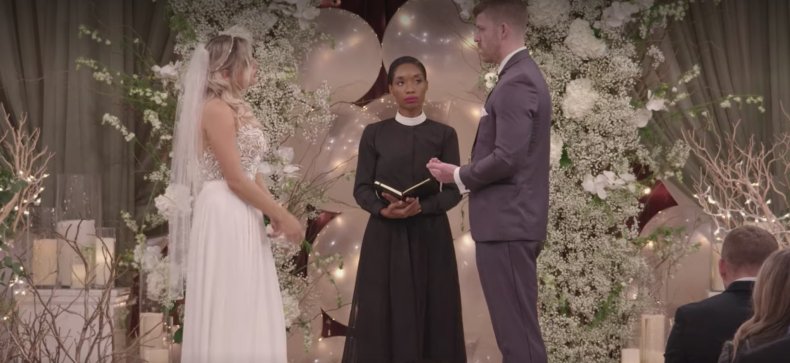 The Netflix series forced 30 singles to make emotional connections in relationships. To do this, they were restricted from viewing the appearance of the other singles. When a couple agreed to be engaged, they were able to see the other person physically, as well as live together. Weddings were planned for just a month later.
Giannina and Damien had some bumps in their relationship, but Giannina revealed they agreed to speak after the experience, no matter what the outcome was.
"We told each other we wouldn't leave without each other, in whatever form that was," she said of the experiment to People. "I know that so many emotions and so much pressure and my family and friends watching and all these things were a factor in how I left things, which was very, very hurt. I was like this open wound but I really felt that if we weren't going to be together, we could at least be friends. I was like, 'I am in love with this person. There's no way I can just leave things like this.' So I reached back out to him and I was like, 'Let's just talk.' And we just talked all night.
Fans reacted to the couple's reunion when it was revealed on Thursday. Some were pleased to see Giannina and Damien going strong. Others questioned if the relationship was healthy after watching them fight through most of the season.