Fans React to Tom Hanks and Rita Wilson's Coronavirus Diagnosis and They Are Not Having It
On Wednesday, Tom Hanks told people on Instagram that he and his wife Rita Wilson were both diagnosed with the coronavirus. Across social media, fans showed support and concern for the actor.
Hanks revealed that he and his wife were diagnosed while down in Australia, but promised to keep fans updated.
"Rita and I are down here in Australia. We felt a bit tired, like we had colds, and some body aches," he wrote. "Rita had some chills that came and went. Slight fevers too. To play things right, as is needed in the world right now, we were tested for the Coronavirus, and were found to be positive."
"Well, now. What to do next? The Medical Officials have protocols that must be followed," he continued. "We Hanks' will be tested, observed, and isolated for as long as public health and safety requires. Not much more to it than a one-day-at-a-time approach, no?"
Hanks also urged his followers to take care of themselves.
Hanks' publicist did not immediately respond to Newsweek's request for comment.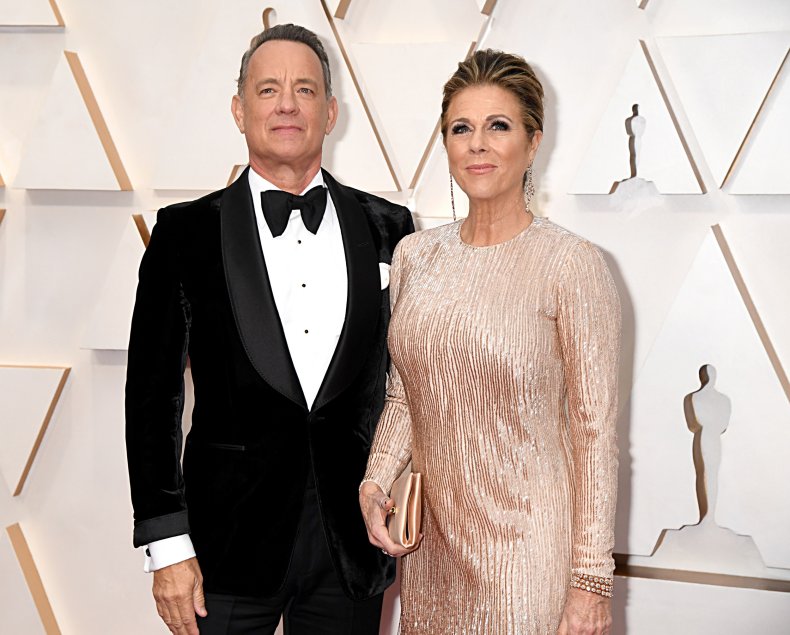 According to Deadline, the couple were down under in pre-production for Baz Luhrmann's upcoming Elvis Presley film, currently untitled, from Warner Brothers. In a statement to Deadline, Warner Bros. said they were working with Australian health officials to identify anyone who may have come into contact with someone in the production who was diagnosed with the coronavirus.
In an Instagram video, Hanks and Wilson's son Chet Hanks confirmed his parents' diagnosis and said that fans should be reassured that the two will be okay. "I just got off the phone with them. They both are fine. They're not even that sick. They're not worried about it. They're not trippin' but they're going through the necessary health precautions obviously," he said. "I don't think it's anything to be too worried about. I appreciate everyone's concern and the well wishes. I think it's all going to be alright."
On Twitter, fans showed that they were upset that the beloved Forest Gump actor had taken ill with the virus. Comedian Whitney Cummings tweeted that Hanks' diagnosis was another way of showing how serious the virus was. Others wished the actor well, sharing a photo of Hanks' inanimate volleyball companion Wilson from Castaway wearing a face mask. Other fans offered prayers for the couple.
Still, other fans kept a sense of humor about the actor's diagnosis. Human rights lawyer and political analyst Arsen Ostrovsky pointed to Hanks' roles in Captain Phillips, The Terminal, Castaway, and Sully as evidence that he's not the luckiest travel buddy to have, and his coronavirus diagnosis is further proof. Cummings also tweeted that it wouldn't have been surprising to see Hanks starring in a movie about someone diagnosed with the virus. Another fan made a more pessimistic joke, referencing Hanks' role in Toy Story 3.