Fans Send Prayers, Support After Rapper Lil Tjay Reportedly Shot
Fans across social media sent prayers and support to Lil Tjay after it was reported that the rapper was shot in New Jersey on Wednesday.
Citing anonymous law enforcement sources, TMZ reported that Lil Tjay was shot in Edgewater, New Jersey, and was taken to surgery shortly after.
Shortly after the story was reported, fans flooded social media to express support for the rapper, who released his most recent album in 2021, Destined 2 Win.
While Newsweek was unable to independently confirm the report from TMZ, the Bergen County Prosecutor's Office posted a tweet on Wednesday stating that the Edgewater Police Department was "investigating a shooting with 2 victims around midnight on 6/22 at 14 The Promenade in Edgewater." The statement was retweeted by the Edgewater Police Department.
Newsweek reached out to the Edgewater Police Department for further information.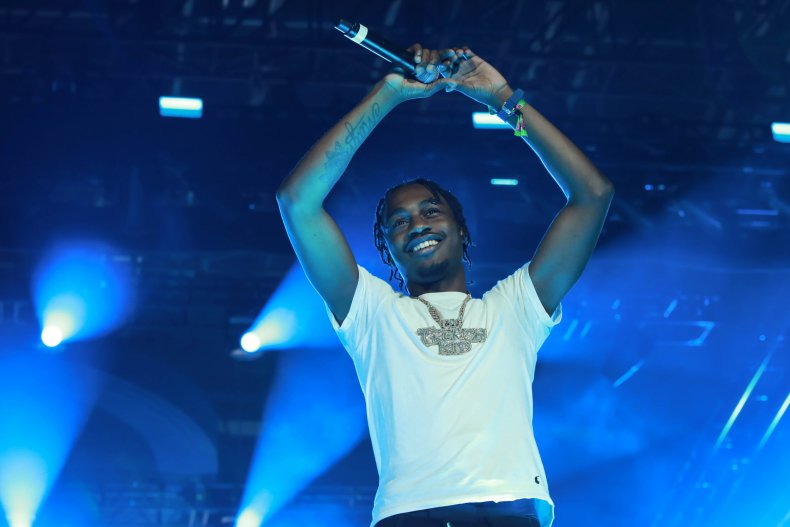 Fellow rapper French Montana wrote, "pray for my lil bro lil Tjay," and included a prayer hand emoji.
Music producer, CashMoneyAp shared a similar tweet saying "prayers up for Lil Tjay."
A number of other fans also posted tweets sending prayers to the rapper.
"there's no chance we can lose Lil Tjay, such a talent. Speedy Recovery," Twitter user FifaJM18 wrote.
Twitter user Gowie wrote, "Prayers up for Lil Tjay as well. Only 21 years old. I'm hoping the surgery is successful and that he's able to live on without complications."
Rapper 2KBaby also shared a response to the news writing, "You strong Soulja bounce back lil Tjay praying for you."
Miles Bridges, of the NBA's Charlotte Hornets posted a tweet that said, "Not Lil TJay y'all pray for bro."
Daily Rap Facts Twitter account also responded to the news of the shooting incident. "Lil Tjay was shot in New Jersey early this morning and is undergoing emergency surgery," the tweet said.
Twitter user Cute_Menah shared a photo of Lil Tjay and wrote, "I don't know what warranted this shooting…A very quiet soul…I pray Lil Tjay comes out safely…We love you Lil Tjay."
Twitter user Nazz D responded to a photo of the rapper and wrote, "We gotta stop shooting each other. Prayers to Lil Tjay and wishing him a speedy recovery."
Similarly, Twitter user Kult King wrote, "Prayers up for Lil Tjay man. Hearing he was shot was absolutely mind jarring. Tjay appeals [sic] to be one of the chillest rappers today. We live in a evil world. Hope he doesn't die man. Too many young folks dying to the the [sic] same thing out here."
It was unclear at publication time if any individuals had been arrested following the reported shooting incident.