Fans Send Support After Sinead O'Connor Deletes Twitter, Seeks Help Following Son's Death
Concerned fans are expressing support for singer Sinead O'Connor after she tweeted Thursday that she planned to end her own life following the death of her 17-year-old son.
The Irish-born O'Connor, 55, sent the series of tweets from a now-deleted account, adding that she was in need of mental help.
"I've decided to follow my son. There is no point living without him," O'Connor tweeted from the unverified account—though her verified account confirmed the account was O'Connor's personal Twitter. "Everything I touch, I ruin. I only stayed for him. And now he's gone."
"I don't deserve to live and everyone who knows me will be better off without me," another tweet said.
One hour later, O'Connor sent an additional tweet in which she apologized for her comments and stated that she was sorry for upsetting people.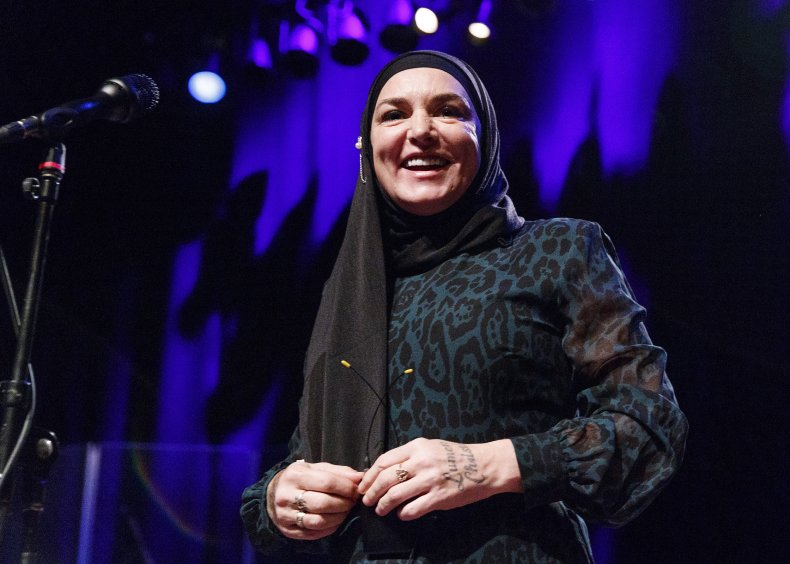 "I'm sorry. I shouldn't have said that. I am with cops now on way to hospital," the tweet stated. "I am lost without my kid and I hate myself. Hospital will help a while. But I'm going to find Shane. This is just a delay."
The Twitter account that O'Connor posted on was deleted shortly afterward, but then restored with a tweet reiterating that she was "sorry for what I tweeted yesterday."
O'Connor's alarming messages were posted exactly a week after the death of Shane, her third son. The teenager's body was found by Irish authorities in the coastal town of Bray two days after he had been reported missing.
A cause of death for the 17-year-old has not been officially identified, but multiple reports claim that he died by suicide. This was apparently corroborated by his mother, who posted a message stating that her son "decided to end his earthly struggle."
O'Connor has spoken out publicly in the past about her struggles with depression and thoughts of suicide. In the aftermath of her tweeting for help and being hospitalized, fans across social media sent well wishes on her behalf.
"Sitting at a desk in Maine seeing one of my favorite artists say publicly they want to end their life is a profoundly helpless feeling," tweeted music journalist Aimsel Ponti. "Please hold Sinead O'Connor close to your heart right now. And while we're at it, check on your friends. They need you."
Journalist Jazz Shaw echoed a similar sentiment.
"I really hope Sinead O'Connor gets help if she's contemplating taking her own life after the loss of her son," Shaw tweeted. "Can't imagine what she's going through."
O'Connor's musical career began in the 1980s, and she was put on the map with her 1987 debut album The Lion and the Cobra. She became world-famous in the 1990s following her smash-hit "Nothing Compares 2 U," which Billboard named the world's No. 1 song of 1990.
Beyond her music, O'Connor has also become famous throughout her career for her activism and outspoken views on a variety of subjects. This includes child abuse, religion and women's rights.
In 1992, she made headlines around the world when she tore up a picture of Pope John Paul II during a musical performance on Saturday Night Live. She told the audience to "fight the real enemy," referring to a number of cover-ups of sexual abuse cases within the Catholic Church.
If you have thoughts of suicide, confidential help is available for free at the National Suicide Prevention Lifeline. Call 1-800-273-8255. The line is available 24 hours every day.