Fans Send Wishes to Singer Marianne Faithfull After Coronavirus Treatment
Well wishes for Marianne Faithfull's prompt recovery have surfaced across social media platforms Sunday, shortly after the 73-year-old singer's fans learned she had tested positive COVID-19 and was receiving treatment.
Faithfull's publicity team at Republic Media informed the public of her hospitalization in a statement shared to Facebook and Twitter late Saturday, which confirmed the artist's diagnosis and provided a positive health update.
"Marianne Faithfull's manager Francois Ravard has confirmed that Marianne is being treated for Covid-19 in hospital in London," the statement read, adding, "She is stable and responding to treatment, we all wish her well and a full and speedy recovery."
Author J.K. Rowling responded to the news on Twitter, quoting lyrics to "Witches' Song"—a track off of Faithfull's 1979 record, Broken English—and praising the musician's strength before offering words of support. "Broken English is one of my favourite albums of all time, and Covid 19 cannot take Marianne Faithfull," she wrote alongside a screenshot of the album cover. "Get well soon, Marianne."
Nearly 400 messages have additionally accumulated in the comments section of Republic Media's Facebook announcement, which was later re-posted to Faithfull's official page. In them, Faithfull's fans voiced both encouragement and admiration for the singer, who has spoken about her experiences with addiction, homelessness and chronic illness in the past.
"Dear Marianne, I hold you in such high regard that I called my daughter Marianne after you! You have always inspired me so much with your strength of character, endurance, intelligence, beauty and talent. So sorry to hear you are unwell. Please get better soon, sending you much love," one supporter wrote on Facebook, while another cited Faithfull's "indomitable spirit."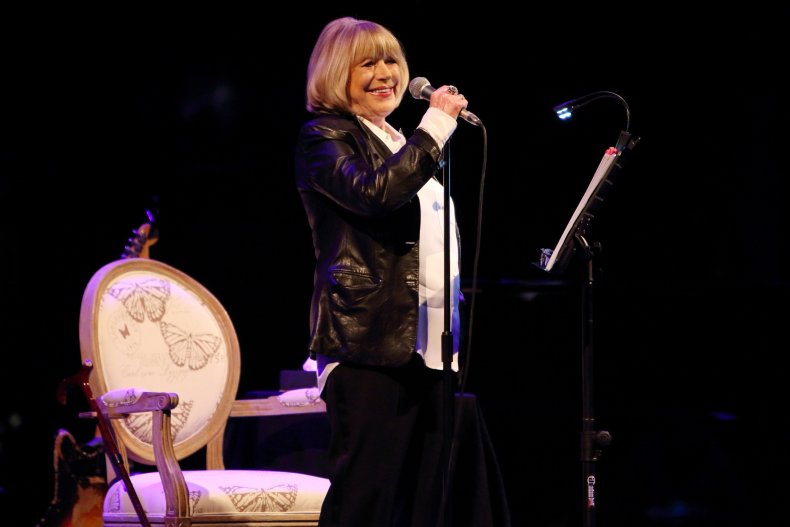 Speaking to Rolling Stone about the hospitalization following Saturday's announcement, performance artist Penny Arcade, a close friend of Faithfull's, offered more information about the days leading up to the performer's admission. According to the magazine, Faithfull was abiding by the United Kingdom's shelter-in-place mandate when she started to experience cold-like symptoms and checked herself into a London hospital. There, Arcade told Rolling Stone she tested positive for COVID-19 and has since developed pneumonia.
More than 48,000 people have tested positive for COVID-19 in the U.K. as of Sunday afternoon. Close to 5,000 have passed away as a result, while more than 200 have recovered. In an effort to curtail transmission, Prime Minister Boris Johnson issued a nationwide stay-at-home order on March 23, instituting a widespread shutdown of non-essential businesses and asking all U.K. residents to practice social distancing as much as possible. The prime minister announced he had contracted the virus several days later, as did Prince Charles.