Fans Share Charlamagne tha God Highlights Amid 'Breakfast Club' Shake-Up
Radio personality Angela Yee on Wednesday announced she's leaving the show The Breakfast Club after 12 years, and many fans have responded to the news by posting their favorite moments of her popular co-host Charlamagne tha God on social media.
Yee had dropped hints on Twitter prior to the on-air announcement that she will be departing the show, which she co-launched in 2010, to start her own syndicated program. The Breakfast Club will continue on without her, and her co-hosts Charlamagne and DJ Envy congratulated Yee for what she called a "tremendous opportunity."
Fans praised Yee's contributions, and many also expressed their relief that iHeartMedia's The Breakfast Club will carry on.
As one person put it on Twitter: "I'm so glad The Breakfast Club will still be on air. I find Charlamagne and Envy to be hilarious. Charlamagne has actually come along way from where he was. I will miss Angela Yee being on the show but that's awesome she's getting her own show."
Yee's news also caused a trend of fans posting what they feel are the funniest moments from Charlamagne, who became the group's breakout star and began hosting his own late-night television show on Comedy Central in 2021.
"I ain't gone lie I'm looking at all these old videos of the Breakfast Club and Charlamagne was one funny mf," read one tweet in regards to the posts.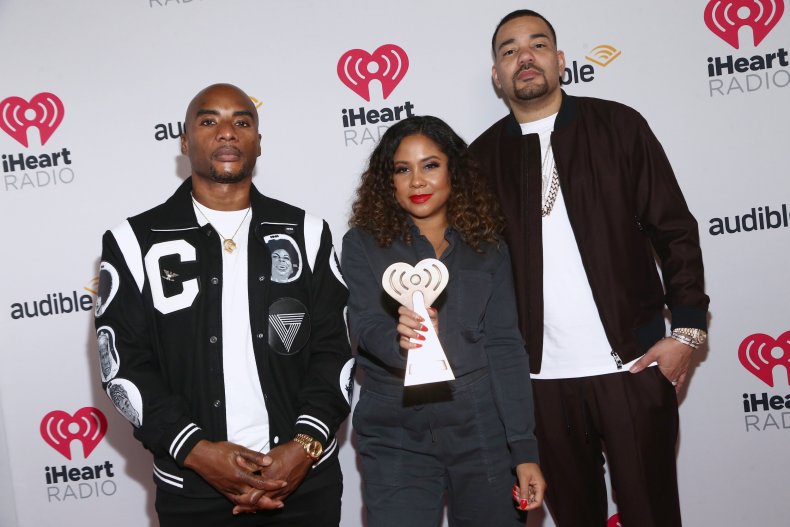 Many of the clips shared feature Charlamagne's controversial and often NSFW takes, such as a particularly edgy question he once asked NBA legend Magic Johnson.
Another infamous moment came when rapper Fatboy SSE ransacked The Breakfast Club studio, blowing out a candle in the process.
"I bet if was a birthday cake you would have blew it out faster," Charlamagne quipped.
A popular video circulated widely was Charlamagne shutting down a freestyle by rapper Safaree by mildly saying: "Nah, that ain't it, y'all."
He had a similar reaction once to Machine Gun Kelly, telling him a verse that Kelly recited "doesn't move me, man."
A Twitter user joked that the moment caused Kelly to change musical directions from hip-hop to pop punk.
Even with all the love being shown to Charlamagne, plenty of people still praised Yee.
"The Breakfast Club won't be the same without the investigation questions of @angelayee in interviews..she was going to get us the questions we wanted to hear. I'm proud of her though," tweeted a fan.
Some fans also praised Yee's work on her solo podcast, Lip Service, holding it up as proof that she should thrive on her upcoming radio show.
"I encourage everyone who doesn't like Angela or thinks she's boring to watch Lip Service. She's hilarious and is great at interviewing, I think Charlamagne's antics and DJ Envy's... whatever he does... overshadowed her and she had to be the "regular" one to add balance," said one fan.
Newsweek reached out to iHeartMedia for comment.