Fans Think Jojo Siwa Has Been Secretly Performing In A Dinosaur Costume on 'The Masked Singer'
The Masked Singer is responsible for wowing fans with wild performances each week, and starting internet-wide conspiracies about which celebrities may be singing their hearts out in outrageous disguise. This week, one costume is sure to be chatted about by most viewers: T Rex.
T Rex will take the stage again on Wednesday night after fans were convinced the secret celebrity is the flamboyant Jojo Siwa. The rising star started her career on Dance Moms, but is now a 16-year-old musician with tons of colorful merchandise, a lengthy national tour and a successful YouTube channel.
Seeing someone like Siwa on the show would make sense. She's already a talented musician with international recognition. That isn't the only qualification for the show, though. Last week, Bear was unmasked on the show to reveal former Alaska governor Sarah Palin. The politician rapped "Baby Got Back" and shocked America when her identity was revealed.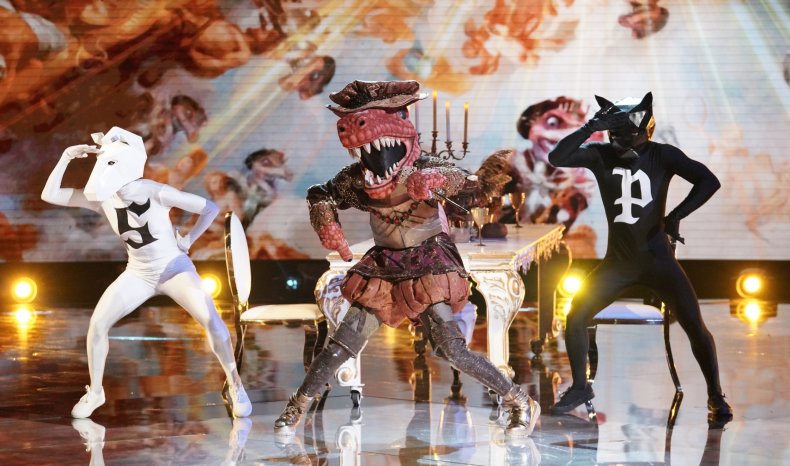 Last week's sendoff for Palin was accompanied by national confusion. The news of Palin's secret identity broke as coronavirus concerns grew in America, leading many to joke that the apocalypse has fallen across the earth, hosted by Palin singing in a Bear costume.
Fans seem to think Siwa is T Rex because of the similar vocals, as well as the general energy level of the performer. Siwa is known for explosive performances and energetic dances. T Rex seemed to have an extra bounce in their step, which connected the two identities in online theories.
Judges weren't so sure, though. They even named Kourtney Kardashian as a possible candidate, which was slammed by internet users. There was no question that most viewers were confident in their guess.
T Rex first sang as a part of Group C last Wednesday. The remaining 5 members of the group will sing again Wednesday night. They include Astronaut, Night Angel, Swan and Rhino. There are already some great Twitter guesses for the identities of each.
Fans seem to strongly believe that Astronaut is country singer Hunter Hayes, and Night Angel is rumored to be Xscape singer and Real Housewives of Atlanta star Kandi Burress. Rhino and Swan don't have many firm guesses. Viewers seem to think Swan is a female actress like Bella Thorne or Anna Kendrick, and Rhino could be a country singer like Keith Urban.
This season, The Masked Singer has already seen greats sent home. This season's early castoffs included Chaka Khan, Dionne Warwick, Tom Bergeron, Tony Hawk, Drew Carey and Lil Wayne. This third season of the American version seems to host the biggest celebrities yet.
The show will air Wednesday night at 8 p.m. ET on FOX.