Fans Yell 'You Should Have Been George Floyd,' at Black HS Baseball Player
Coronavirus brought sports to a standstill around the world beginning in March. Last month, Iowa became one of the first states in the country to resume activity in its school leagues. During a high school baseball game between Charles City and Waverly-Shell Rock on June 27, one Charles City player heard racial slurs directed at him.
Jeremiah Chapman, a junior, is the only Black player on the Charles City squad. His family moved away from Chicago so they could live a more affordable life in the small town tucked away in the northeastern part of Iowa.
The first derogatory slur Chapman heard from the fans sounded like "Colin," and Chapman figured they were referencing Colin Kaepernick, the former NFL quarterback who began kneeling during the national anthem in 2016 to protest police brutality.
"I just ignored it (on the field)," Chapman said in the Chicago Tribune. "I'm trying to hurry up to get off the field. Get these three outs and get off the field. It was my teammate's last game. I thought we were going to win. I thought, maybe you guys can talk to them after the game. I didn't want that to be on my mind."
But that wasn't the only thing Chapman heard, according to the reports. He heard opposing fans yell, "You should have been George Floyd" at him, and "Go back to the fields." Chapman said the fans also chanted "Trump 2020."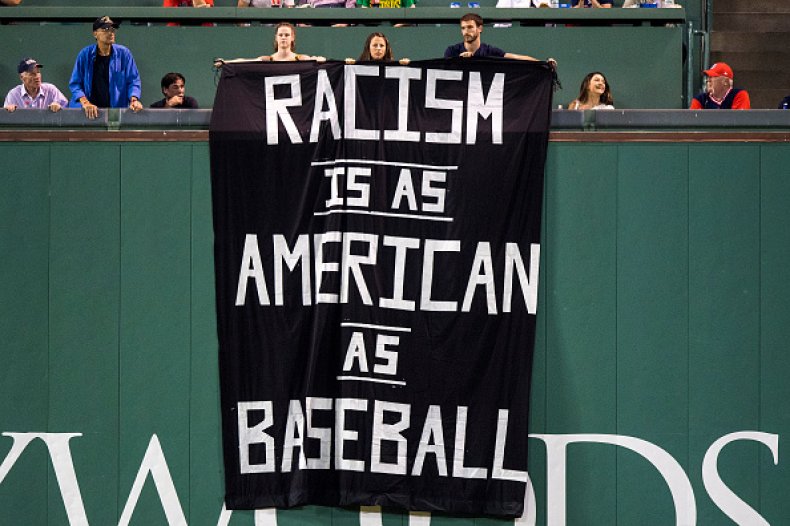 George Floyd was a Black man who died a month earlier on May 25 while in custody of the Minneapolis police. Former Minneapolis police officer Derek Chauvin can be seen in a video kneeling on the neck of Floyd, who was on the ground, for nearly nine minutes. The last words heard from Floyd were "I can't breathe."
Floyd's death sparked nationwide protests against his death, and against police brutality in general. The protests and marches, mostly orchestrated by the Black Lives Matter movement, were also to protest racial injustice.
Chapman let his coach know what he heard from the fans, and his coach alerted the umpire, who asked Chapman how the young player would like to move forward from there. Not looking for any added attention, the game went on with no interruption.
Chapman's mother, Keisha Cunnings, was out of town at the time. She said the game probably should have been stopped immediately.
"It was handled the way Jeremiah wanted it to be handled in that moment," said Cunnings, who grew up the only Black student at her school in Chicago. "Jeremiah's not a huge attention person. But at the same time, Jeremiah is 17. He's a child. He doesn't have a choice.
"In my opinion the game should've been stopped immediately," Cunnings continued. "If they couldn't identify who it was, the whole student section should've been kicked out. Or our team should've picked up our stuff and left: 'We will not play anybody who allows their spectators to be disrespectful.'"
The opposing team is conducting its own investigation, according to a statement from Waverly-Shell Rock Senior High.
"Because the investigation into the incident continues to reveal new information, our efforts to communicate in a timely manner have led to some confusion and rumors," the school stated. "Any reports that indicate that the individual or individuals who made the comments is known are rumors. We apologize for the confusion and want to be clear that we are not backtracking or minimizing; we just need to get it right. Unfortunately, getting it right takes longer than any of us want it to. We are committed to a timely and thorough process."
Administrators from Charles City said they have the backs of their students.
"Our students must know we have their backs regardless of the circumstances and that we are fighting shoulder to shoulder with them to end oppression and to create the world that we know is possible," Charles City stated. "Our state and nation needs to know that our thoughts, words and actions matter. We must do better. We must be better."
Chapman hasn't experienced much racism in his life, according to his mother, who said the family just wants to fit in. After a life of trying to blend in, she now thinks it may never happen for her, but still has hope for Jeremiah.
"Jeremiah was very naive and very ignorant to racism. He really hasn't had to experience it as much. We live in a small community. He's really good at sports," Cunnings said. "I feel like this is a wake-up call to know that these things still happen and exist. I preach it, but to experience it is a totally different thing. That was his 'aha moment' but in a negative way."