Video: Fantasia Takes Shoes off Before Singing At Aretha Franklin's Funeral
Fantasia kicked off her shoes for her performance at Aretha Franklin's funeral on Friday and now it's trending on Twitter.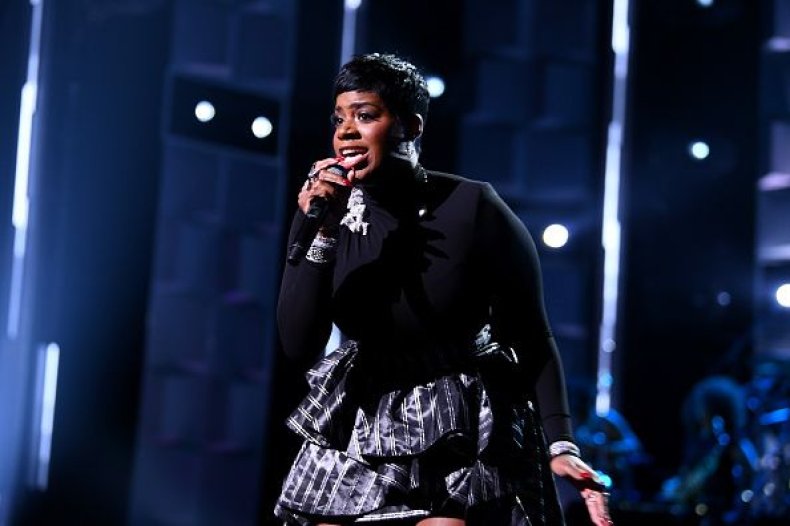 "I hope she don't mind, I don't think she would, but I think I'm gonna come out of my shoes," Fantasia, 34, said before she began a rendition of Franklin's "Precious Lord, Take My Hand/You've Got a Friend."
Fantasia, backed by a full choir, had the entire congregation on their feet as she belted the lyrics to the classic song.
Fantasia is giving her everything. Shoes off & everything. She is sanging," writer Mikki Kendall wrote under the #ArethaHomegoing hashtag.
"When Fantasia starts going that phantom biting thing with her mouth, just give your life to the Lord," said writer Britni Danielle.
"Shoes came off at the beginning, that is ALL you need to know. Let Fantasia bless your soul," wrote singer and actress, Such.
Aretha Franklin's ongoing funeral service is taking place at the Greater Grace Memorial Temple in Detroit. Other performances included Stevie Wonder, Jennifer Hudson, Chaka Khan, Faith Hill and Ariana Grande. Speakers included former President Bill Clinton, the Reverend Jesse Jackson, Clive Davis, Smokey Robinson, Cicely Tyson, Detroit Mayor Mike Duggan, Michigan Governor Rick Snyder and former U.S. Attorney General Eric Holder.
The service was limited to invited guests only, but was broadcasted in full by various news stations and was live-streamed on the internet. Thousands gathered for Franklin's final send-off and many who tuned in posted under the hashtag #ArethaHomegoing.
Fantasia decided to perform the traditional gospel tune for her tribute to the Queen of Soul. Chaka Khan went a similar route with her performance of "Goin Up Yonder" and seemingly read the lyrics off the back of her fan.
The performance held obvious meaning for Fantasia. "This woman played a BIG part in my life. She played a genuine role in my life similar to how my Grandmother was very dear to me," she tweeted the day Franklin passed on August 16. "I'll never forget the talks we shared together. Auntie, kill the choir up there in Heaven & know that your Music will last forever."
Fantasia's full performance can be viewed here.