25 Facts About "Fantastic Beasts 2" Every Harry Potter Fan Needs to Know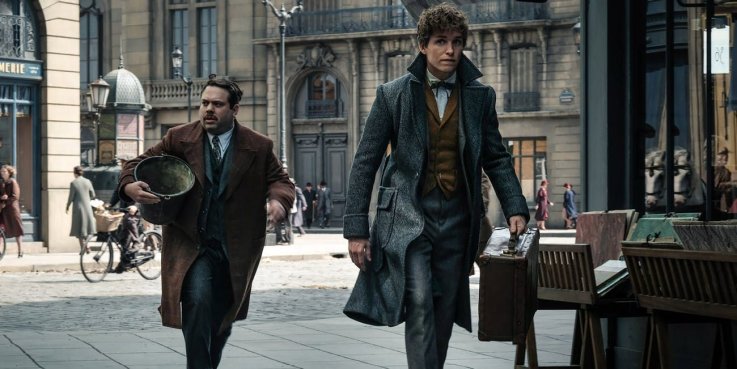 Fantastic Beasts: The Crime of Grindelwald is the next pre-Harry Potter installment in Warner Bros' Wizarding World saga. Since the release of Fantastic Beasts and Where to Find Them in 2016, fans the world over have been speculating where the story would lead next—and what connections it would make to the Boy Who Lived and his classmates at Hogwarts. (Not to mention if it would tie to the birth of Tim Riddle, a.k.a. the future Lord Voldemort.)
In the first Fantastic Beasts, young Newt Scamander (Eddie Redmayne) infiltrated the secret wizarding community of New York City in what was supposed to be a brief layover on his mission to document magical creatures. But a few of the titular "beasts" got loose and wreaked havoc on the Big Apple, revealing a dark conspiracy along the way. With the help of Muggle (or "No-Maj" as the Americans call non-magic users) Jacob Kowalski (Dan Fogler), half-blood witch Tina Goldstein (Katherine Waterston) and her vivacious sister Queenie (Alison Sudol), Newt catches the uncanny critters and reveals that Director of Magical Security Percival Graves (Colin Farrell( is really the dark wizard Gellert Grindelwald (Johnny Depp).
The Crimes of Grindelwald picks up right where the first film left off, with Newt continuing his global quest for arcane animals. This time he visits Paris, where evil is lurking in the shadows: Grindelwald has escaped custody (again) and is gathering followers to achieve his goal of making pure-blood wizards and witches dominate Earth's non-magical beings.
The sequel also reveals more about Newt's background—including how (and why) he got kicked out of Hogwarts—and introduces us to new characters, like the mysterious Leta Lestrange; French-African spellcaster Yusuf Kama; Newt's brother, Theseus; and a certain young wizard by the name of Albus Dumbledore.
Slide through to learn some fantastic facts about Fantastic Beasts: The Crimes of Grindelwald. Warning—there be spoilers ahead!