'Fantastic Beasts' 2018: Johnny Depp Gives Muggles Speech as Grindelwald at Comic-Con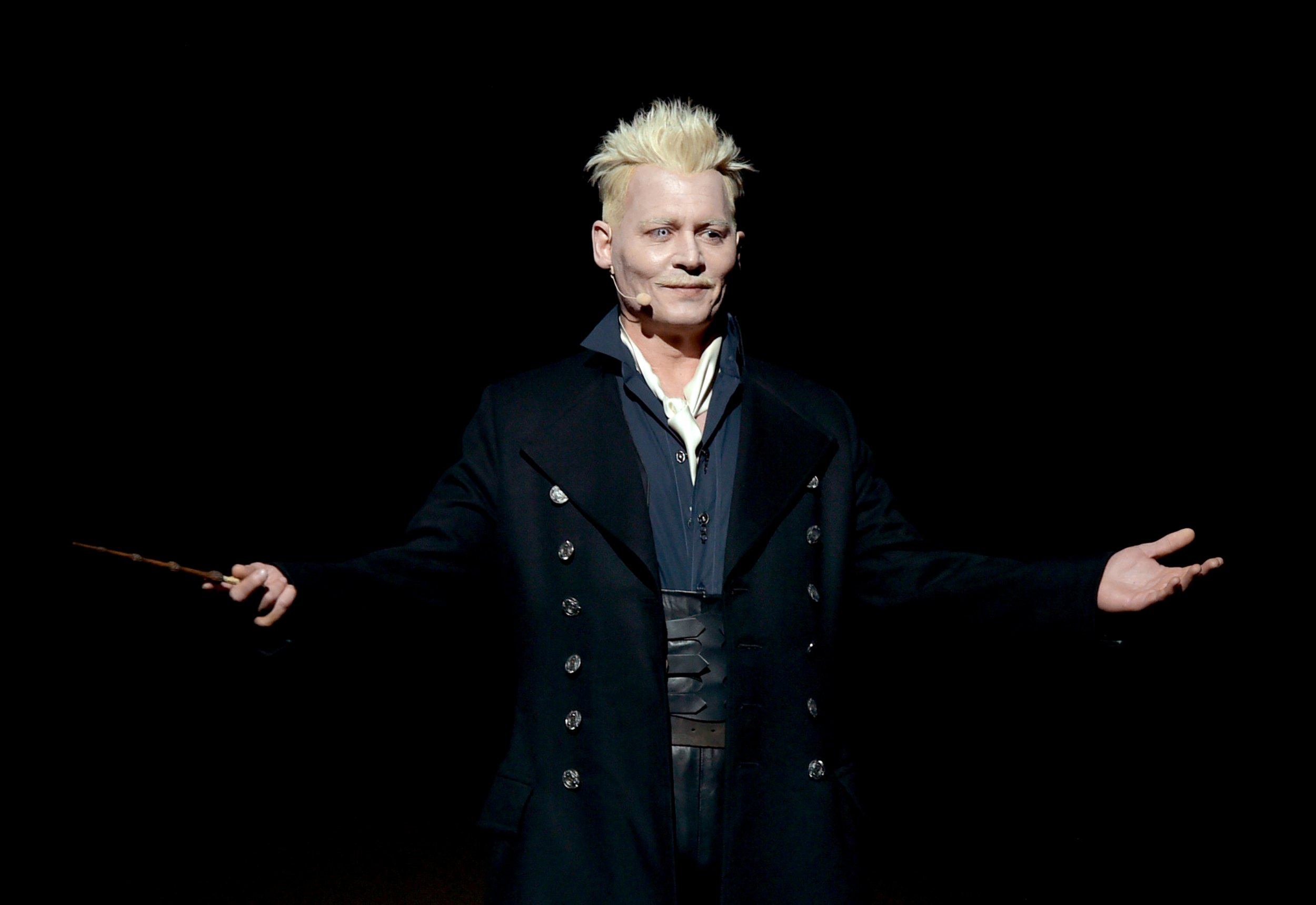 Johnny Depp joined the Fantastic Beasts: The Crimes of Grindelwald cast in full costume Saturday at San Diego Comic-Con, where Warner Bros. released a full-length trailer for the film.
The first movie, 2016's Fantastic Beasts and Where to Find Them, ended with Depp's Gellert Grindelwald in the custody of the Magical Congress of the United States of America (MACUSA). The dark wizard escaped and recruited followers. He wants pure-blood wizards to rule over those without magic.
"It has been said that I hate the non-magic, the Muggles," Depp said in his speech as Grindelwald to the audience at the Comic-Con panel. "I do not. I say the Muggles are not lesser but other, not worthless but of other value. Magic blooms only in rare souls. It is granted to those who live for higher things. Oh and what a world we would make for all of humanity. We who live for freedom, for truth—the moment has come to rise up and take our rightful place in the world."
Depp's then-wife, Amber Heard, accused him of abuse in 2016, and some were not happy to hear he was reprising the role of Grindelwald. Harry Potter and Fantastic Beasts author J.K. Rowling addressed those concerns on her website in December. "Around the time of filming his cameo in the first movie, stories had appeared in the press that deeply concerned me and everyone most closely involved in the franchise," she wrote.
They did think about recasting the role. "Based on our understanding of the circumstances, the filmmakers and I are not only comfortable sticking with our original casting but genuinely happy to have Johnny playing a major character in the movies," the author said in her post.
The new trailer for the Fantastic Beasts sequel, in theaters November 16, focuses on the hunt for Depp's character. It begins with professor Albus Dumbledore (Jude Law) teaching his students at the magical school of Hogwarts. Newt Scamander (Eddie Redmayne) says his greatest fear is "having to work in an office." Dumbledore later recruits him to stop Grindelwald, ensuring he doesn't have to worry about that happening.
Dumbledore can't make a move against the dark wizrd, he explains to his former student. It has to be Newt. "In your shoes, I'd probably refuse," the professor says. The dangers and monsters Newt faces after show why. Newt battles Grindelwald near the end of the trailer. Grindelwald asks if Newt thinks Dumbledore will mourn for him.
Warner Bros. Pictures debuted a new poster asking, "Who will change the future?" with a look at the cast on Twitter Saturday.