Fantastic Four #1 arrives Aug. 8 and to celebrate, Marvel released a trailer featuring commentary from series writer Dan Slott, Marvel Editor-In-Chief C.B. Cebulski and executive editor Tom Brevoort.
"Where have Reed and Sue been? It's a question that's been on everyone's minds, not just the fans, but family members. Ben and Johnny have been looking...and in the new launch, we will finally get the answers to that question," Cebulski teased.
Slott is excited to see the family explore the cosmos and new dimensions, just like in the Stan Lee and Jack Kirby originals. "You never knew what you were going to get in Fantastic Four. The world of Fantastic Four is the 'anything can happen' book," said Slott.
One thing that will definitely happen is Doctor Doom's return, Slott confirmed. "You've been missing a villainous Doctor Doom in the Marvel Universe for awhile, haven't you?" he said. "Is he a hero? Is he a villain? He's complicated."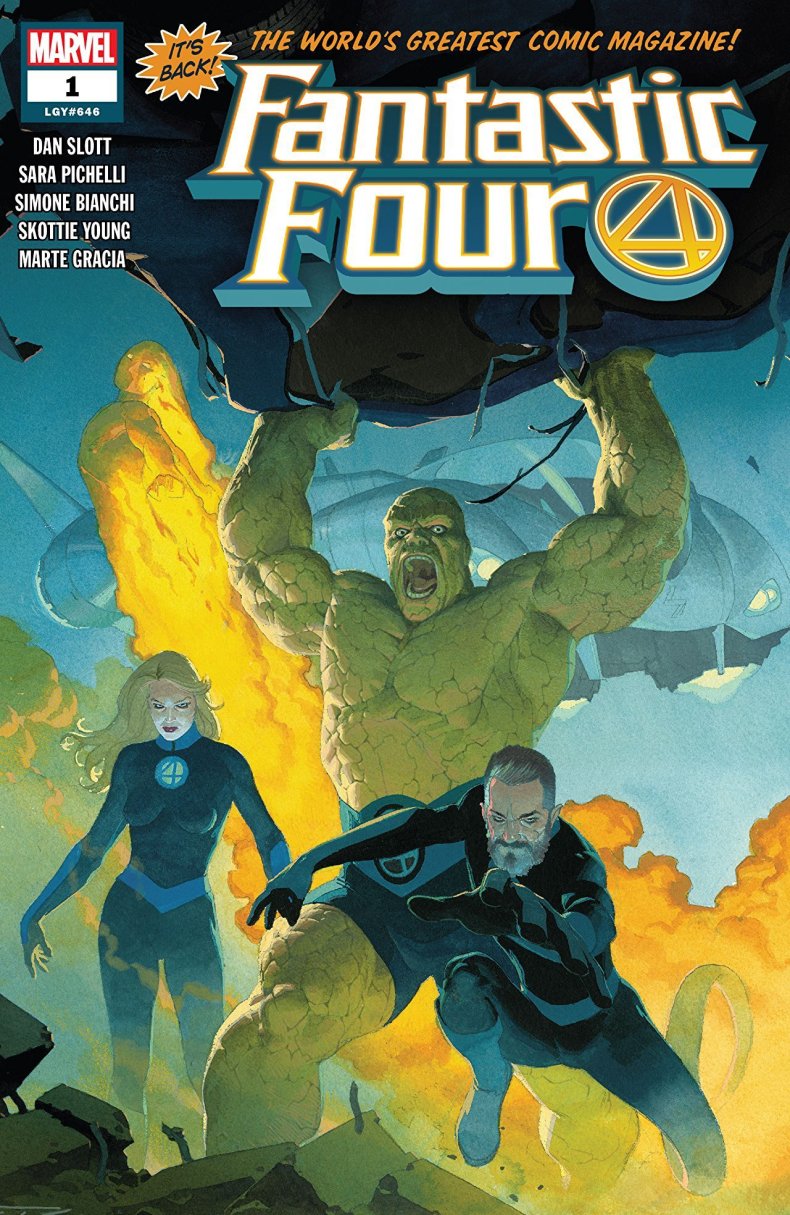 Brevoort is especially enthusiastic about Sara Pichelli's art. "She has such a wonderful sense of character and sensitivity in her drawing. In particular, I like the way she draws Human Torch aflame. She does it different than anything before," he said.
Check out the trailer and solicitation below, and the variant covers here. Will you be picking up a copy? Let us know in the comments.
BECAUSE YOU DEMANDED IT – THE WORLD'S GREATEST COMIC MAGAZINE IS BACK! Since the end of SECRET WARS, there's been a gap in the Marvel Universe. A void no other team can fill. And it's time for the world to move on. But can it? A life-changing decision by the Thing! A momentous declaration by the Human Torch! A clarion call-to-arms that summons Doctor Doom! And a signal in the sky that heralds the return of hope to the Marvel Universe! All this, and Alicia Masters adopts kittens! So cute! Plus, the Impossible Man! AND BONUS STORIES ILLUSTRATED BY SIMONE BIANCHI AND SKOTTIE YOUNG! IF YOU READ ONLY ONE MARVEL COMIC THIS MONTH, THIS IS THE ONE!