Fantasy Football 2018 Sleepers: Week 3 NFL Running Backs, Wide Receivers, Tight Ends And QBs To Pick Up
It's almost time for Week 3 of the NFL season.
The first game of the week will kick-off on Thursday night and will feature the New York Jets and the Cleveland Browns (more info on that matchup here).
It's an important week for those of us who play fantasy—especially those in a league with friends who've had a slow start to the season—it's kind of now or never to get things going.
So, with that in mind, here are a few sleepers (or, at least, players some folks might choose to sit rather than start) ahead of the Week 3 slate of games.
Brandon Marshall (WR - Seattle): The Seahawks wideout is somehow owned in just 21 percent of leagues, according to ESPN's figures. It seems Seattle's Doug Baldwin will be out injured for at least another week, which means more targets for Marshall. He has scored 22 points (PPR) through two weeks and will face Dallas in Week 3.
Blake Bortles (QB - Jacksonville): ESPN has Bortles at just 15 percent owned heading into his matchup against the Tennessee Titans. Last week he dropped 32.6 points. Last week, DeShaun Watson put up nearly 23 points against the Titans, so it's not unreasonable to think Bortles could find a way to have some success.
Latavius Murray (RB - Minnesota): After his status was unclear, it seems like starting running back will Dalvin Cook will be able to play for the Vikings in their matchup against the Buffalo Bills. However, Minnesota will likely make quick work of Buffalo—who have looked awful—and that might mean garbage time carries/yards for Murray. He is owned in just 38 percent of ESPN leagues.
Ryan Fitzpatrick (QB -Tampa Bay): He leads all fantasy scorers and is still owned in just 68 percent of ESPN leagues. The magic will surely run out at some point, but if you want to give it a go for Week 3 well... why not? Fitzpatrick will lead the Bucs against Pittsburgh, who really need a win but seem to be in a bit of disarray.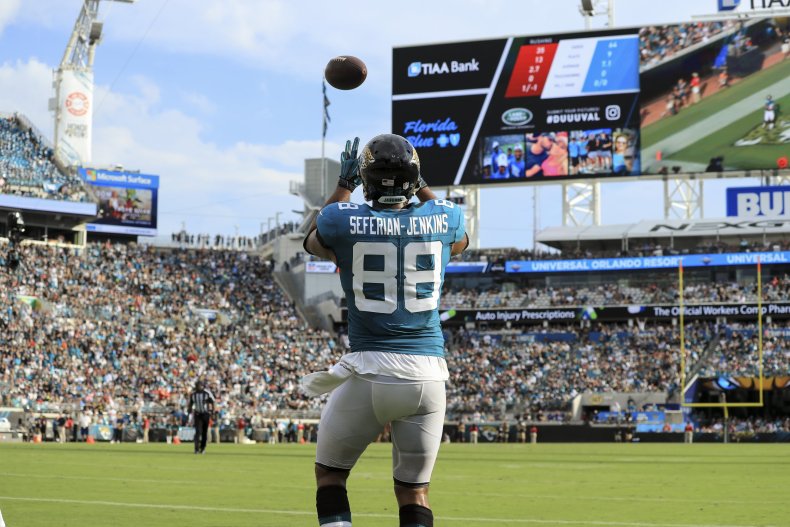 Austin Seferian-Jenkins (TE - Jacksonville): Seferian-Jenkins is a really good red-zone target for a good team. He scored 11.3 points last week but is owned in just 31 percent of ESPN leagues.
Desean Jackson (WR - Tampa Bay): OK, so this isn't too much of a sleeper but, still, Jackson is owned in only about three-quarters of ESPN leagues. He scored 31.6 points in Week 1 and 22.9 in Week 2. If you can scoop him up, why not?
Austin Ekeler (RB - L.A. Chargers): He's in the Top 10 for points scored for running backs but is owned in just about 50 percent of ESPN leagues. He rushed 11 times for 77 yards and 12.8 points last week. Ekeler does, however, have a tough matchup this week considering the Charges will play the Rams.
Will Dissly (TE - Seattle): Dissly has scored a touchdown in each game this year and is third in total fantasy points for tight ends. He's owned in just about 30 percent of ESPN leagues.
Jarius Wright (WR - Carolina): Wright caught five passes for 62 yards and touchdown last week. That was worth 17.2 points. He's owned in less than one percent of leagues. Now, it seems unlikely he'll be able to match last week's performance in Week 3 but if you're struggling for a flex option in a deep league, it might be worth a shot.