Fantasy Football Advice for Week 1 From The League's Paul Scheer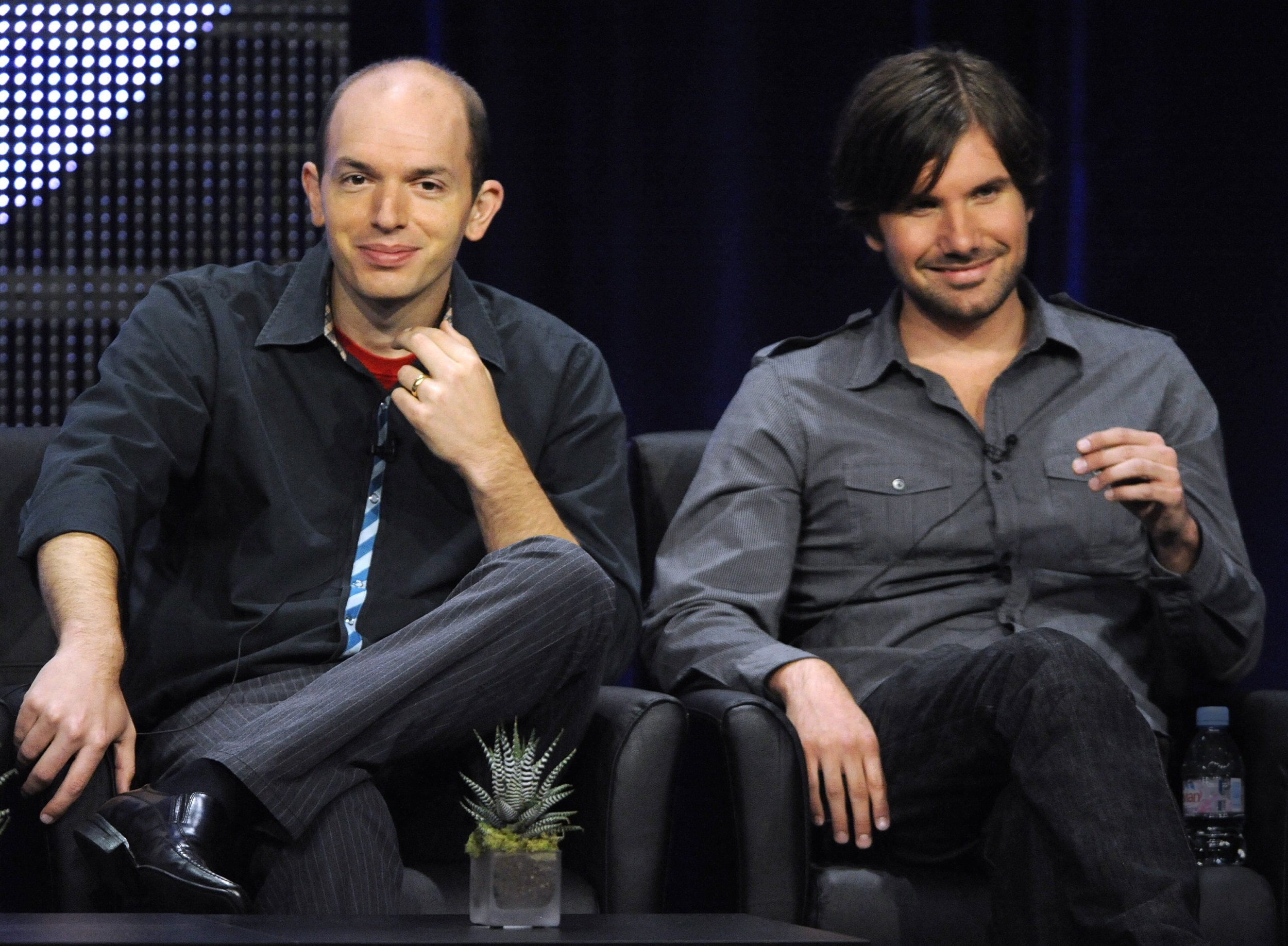 It's Week 1 of fantasy football, and everything is still bright and shiny. Your team is just looking great over there. This could be your year!
To help, here are some thoughts about whom to start and whom to sit this week. Now, telling you to start Drew Brees and to sit EJ Manuel is like telling you that it'd be wiser to take the free upgrade to first class than to say "no thanks." So the focus here is on borderline players—guys that are probably rostered in your league but are questionable in your flex or third wide receiver spot.
First, though some suggestions from Paul Scheer, writer, actor, comedian and the star of FX's The League. "For all you fantasy football players out there," Scheer says, "remember two things, no one wants to hear about your fantasy team and never trust your instincts."
Paul's Sit
Wes Welker, DEN (Suspended)
I think Wes Welker is shaping up to have a terrible first week. He's so hopped up on Molly, that he'll just be hugging and feeling up all the dudes in the huddle and not listening to any of the plays. Plus he'll totally be spent after wasting all that energy dancing to the Star-Spangled Banner with those glow sticks he got during preseason.
Paul's Start
Jeremy Hill, CIN
Now that BenJarvus Green-Ellis is gone, it's Hill's time to step up. His last preseason game where everyone was taking it easy. He crushed it. He's a secret weapon that no one in Baltimore will see coming.
START EM
Quarterback
Colin Kaepernick, SF
Kap gets to open the season against what might be a historically terrible Dallas Cowboys defense, and it's a pretty safe bet that this game will be a shootout. The Cowboys allowed the second-most yards per play last season, and with DeMarcus Ware and Jason Hatcher gone, and 10 other members of their D suspended or injured, this is going to be ugly. Unless you own Kaepernick.
Philip Rivers, SD
The improved efficiency in Rivers's passing game is here to stay, at least in 2014. He's got weapons all over the field, with all-world pass catcher Keenan Allen leading the way, and Michael Floyd, Antonio Gates and Ladarius Green not far behind. On top of that, throw in two above-average Swiss Army Knife–type halfbacks Ryan Mathews and Danny Woodhead in the mix and watch Rivers go to work against a Cardinals defense that excels against the rush.
Running Back
Andre Ellington, ARI
The sleeper-not-sleeper of the year gets to break out in a nationally broadcast Monday Night Football game against the Chargers. The Bolts actually have a pretty good run defense, but no one can contain Juke (get it?), who seems like he can do it all. Head coach Bruce Arians says the Cardinals are going to build their offense around Ellington, so expect to see him get the ball 20 to 30 times.
Chris Johnson, NYJ
Johnson seems pretty washed up, but Oakland is so bad at stopping the run, we might get to see a little glimpse of the old CJ2K. Chris Ivory might get a few carries, but the Jets are going to try to give Johnson a shot at being The Guy.
Frank Gore, SF
See Kaepernick above.
Wide Receiver
Rueben Randle, NYG
First round draft pick Odell Beckham Jr. is recovering from a hamstring injury, and is two or three weeks away from practicing. If you can name the Giants' starting tight end, I'll buy you a beer. That leaves Victor Cruz, and Randle, who will work all the two-wide sets, and will see regular targets in the red zone. In Week 1's Monday night game, the Giants face the Lions, who had the third worst pass defense last year. Give Randle some run.
Riley Cooper, PHI
I went to U.C. Berkeley when DeSean Jackson was breaking knees all over the Pac-10. I'm also a native New Yorker and a huge Giants fan. I guess watching Jackson kill it for the Washington Professional Football Team is a little better than watching him do it for the Eagles, but it still hurts. Anyway, Cooper is going to get most of the throws Jackson got last year, and this is an exciting offense still.
Michael Crabtree, SF
See Kaepernick and Gore, both above.
Tight End
Zach Ertz, PHI
As with Cooper, Ertz will be one of the primary beneficiaries of the departure of DeSean Jackson. He showed flashes of brilliance in 2013, his rookie year, and in 2014 will get to play upward of 80 percent of his team's snaps (last year he only was on the field for about 40 percent of plays). The Jaguars are a mess almost everywhere, and last year, they gave up the second-most fantasy points to tight ends.
Kicker
Brandon McManus, DEN
Broncos starter Matt Prater is suspended for the first four games of the season for violating the league's substance-abuse policy, so the team hired McManus, who was competing for a job Giants' camp this summer. McManus lost, but Giants' coach Tom Coughlin called him "a very powerful man." In the thin air of Denver (which made Prater the NFL's best place-kicker last year), I'll buy that stock.
Defense
Detroit Lions
Again, I'm a Giants fan, so in this case I will not be taking my own advice. But sadly, Ndamukong Suh and team are probably going to run roughshod over the Giants very shaky front line (starting guards Geoff Schwartz and Brandon Mosley are both out with injuries right now).
SIT
Quarterback
Russell Wilson, SEA
Yea, he's saying all the right things about getting better. Yea, his preseason looked great. But the bottom line is that Seattle's offense is slow. They ran an average of 61 plays per game last year (compared to, say, the 75 ran by the Green Bay Packers). A healthy Percy Harvin should help, but coming off a season where he played one game and suffered a terrible hip injury means he's no guarantee. The Seahawks offense will remain focused on Marshawn Lynch, regardless of his supposed mileage problems.
Josh McCown, TB
Don't get too pumped on his fantastic numbers last year as Jay Cutler's stand-in. He was working with real weapons in Chicago, including two top-10-level wideouts in Alshon Jeffery and Brandon Marshall, and a top-five running back in Matt Forte who also happened to be third in the league in passes caught by a running back. In Tampa Bay, McCown has 31-year-old Vincent Jackson and...not much else. Plus, he's up against Carolina's very stingy pass defense.
Running Back
Rashad Jennings, NYG
It looks like the Giants can run the ball this year. Jennings has 192 yards on 32 carries this preseason, good for a nice, round 6.0 yards per carry. In 2013, that would have led all running backs with over 200 attempts (DeMarco Murray led the NFL at 5.2, per NFL.com). Sounds great, right? Well, supposed backup Andre Williams has looked equally brilliant this summer, running for 151 yards on 31 carries and scoring twice. In shallower leagues, you might want to keep both Jennings and Williams on the bench until it becomes clear how the workload will be distributed. On the flip side, in deep leagues, start 'em both.
Ryan Mathews, SD
Mathews is definitely the Chargers' feature back, and he will get more touches than second back Danny Woodhead. But, the Arizona Cardinals had 2013's best run defense, and while it probably won't be as good this year, expect the Chargers to throw the ball. If you're in a PPR league, Mathews is still a good start, but in a traditional league, you may want to pencil in someone else instead.
Wide Receiver
Steve Smith, BAL
As a short guy (I'm 5-foot-8), I've been a fan of Smith (who is listed as 5-foot-9 but is probably more like 5-foot-7) throughout his career. But it's time to admit that his skills are deteriorating, and he'll have a hard time this week against a tough Cincinnati secondary. Also, Joe Flacco might not be that good. Case in point: In his last three starts against the Bengals, he has averaged a horrid 3.9 yards per attempt.
Sammy Watkins, BUF
Lots of potential, obviously, but lot of questions, too. First and foremost is what the heck is going on at quarterback for Buffalo. They just signed Kyle Orton, he of the 79.9 career quarterback rating, to supposedly back up incumbent EJ Manuel. But Manuel has been terrible in his NFL career, and it wouldn't be surprising to see Orton get the call this weekend. Either way, expect to see a lot of Watkins not getting the ball. He's also fighting a rib injury this week, so he may not be at 100 percent.
Tight End
Kyle Rudolph, MIN
Realistically, if you have Rudolph on your roster you are probably starting him, unless you had some all-TE draft strategy. But if you do have other options, consider: The St. Louis Rams were No. 1 in the league stopping tight ends last year, and it might take a few weeks before Norv Turner's new offense fully comes together.
Kicker
Dan Bailey, DAL
I'll be honest. To me, picking a kicker doesn't seem much different from spinning a roulette wheel. But my thinking here is that the Cowboys are probably going to be so far behind that they'll have to keep going after touchdowns, and Bailey won't get to kick many field goal attempts. That's reasonable, right?
Defense
San Francisco 49ers
If you didn't get the hints above, this weekend's Cowboys–49ers matchup is going to be all O, all day. SF's defense is shorthanded, too, with Aldon Smith suspended, NaVorro Bowman out with a knee injury, and Ray McDonald's status unclear after an arrest last weekend. The Cowboys can't protect their own end zone, but they can definitely find their opponents'.