Fantasy Football: Alvin Kamara, Jimmy Garoppolo and Other Players to Start in Week 2
Week 2 of the 2018 NFL season is upon us and time is running out to make last-minute changes to your fantasy football roster.
While drawing any verdict from the opening weekend is always a risk, there are a number of players who you should really start.
Newsweek has picked two per position.
Wide receiver
Keenan Allen—Los Angeles Chargers
The Chargers lost their season opener at home but Allen produced a solid performance, recording eight receptions for 108 yards and one touchdown. With the Chargers travelling to Buffalo in Week 2, the former California student will be looking to add to his 24.8 fantasy points, given the Bills conceded 47 points and 377 yards in Week 1. Allen had 12 catches for 159 yards and two touchdowns in the last meeting between the two teams and could be posting impressive figures again.
Quincy Enunwa—New York Jets
Sam Arnold stole the show in the Jets' season opener but Enunwa was very impressive, recording six catches, 63 yards and a touchdown. The Dolphins, the Jets' opponent in Week 2, didn't concede a passing touchdown in their season opener but if Darnold keeps up the form showed in Week 1, Enunwa could profit again.
Quarterback
Jimmy Garoppolo—San Francisco 49ers
One of the toughest defenses in the NFL made Garoppolo look uncharacteristically shaky in Week 1 as the 49ers lost on the road against the Vikings. The former Eastern Illinois player threw three interceptions as he tasted defeat as a starter for the first time since moving to San Francisco.
However, Garoppolo has the perfect chance to put the disappointment behind him as the 49ers take on the Lions in Week 2. Detroit conceded 198 passing yards in their 48-17 thrashing at the hands of the Jets and could struggle to stop Garoppolo.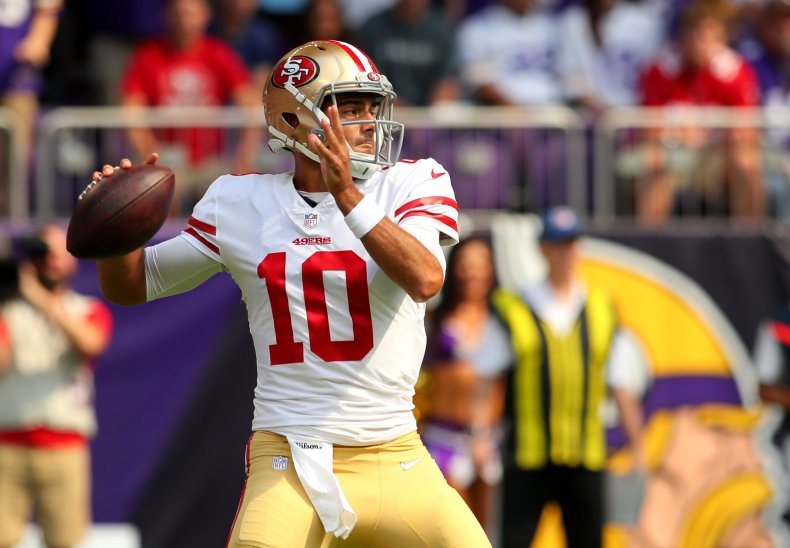 Patrick Mahomes—Kansas City Chiefs
It is unlikely the 22-year-old will keep up his stunning Week 1 production, which saw him throw four touchdowns for 256 yards. For the time being, it might be worth riding the Mahomes bandwagon for a while longer. The Chiefs travel to Pittsburgh in Week 2 in what could be a high-scoring affair and it will be fascinating to see how the Mahomes vs Roethlisberger showdown unfolds.
Running back
Alvin Kamara—New Orleans Saints
Kamara completed nine receptions for a total of 112 yards, adding 29 rushing yards over eight attempts for a combined three touchdowns. The kind of player who provides value for both PPR and non-PPR leagues, Kamara comes up against a Browns defense that conceded 494 yards in Week 1.
The Saints lost their season opener and will look to clinch a first win of the season on Sunday, expect Kamara to be in the thick of the action again.
Adrian Peterson—Washington Redskins
Suggestions that Peterson was a washed-up veteran were quickly dismissed in Week 1, as he recorded a rushing touchdown, rushed for 96 yards, and two catches for 70 yards. The Colts allowed 344 yards in Week 1 and Peterson could be rolling back the years again in Week 2.
Tight end
Zach Ertz—Philadelphia Eagles
Ertz was not among the five-highest scoring tight ends in Week 1 and ranked seventh on ESPN after picking up 9.8 points. However, while Jared Cook and Rob Gronkowski amassed over 20 points each, Ertz gets the nod this week because of the matchup awaiting the Eagles.
On Sunday, Philadelphia takes on Tampa Bay and while the Buccaneers recorded a surprising win against the Saints in Week 1, they also conceded 40 points in the process.
Eric Ebron—Indianapolis Colts
In his debut with the Colts, Ebron caught four of five passes aimed at him, recording 51 receiving yards and a touchdown. With Andrew Luck looking a lot better than in preseason and ever closer to full fitness, the Colts' O-line is in good shape but a trip to Washington will be a serious test.