Why Fantasy Football Matters in the Republican Presidential Debate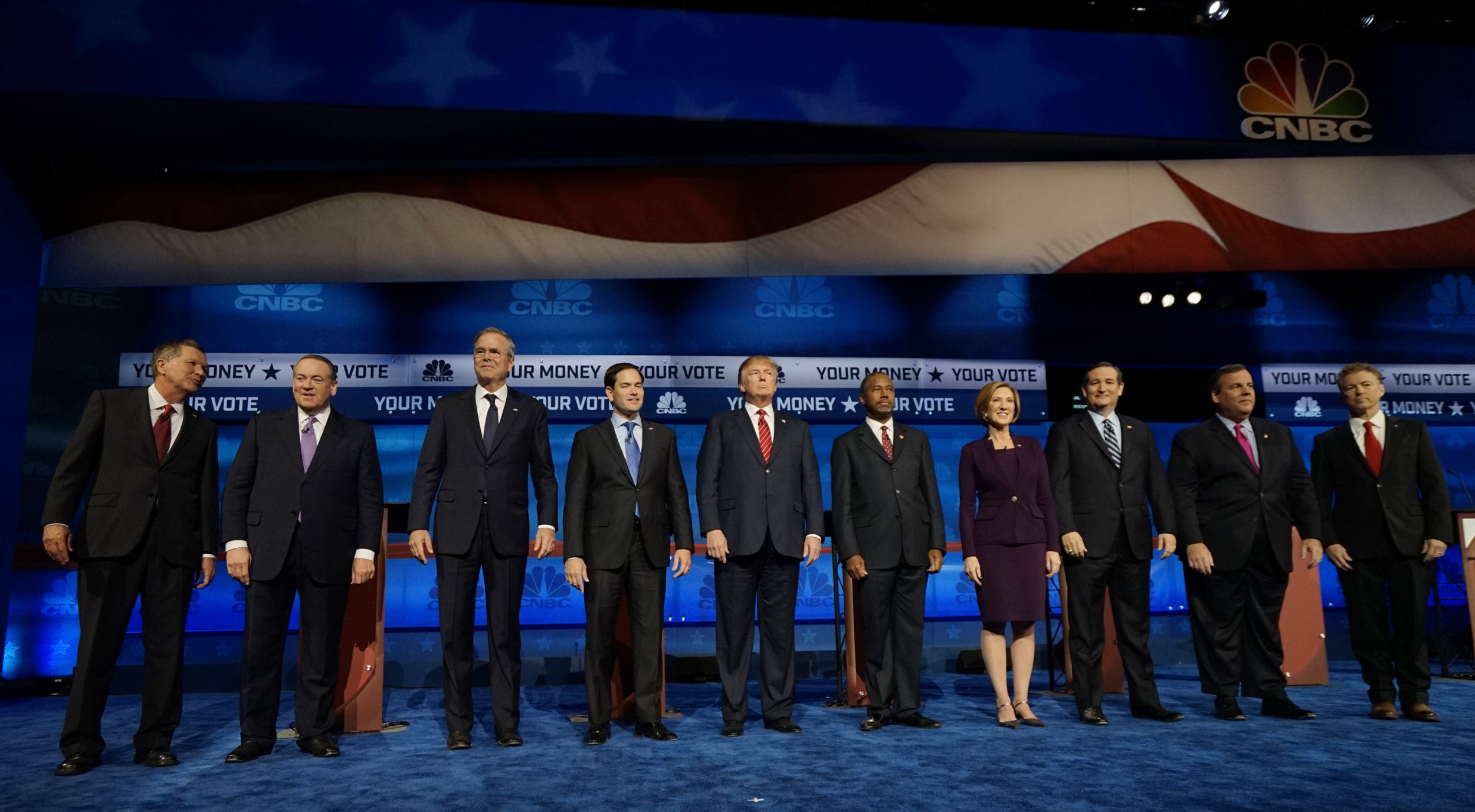 Updated | During the third Republican presidential debate, CNBC moderators asked the would-be leaders of the free world about fantasy football.
The question was supposed to get the candidates talking about whether the federal government should treat fantasy football like gambling. But the candidates mocked the moderators and essentially ignored it. Jeb Bush said his team is 7-0. Chris Christie attacked the question, saying, "We have $19 trillion in debt, we have people out of work, have ISIS and Al-Qaeda attacking us and we're talking about fantasy football?"
But some observers say the candidates should be talking about fantasy football. The industry is booming, and its legality is in question. Like Uber and Airbnb, it's exploded faster than regulations can keep up with.
Websites such as DraftKings and FanDuel offer fans the chance to gamble with real money on fantasy teams. Unlike traditional sports gambling, which is restricted to a handful of states, these services focus on fantasy teams that are rooted in real outcomes, rather than just the outcomes themselves. For this reason, the services consider themselves a game of skill, not chance. Users select their lineups, but fate determines how those players fare on the field.
The Unlawful Internet Gambling Enforcement Act banned online gambling in 2006, but even the FBI's website admits that "fantasy leagues...aren't strictly defined as Internet gambling." With that language in place, DraftKings and FanDuel are right to say that what they offer is not gambling.
But regulators, especially those who deal with the gambling industry, are starting to disagree. In October, the Nevada's Gambling Control Board ruled that offering such daily fantasy sports services is illegal without a license. The FBI and U.S. Justice Department have opened an investigation into FanDuel and DraftKings.
New York and Massachusetts have looked into the companies as well. Just before the first of two Republican debates on Tuesday evening, New York Attorney General Eric Schneiderman sent both companies cease-and-desist notices. "Our investigation has found that, unlike traditional fantasy sports, daily fantasy sports companies are engaged in illegal gambling under New York law, causing the same kinds of social and economic harms as other forms of illegal gambling, and misleading New York consumers," Schneiderman said. "Daily fantasy sports is neither victimless nor harmless, and it is clear that DraftKings and FanDuel are the leaders of a massive, multi-billion-dollar scheme intended to evade the law and fleece sports fans across the country. Today we have sent a clear message: not in New York, and not on my watch."
No matter what other legislators decide, a lot of money is at stake. DraftKings and FanDuel have more than a half a billion dollars in investor money and earned more than $300 million on entry fees in 2014. They are expected to pay out more than $1 billion this year and take a large cut for themselves.
Users trust the services enough to spend big bucks, but an incident this fall raised some questions about whether the playing field is exactly level. Ethan Haskell, a DraftKings employee, won $350,000 from FanDuel in October. The incident raised questions about unfair advantages within the game, such as whether employees with access to lineup information could use that to game the system. An internal investigation by the company said Haskell didn't receive any fantasy football information until after he placed his bets. But as a result of the controversy, employees at both companies are banned from using each other's service.
With this much money, and drama, on the line, the next president may eventually have to face the reality of fantasy football.
This story has been updated to reflect a New York state decision about these fantasy sports companies.