Fantasy Football: Week 2 Injury Update, Top Waiver Wire Pickups
With Week 2 of the NFL rapidly approaching, it's time for fantasy football players to assess the latest injury updates and scout the waiver wires in a bid to find a couple of valuable pickups
Here is a roundup of the main injuries from Week 1 and their impact on fantasy football rosters.
Wide receiver
Doug Baldwin—Seattle Seahawks
The Seahawks wide receiver sprained his right MCL and will be out for a period between two and four weeks. While the setback is obviously disappointing, at least Baldwin didn't suffer an injury on the left knee which has troubled him all summer.
Waivers pickup: Brandon Marshall—Seattle Seahawks (13.6 fantasy points — Owned by 14.1% of ESPN Fantasy Football teams)
DeSean Jackson—Tampa Bay Buccaneers
Jackson had a big impact in the Bucs' season opener, scoring two touchdowns and completing five receptions for 146 yards overall. However, he took a big hit from Ken Crawley in the fourth quarter, which caused him to fall face-first into the turf. The Bucs have since confirmed Jackson sustained a concussion and he will have to clear the league's concussion protocol before returning.
Waivers pickup: Geronimo Allison—Green Bay Packers (17.9 fantasy points — Owned by 9.2% of ESPN Fantasy Football teams)
Marquise Goodwin—San Francisco 49ers
Goodwin suffered a quadriceps contusion in Week 1 against Minnesota after being hit directly on his thigh. Head coach Kile Shanahan confirmed earlier this week the 27-year-old will be monitored day-to-day ahead of the 49ers Week 2 matchup against the Detroit Lions.
Waivers pickup: Phillip Dorsett—New England Patriots (19.6 fantasy points — Owned by 4.7% of ESPN Fantasy Football teams)
Quarterback
Marcus Mariota—Tennessee Titans
Mariota suffered an injury to the elbow on his throwing arm on Sunday after a hit by the Dolphins. The Titans quarterback threw two interceptions before being removed from the field and said in a post-game press conference that he was having difficulties feeling his hand. Despite that, however, he is expected to start in Week 2 against Houston.
Waivers pickup: Case Keenum—Denver Broncos (19.2 fantasy points — Owned by 18.8% of ESPN Fantasy Football teams)
Aaron Rodgers—Green Bay Packers
Rodgers hobbled off the field in the first half with appeared to be a serious knee injury, before returning to action in the second half and inspiring the Packers to a memorable comeback. The Packers host the Vikings on Sunday and Rodgers has insisted he will play bar a serious injury. However, given he was unable to put any weight on his left leg after returning to the field against the Bears it remains to be seen whether Green Bay want to risk him.
Waivers pickup: It's unlikely Rodgers will sit out the game against the Vikings, stick with him.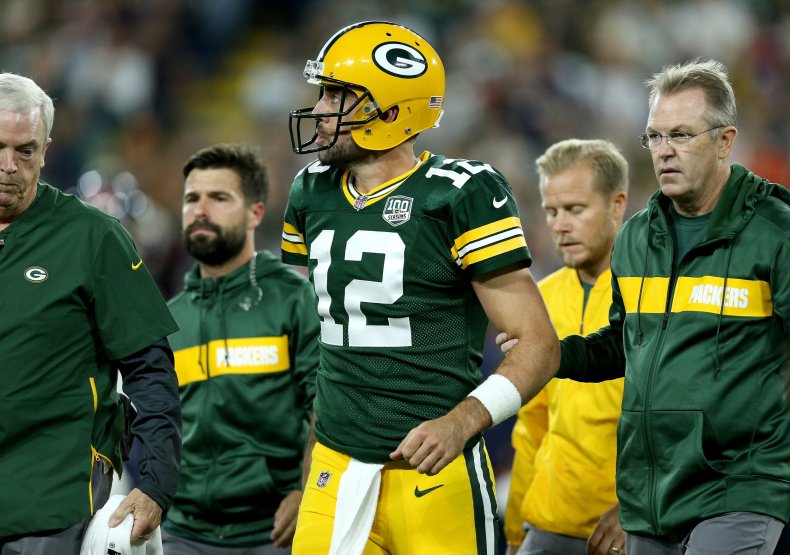 Carson Wentz—Philadelphia Eagles
Eagles coach Dough Pederson told reporters on Wednesday that Nick Foles will retain his starting spot against Tampa Bay this week as Wentz is still not cleared for contact. Wentz tore his left ACL in Week 14 last season and while he resumed training during the offseason, there's no fixed date for his return.
Waivers pickup: Tyrod Taylor—Cleveland Browns (23.6 fantasy points — Owned by 42.5% of ESPN Fantasy Football teams)
Running back
Leonard Fournette—Jacksonville Jaguars
The Jaguars running back was forced off the field early in the first half after suffering a hamstring strain. Jacksonville head coach Doug Marrone sounded cautiously optimistic over the injury but insisted the Jaguars would not rush Fournette back for their Week 2 clash against the Patriots on Sunday.
"Doc said it's a minor hamstring injury so we're just going to treat it during the week," he said, per ESPN. "If he's ready to go we'll ease him back in there and see how he feels."
Waivers pickup: T.J. Yeldon—Jacksonville Jaguars (15.9 fantasy points — Owned by 38.7% of ESPN Fantasy Football teams)
Jeremy Hill—New England Patriots
Hill torn his right ACL in the third quarter of the Patriots' win against Houston in Week 1 and has been ruled out for the season. It is a terrible blow for the 25-year-old, who had beat Mike Gillislee to secure a spot on the roster.
Waivers pickup: Phillip Lindsay—Denver Broncos (18.2 fantasy points — Owned by 1.9% of ESPN Fantasy Football teams)
Devonta Freeman—Atlanta Falcons
Having spent almost the entire offseason recovering from a sprained MCL, Freeman suffered another knee injury in the Falcons' season opener against Philadelphia on Thursday.
However, Freeman has already said the injury is only minor and he expects to play in Week 2.
Waivers pickup: Austin Ekeler—Los Angeles Chargers (23.6 fantasy points — Owned by 11% of ESPN Fantasy Football teams)
Tight end
Greg Olsen—Carolina Panthers
Olsen had to be withdrawn in the first quarter of Carolina's win against Dallas on Monday after suffering a foot injury. The Panthers are yet to provide an official update on his prognosis, although the fact Olsen injured the same foot a year ago does not bode well for the tight end.
Waivers pickup: George Kittle—San Francisco 49ers(14 fantasy points — Owned by 37.2% of ESPN Fantasy Football teams)
Delanie Walker—Tennessee Titans
Walker was one of three Titans players to suffer injuries on Sunday and his season is already over after breaking his ankle and suffering ligament damage. In the fourth quarter of Tennessee's 27-20 loss against Miami, Walker caught a 15-yard pass from Blaine Gabbert but was tackled by T.J. McDonald and fell awkwardly to the ground.
Waivers pickup: Eric Ebron—Indianapolis Colts (15.1 fantasy points — Owned by 16.8% of ESPN Fantasy Football teams)