Fantasy Football Week 3: Alt Bros In the Suburbs, Plus Nick Kroll's Week 3 Picks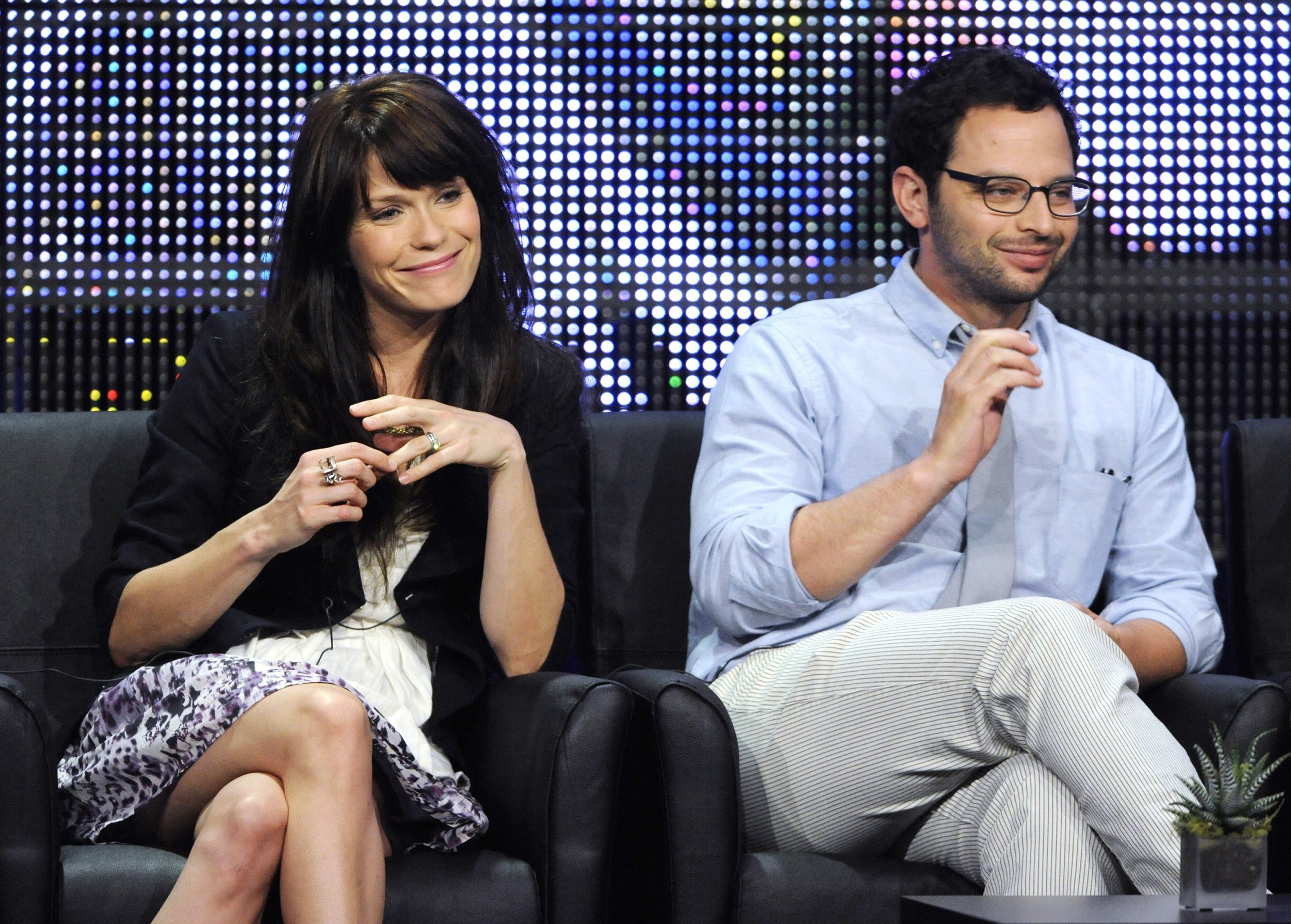 A friend of mine recently made the apt observation that Facebook has, for our generation, turned into the suburbs of the Internet. It used to be where we found out where the party was at; now it's where we get engaged, married, a puppy and then a baby. It's where our friends are summoned to our first "real" housewarming parties, and it's also the venue which most clearly reflects the changing behaviors of and intercourse between our peers.
The TV showThe League, a comedy now on FXX (part of the rather confusingly expanding stable of FX-begotten channels), slides into this milieu with the greatest of ease. It is about a group of friends living in the physically taxing suburbs of Chicago who play in the same fantasy football league. The show, now in its sixth season, lives to please. The humor is deeply adult, but gentle, and smart without ever feeling alienating. The guest list is an annual who's who of comedy (Lake Bell, Jeff Goldblum, Aziz Ansari, and Sarah Silverman to name just a few) and of professional football (Darren Sproles, Terry Bradshaw, Jay Cutler and many more). There's something (or in this case someone) for everyone.
This broad appeal works, in great part due to the improv chops of its core actors, and the clear-minded direction of show runners Jeff and Jackie Schaffer. But it's also, ultimately, a television show about a fantasy game played on computers based on the real life outcomes of National Football League games watched by the characters (and you, probably) in the comfort of their living rooms, flush with snacks and premium beers and big, shiny television sets.
The show does will not address traumatic brain injuries, drug use or the decades-long culture of misogyny and violence that is finally coming to a head in the wake of the Ray Rice video fiasco. Yesterday, Arizona Cardinals running back Jonathan Dwyer became just the latest pro to be arrested on charges with violence against women; he was deactivated by his team after reports of aggravated assault against a 27-year-old woman last July. (It's troubling to watch the trend of fantasy football advice columns having to make mention of these deactivations with increasing regularity: "Andre Ellington is likely to see more touches because Dwyer is in jail.")
The closest last night's episode of The League got to these hot-button issues was when Jenny, the one woman in the league, is outed as a height supremacist ("Adolph Heightler," "Sieg Height!") who loses Week 2 because she starts lesser players who happen to have have a bigger catch radius.
In some ways, this makes for the vanilla ice cream of what, these days, is a veritable Baskin-Robbins (i.e., 31 flavors!) of "challenging" TV—a Modern Family–style snack-ertainment for the Alt-Bro weaned on The Sopranos and The Wire. Imagine, for example, what Key & Peele might do with the same material.
But on the other hand, it also provides some insight into what it means to be that aged-out Alt-Bro, working hard to cultivate the image that everything is OK, despite the overwhelming (and ever-more-present) evidence that it is not.
Rodney Ruxin epitomizes this ethos. He has, on the face of it, won the suburb game (despite only winning The League once). He's a wealthy lawyer with the biggest house of the group and a stunning wife he's got, he says, by having "out-kicked his coverage." But despite (or perhaps because of) this success, his paranoia runs deep: He believes the entire league is scheming against him to keep the championship trophy out of his clutches. He wants his friends to call him Ruxin; they go with Rodney. He describes his appearance as "a Nazi propaganda cartoon of a Jew," lives in constant fear of his wife's infidelity, and spends most of his screen time hurling insults at his best pals. He is the Facebook suburbanite in a funhouse mirror.
Ruxin is played by comedian Nick Kroll, who himself grew up in New York's ur-suburb, Westchester County, the wealthy bedroom community north of the City. Kroll himself gets the joke: He says that despite his Empire State upbringing, he grew up a Dallas Cowboys fan because his older brother was a fan and his older brother, in turn, only rooted for the 'Boys "because he had a pack of playing cards featuring the Dallas Cowboys cheerleaders." Kroll's fandom has been up and down over the years: "Jerry Jones got face-lifts, and I lost interest…Then they picked up Michael Sam, and now I'm back on board!"
Whether Kroll is being real or flip, in many ways, this is the newly two-car-garaged Alt-Bro's approach to football, too: Read the headlines, skip the thinking (just in case it ruins it for you) and get ready for some football.
And now, the Week 3 picks, with Nick Kroll's help:
Quarterback
Start: Jay Cutler, CHI
Though he started the season expected to be a fantasy backup, Cutler is proving to be a better option than many QBs drafted ahead of him. With tons of weapons at his disposal, he's thrown for distance (349 yards in Week 1), and has been able to find the end zone with ease (six TDs in two games). He has a nice matchup this coming week against the New York Jets in the Meadowlands.
Nick Kroll's Start: Mr. America himself, Tom Brady, NE
"The guy has zero distractions. Zero. He's a billionaire, married to a supermodel and most importantly, he's sponsored by UGGs. Also, he no longer has to worry about Aaron Hernandez and what might happen if he muffs a bad throw to him or worse, dates the alleged killer's sister."
Sit: Ben Roethlisberger, PIT
The Carolina Panthers defense doesn't get the credit it deserves. They are the only team that finished in the top five in total yards per game allowed in 2013 (they were second, only behind the Seahawks) that are currently in the top five for this season. Meanwhile, the Steelers come into town with an offense that seems in flux. Roethlisberger averaged only 5.9 yards per pass attempt last week, and this week should be no better.
Nick Kroll's Sit: Philip Rivers, SD
"I've never seen anyone draw more power from a fashion accessory since Obama wore a beige jacket at a press conference vowing war against ISIS. The bolo tie that Rivers introduced to us last season seemed to feed the emotionally underdeveloped quarterback as he single-handedly willed the Charges to the playoffs last year. But now without the tie, like Iron Man without his ark reactor, Rivers is powerless. Also, let's stop calling the bolo tie a tie; it's really nothing more than a piece of yarn held together [at the ends] by a belt buckle."
Running Back
Start: Stevan Ridley, NE
On the other hand, Ridley looked dominant last week, running 25 times for 101 yards and a TD. Both the Jets and the Texans pummeled the Raiders on the ground the first two weeks of the season, and it would make a ton of sense for Bill Belichick to work that game plan in Week 3. Even with Shane Vereen very much still in the mix, Ridley seems like a nice Flex or RB3 start this week.
Sit: Shonn Greene, TEN
In fact, sit the entire Titans running squad. Neither Greene, heralded rookie Bishop Sankey, nor sleeper Dexter McCluster have distinguished themselves in 2014. Greene got the most carries of the bunch in weeks 1 and 2, so he's the de facto starter, but he hasn't done much with the opportunity, gaining just 111 yards in two games without scoring (and for those in PPR leagues, not catching a single pass). Add to that a matchup against a Bengals defense that is proving itself to be one of the tops in the league, in Cincinnati, and you get recipe for disaster.
Wide Receiver
Start: Cordarrelle Patterson, MIN
After a huge Week 1, everyone expected Patterson to light up the big board in Week 2, particularly with Adrian Peterson sitting out the game. He didn't deliver, but it probably wasn't his fault; the Patriots defense had a field day against Matt Cassel, with six sacks and four interceptions. Patterson does the most damage when he gets the ball in space, but the Vikings couldn't get him a single carry. But he could be due for a nice bounce-back game against a Saints team that looks like it wants to get in a shootout week after week.
Sit: Torrey Smith, BAL
Smith has looked like a bust so far this year, following a mediocre Week 1 with an even worse second week. He got a few looks deep, but the majority of Joe Flacco's passes are going to Steve Smith and the tight end duo of Dennis Pitta and Owen Daniels. Smith the younger is feeling more like a boom-or-bust guy than someone you can rely on week to week, and that means you are better off keeping him on your bench.
Tight End
Start: Larry Donnell, NYG
The good news is that if you've been starting the likes of Charles Clay or Heath Miller, you can probably get Donnell off of the waiver wire if you act fast enough. As a Giants fan, I watched Sunday's debacle against the Cardinals, and I can tell you that Donnell was fully bailing Eli Manning out, hauling in errant passes that had no business being caught. He may be kind of slow, but he seems to have good hands, and he has now earned Eli's full trust. Expect double-digit looks this week
Sit: Heath Miller, PIT
In Week 1, Ben Roethlisberger and the Steelers targeted eight different receivers, getting 365 yards in the air and a win out of it. In Week 2, Roethlisberger homed in on six targets, passing for 217 yards, no touchdowns—and the Steelers were killed by a fired up Ravens team. My guess is they go back to the Week 1 game plan, which doesn't bode well for Miller, as he may see his looks drop. Plus, he hasn't done much with what he's been given to date anyway.
Defense
Start: Houston Texans
Though unheralded at the start of the season, the Houston defense did look like it'd have high upside, with all-universe (and newly minted top 1 percenter) defensive end J.J. Watt leading the way and linebacker Jadeveon Clowney, the number one overall pick in the 2014 draft, playing second fiddle. Clowney tore his meniscus, and is out four to six weeks, but Watt has been earning his big-money contract, and then some. And, as much as it pains me to say it, he and the rest of the Texans should have no problem handling a New York Football Giants offense that has looked insipid thus far.
Sit: Seattle Seahawks
I'm trolling a little here. Obviously, if you have the Seahawks D, you are probably starting them in a home game, even if it is against the high scoring Broncos. But you might want to think twice if you have a decent backup option. Peyton Manning has already thrown for 511 yards and six scores, and he's going to be fired for the opportunity to pay back Seattle for the lopsided loss of last year's Super Bowl.