Fantasy Football Week 4: Reddit Founder Alexis Ohanian Believes in the Washington Department of Football
Reddit, with its anti-establishment ethos and general disregard for mainstream values and culture, seems the last place you'd go for fantasy football advice. In fact, the football subreddit isn't devoted to American pigskin at all; it's a bastion of that other, more global game. The top subreddits tend toward the esoterically geeky (Today I Learned) and ironically meme-y (Advice Animals). And the site made mainstream news earlier this month for providing the platform that allowed for the dissemination of dozens of nude photos stolen from the iCloud accounts of celebrities. Reddit banned "The Fappening"—subreddit dedicated to sharing the leaked photos—but their entire platform essentially relies on this sort insouciance. It's a decentralized place where (almost) anything goes, the Web's greatest meritocracy when it works, and a horror show of disregard for the Golden Rule of reciprocity when it doesn't.
On the other hand, that might be exactly why the fantasy football subreddit is more than robust. It's genuinely great, a place where a post asking "Can we get an injury list going?" generates 200-plus comments within 24 hours, and advanced metric debates like "Why do we rarely account for the standard deviation of a player's score?" (generally accepted answer: because it's really hard to convey variability in a meaningful way) sit quite comfortably alongside brainstorms of literary pun team names (Oedipus Rex Grossman, Jamaal Quiet on the Western Front).
It's also one of the better places on the Internet to work through your fantasy football issues today—if you've ever perused the ESPN Fantasy Football comment sections or the Yahoo! Fantasy Sports message boards, you know how quickly discussion devolves into sophomoric mockery. Perhaps because of the anonymity of the user base, or perhaps just because it takes some searching out to find it, so the readers are a self-selected group of aficionados sharing a love of the game, on the fantasy football subreddit, conversation stays conversation.
Alexis Ohanian, a co-founder of Reddit, is one of these discerning fanatics. Case in point: As of this writing, his most recent comment on the site was a response to the posting of the trailer Sean Taylor: A Football Life, an upcoming NFL Network's documentary: "I didn't know him, but I miss him so much." Ohanian lives in New York these days, but was weaned on the Washington professional football team, and he still rides hard for the Burgundy and Gold. For Week 4, Ohanian was kind of enough to make a couple of picks for Newsweek, and share this fantastic GIF: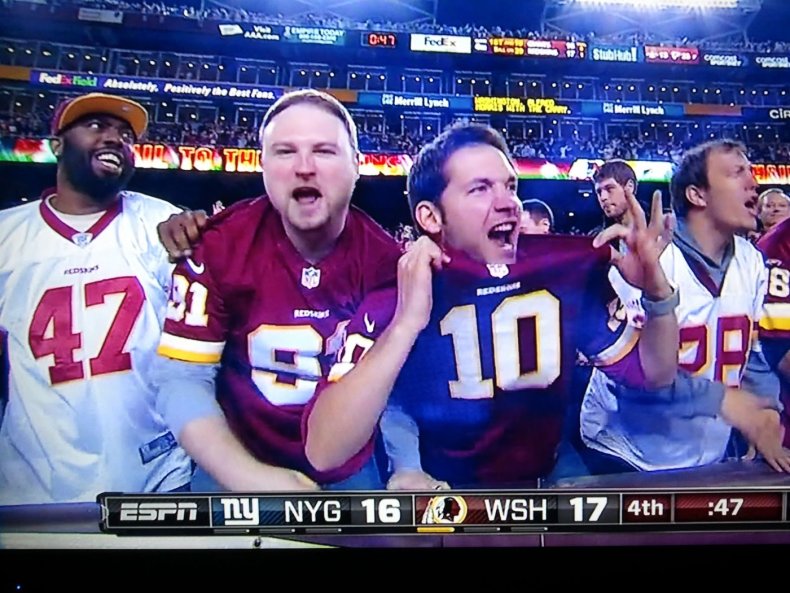 Quarterback
Sit: Cam Newton, CAR
With his ribs still hurting, Newton isn't the double threat he used to be. And that means he's no longer an elite fantasy option, particularly with a lackluster supporting cast (Brenton Bersin isn't scaring anyone lining up opposite Kelvin Benjamin). Baltimore's defense isn't exactly a world-beater, but it's good enough to keep Newton out of the top 10 this week.
Also Sit: Robert Griffin III, WAS
The Washington Post just reported that he will miss minimum six weeks with a dislocated left ankle. In ESPN leagues, 67.1 of RGIII owners are still starting the man. This is exactly why fantasy football is the worst, but there's an easy solution: ESPN and other league hosting services should somehow force-replace injured players with the best rostered option. This simple feature would save over two-thirds of fantasy leagues this week.
Start: Kirk Cousins, WAS
If you had RGIII and were lucky enough to pick up Cousins off the waiver wire before last week, this is a no brainer. But even for those who grabbed him to be their QB2 might want to consider giving him a run this week. He ripped apart a bad Eagles secondary last week, and the Giants aren't much better in pass coverage. Washington's offense looks like it can score at will.
Running Back
Start: Ahmad Bradshaw, IND
Any final words, Trent Richardson owners? Bradshaw has not only been better than Richardson, but he's been better than almost every other running back in the league. Bradshaw has always had the talent; it's been a matter of staying healthy. But as long as he's in good shape, keep rolling with him, especially against a Titans defense that gave up 220 yards on the ground to Dallas in Week 1 and three running scores against Cincy in Week 2.
Sit: The Chris's of the Meadowlands
First it looked like Chris Johnson was the lead back for the New York Jets. Now it looks like it might be Chris Ivory. Going into a tough Week 4 matchup against Detroit, don't bother with either, even as a flex option.
Wide Receiver
Alexis's Start: DeSean Jackson, WAS
It's going to be a long night for the G-men (read: lots of "Manning-face") as DJax only got one TD (in charming DJax-fashion) against his old team last week (in spite of a no-call late-hit he suffered on his injured shoulder). He's going to be hungry. The Giants D wishes the Eagles D had shown a way to contain Captain Kirk last week, but CK1 has his phasers set to "kill." He's having another big day and DJax is getting a pair of TDs on Thursday.
Start: Anquan Boldin, SF
It looks like the afternoon 49ers-Eagles game is gearing up to be a shootout; both teams have been entirely unable to stop the pass so far this year. Boldin will get his targets, and against the Eagles, his output should be closer to Week 1 (8 catches for 99 yards) than weeks 2 and 3. Maybe he'll even find the end zone for the first time in 2014.
Sit: Reggie Wayne, IND
The Colts' game plan looks to be to spread the ball around a lot: nine players caught passes in Week 3. And T.Y. Hilton may be emerging as the best receiver on the team; Wayne is simply not the Pro Bowler he used to be.
Alexis's Sit: Riley Cooper
He made all that money in the offseason, but probably should've invested in some new gloves. His 5.6 percent drop rate speaks for itself and there are no fantasy points awarded for players using racial slurs. The 49ers at home are hungry for this win, despite a lackluster secondary, they'll have no trouble hanging with Mr. Cooper.
Tight End
Start: Ladarius Green, SD
Tight end is a complete imbroglio this week. Six fantasy starters are out for certain (Dennis Pitta, Kyle Rudolph, Jordan Reed) or questionable (Vernon Davis, Delanie Walker, Charles Clay, and another two are on their bye week (Julius Thomas, Jordan Cameron). Green might be a gamble, given the continued excellence of Antonio Gates, but it is one that could pay off big against a Jaguars defense that has been dominated by tight end play so far in 2014.
Sit: Zach Ertz, PHI
Given the rash of injuries that have broken out amongst tight ends, you probably don't have the luxury of choosing to start or sit anyone. But if you do, Ertz is one to consider letting ride the pine this week. The Eagles are averaging 41.3 passing plays per game, and Ertz has seen an average of 4.3 looks. Bottom line: he's not a big part of their game plan.
Defense
Start: Atlanta Falcons
Matt Cassel is done for the season, so rookied Teddy Bridgewater will be taking the snaps for the Vikings moving forward. As much potential as Bridgewater might have, there isn't much room for optimism here in Week 4. Adrian Peterson is out with legal problems, and last week tight end Kyle Rudolph succumbed to injury, making a bad offense that much worse. The Falcons, coming off complete domination of Tampa Bay, get first crack at the Vikings JV unit.
Sit: San Francisco 49ers
See: Anquan Boldin, above. Despite the 49ers success on D to this point, they are not elite, and the up-tempo Eagles should be able to turn this game into a shootout.