Fantasy Sports Sites Try and Stay Open in New York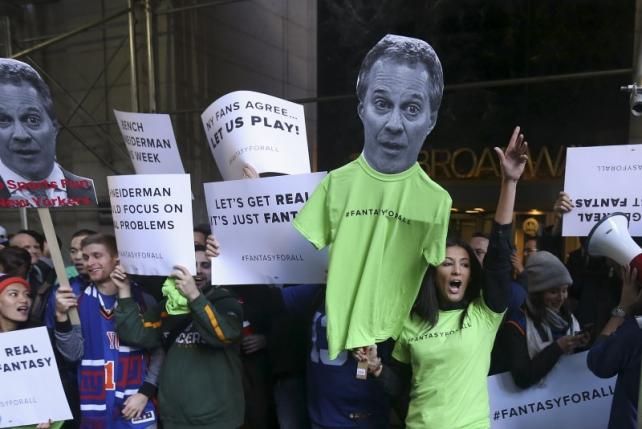 Daily fantasy sports companies DraftKings and FanDuel said on Monday they are seeking temporary restraining orders in an effort to continue operating in New York after the state's attorney general last week declared the games to be illegal gambling and demanded they stop taking money from New Yorkers.
"This court should not allow the attorney general to destroy a business that has been openly and legally operating in the state for years without due process of law," DraftKings said in their memorandum of law, filed in a New York state court.
New York Attorney General Eric Schneiderman last Tuesday sent cease and desist letters to FanDuel and DraftKings, the leaders in the daily fantasy sports market, demanding that they stop taking money from players in the state.
Both companies then filed suit against Schneiderman in New York Supreme Court, asking the court to rule that the games are legal.
The restraining orders would allow the sites to keep operating in New York state while their respective cases are heard.
New York has more daily fantasy sports players than any other U.S. state, according to Eilers Research, so being forced to shut down there could cripple the fast-growing, multibillion-dollar industry.
The order is the latest threat to the daily fantasy sports industry. The two companies have become the subject of congressional inquiries as well as a ban in Nevada after spending hundreds of millions of dollars on television advertising in 2015.
FanDuel stopped taking new deposits from players in New York on Friday. A spokeswoman on Monday said that the company is running two to three days behind payouts to players withdrawing their money due to a new identity verification system.
Boston-based DraftKings, however, has continued to operate as usual.
Modern fantasy sports started in 1980 and have mushroomed online. Participants typically create teams that span an entire season in professional sports, including American football, baseball, basketball and hockey.
Daily fantasy sports, a turbocharged version of the season-long game, have developed over the past decade. Players draft teams in games played in just one evening or over a weekend.
The companies may have painted targets on their backs through aggressive advertising at the start of the National Football League season that promised large winnings. FanDuel has said it planned to pay out $2 billion in cash prizes this year.