'Far Cry 5' Download Time: When Can You Start Gunning Down Cultists?
Far Cry 5 is almost here and, as our review says, it's an entertaining ride. If you want to start dismantling the Project at Eden's Gate cult as soon as possible, here's when you'll be able to download and start playing Far Cry 5 on PS4, Xbox One and PC.
What Time Does Far Cry 5 Release?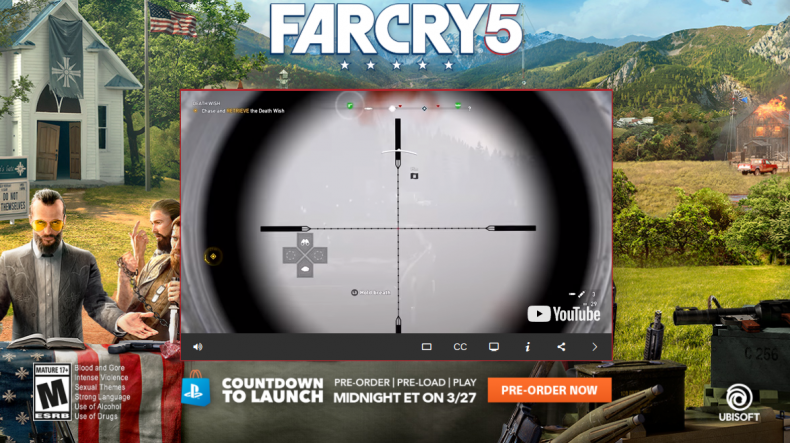 According to the PlayStation store, Far Cry 5 will release at midnight EDT. The Xbox store lists a midnight release time as well, but doesn't specify which time zone. If an EDT release is the case for PlayStation, it would make sense that it is also the case for PC and Xbox One gamers as well. This means gamers on the West Coast will be able to start Far Cry 5 tonight at 9:00 p.m. PDT.
Far Cry 5 Pre-Loading: When It Starts And How To Do It
Even better, Far Cry 5 offers pre-loading. This means players that pre-ordered digital copies will have the opportunity to download and install Far Cry 5 immediately. Once the clock strikes midnight, the game will unlock, allowing players to begin exploring Hope County and get into all sorts of crazy trouble.
When Will Far Cry 5 Be Available In Stores? Which Stores Are Holding Midnight Release Events?
If you're looking for a physical copy of Far Cry 5, don't expect to play quite so early. Make sure to call your local game store to see if they are hosting a midnight launch event. (This GameStop store locator is a good place to start.) If not, you'll need to wait until the store opens on the 27th to secure your copy of Far Cry 5. Of course, once you get a physical copy, you'll likely have to install the game anyway, which will take additional time.
So what do you think? Are you excited to play Far Cry 5? Will you try to find the secret ending? Let us know your thoughts in the comments section below.