'Far Cry 5' Explosion Hazard Live Event Guide: How to Get the Kaumbat Senator and Hurk/Adelaide Outfit Awards
The latest Far Cry 5 live event, Explosion Hazard, has begun. If you want to take part, you're going to need to make use of explosive barrels and vehicles. The event launched Tuesday, June 5 at 12 p.m. EDT and continues for a full week. If you've heard about the challenge but aren't sure how to participate or meet community goals, we've put together a complete guide onto everything you need to know.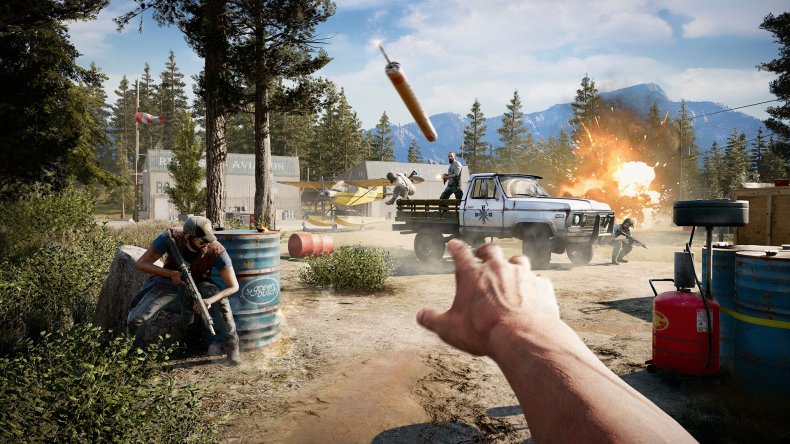 Far Cry 5 Live Event Guide: Everything You Need to Know About the Explosion Hazard Event
The latest Far Cry 5 event includes both a personal goal and a community goal which must be completed by June 12. The event requires players to kill Cultists with indirect explosions, so throwing a grenade at a Cultist isn't going to cut it. You'll have to lure enemies over to explosive barrels or blow up nearby cars to rack up these kills.
Far Cry 5 Explosion Hazard Live Event Personal Goals & Rewards: How to Get the TKaumbat H-158 Senator
As with the previous events, there are two separate reward pools players work towards in the Explosion Hazard event. The first is a set of personal goals you will complete alone. To unlock these rewards, kill cultists with indirect explosions.
Blow up 3 Cultists - 100XP and 50 Silver Bars
Blow up 6 Cultsists - 100XP and Kaumbat H-158 "Senator"
Far Cry 5 Explosion Hazard Live Event Community Goals & Rewards: How to Get the Hurk/Adelaide Outfit
Live Events also feature community level rewards received by everyone if they reach specific goals. Here are the goals the community must reach by June 5 to receive the group rewards:
Blow up 100,000 Cultists - 100XP and 50 Silver Bars
Blow up 200,000 Cultists - 100XP and "Hurk Jr./Adelade" Outfit
Note: You need to have signed up for the event to recieve rewards.
How to Sign Up For Far Cry 5 Explosion Hazard Live Event: Do You Need a Season Pass?
Far Cry 5 Live Events are open to all players. Anyone can sign up, regardless of whether they have a season pass or not. To access the event, follow these steps:
Open your saved game.
Navigate to the in-game menu where you find your map, inventory and other important info.
Go to the tab for Online play and select Live Events.
You'll see information there about the current event and the objective. Once you accept the quest, you can go back to your game to complete it.
How Do I Know When the Personal and Community Goals Have Been Met?
Far Cry 5's Live Events screen shows your personal goal progress and the community's progress. In the future, Ubisoft plans to bring more individual and community Live Events to the game. Make sure you are signed into your Ubisoft account to see your progress.
So what do you think? Do you have a strategy already for indirect explosive kills in Far Cry 5? What do you think next week's event will include? Let us know your thoughts in the comments section below.