'Far Cry 5' Mars DLC Release Date Revealed in New Trailer
The next Far Cry 5 DLC finally has a release date. In the latest trailer, which can be seen above, players will hit the stars and explore Mars starting on July 17 for PS4, Xbox One and PC.
Far Cry 5: Lost on Mars pairs players up with Nick Rye to go where no man has gone before. Once on Mars, players must stop the Martian Arachnid invasion before it can spread to Earth. Based on the image below, the Arachnids are a creepy bug-like species with green blood. Of course, you'll likely get to use awesome alien weapons and technology along the way, which is a nice bonus.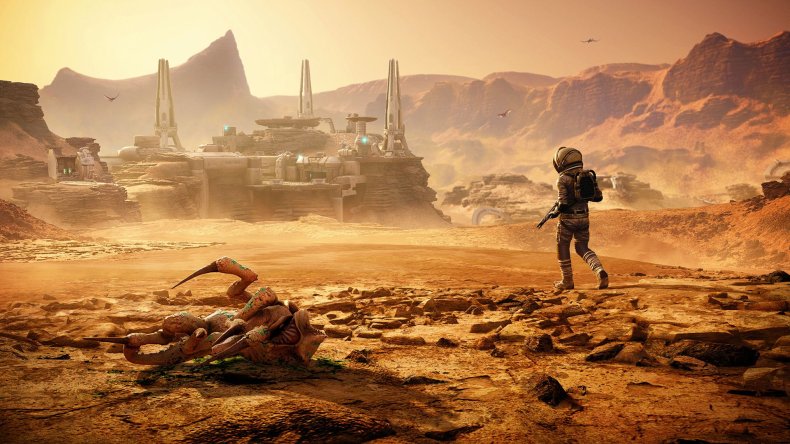 Assuming Far Cry 5: Lost on Mars is anything like the previous Hours of Darkness DLC, there will be one main mission to accomplish, with an assortment of collectibles to find along the way. The cool thing about Lost on Mars, however, that it offers a unique experience by allowing players to explore an extraterrestrial environment. We've already seen lush jungles filled with danger in previous Far Cry games. Expect the DLC to take anywhere from three to five hours to complete.
Now that the Mars DLC has been confirmed, all we have left for Far Cry 5 is the zombie DLC. The zombie DLC will task players with helping a B-movie director create his next masterpiece. While we still don't know when the DLC will release, it is likely we'll be playing it in late August, seeing as how Hours of Darkness released in early June, with Lost on Mars coming in mid-July.
So what do you think? Are you excited to blast off into space with Far Cry 5? Are you looking forward to the zombie DLC more? Let us know your thoughts in the comments section below.