'Far Cry 5' Title Update 10 Patch Notes: New Game+ Mode Added
Far Cry 5 again adds fresh improvements and tweaks with Title Update 10. Among the many new additions is New Game+ mode, allowing players to start a new campaign with previously earned items unlocked right from the start.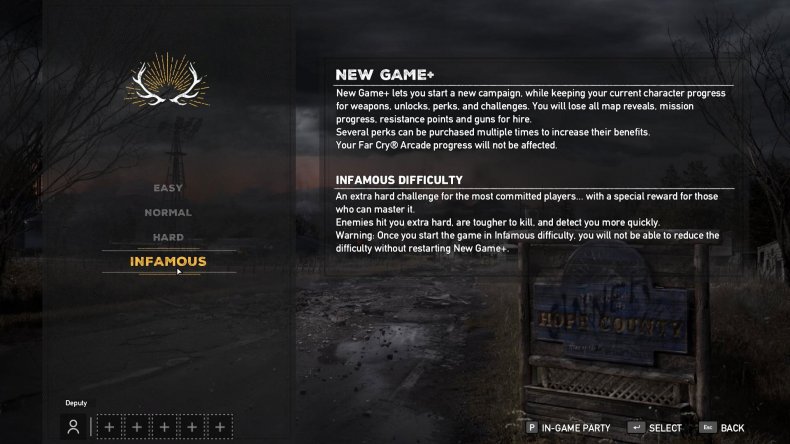 The New Game+ mode also unlocks a new difficulty level: Infamous. Enemies are tougher in this setting, but those who make it through the campaign earn a special unlock. It should be noted that players should only commit to Infamous difficulty if they are up for the challenge, as the difficulty level cannot be adjusted without completely restarting the New Game+ campaign.
This update also serves as a reminder that the final Far Cry 5 DLC pack, Dead Living Zombies, will release tomorrow, Aug. 28.
Newsweek subscription offers >
Far Cry 5 Title Update 10 Patch Notes
The full patch notes for Title Update 10 are as follows:
1. New Additions
Added New Game + Mode
Added IGE Scripting Tools
Added new weapons
Added new vehicles
Added new masks
Added new special outfits
Newsweek subscription offers >
2. Stability & Performance
Fixed Audio issue that was causing an edge-case crash
Fixed a connection error bug when the Host of an in-game party created a private session
Fixed a freeze that would occur upon accessing the in-game party menu
Bug fix for rare stuck black screen upon Fast Travelling in Coop
Bug fix for error screen when moving an asset outside of map limits in IGE
3. Missions
Minor bug fix for Player inventory after some cinematics
4. Audio
Fixed minor audio/VO issues in Dead Living Zombies DLC
Fixed a rare audio crash
5. Gameplay & UI
Fixed minor player 3Cs issue
6. Coop
Bug fix for Coop Client spawning in the air without the parachute perk when the Host uses Air Drop to fast travel
7. Far Cry Arcade
Bug fix for Lost on Mars DLC weapons in Arcade
Minor bug fixes for Far Cry Arcade menu navigation
8. Map Editor
Fixed the Sky Occlusion Setting that did not properly interact with the light level of the map
Removed some folders that were doubled in Lights And Effects
Bug fix for texture issues on destructible generic shapes
Bug fix for Triggers and Actions for Scripting Tool
Bug fix for map budgets carrying over to new created maps
Bug fix for assets changing upon loading the map
Added IGE Lost on Mars DLC assets
Added IGE Dead Living Zombies DLC assets
Minor bug fix on some Hours of Darkness DLC assets
Minor bug fix on decals
9. Far Cry 5 Dead Living Zombies DLC
General bug fix for release
So what do you think? Are you excited to see all the new content added in Far Cry 5? What would you like to see in a future update? Let us know your thoughts in the comments section below.
'Far Cry 5' Title Update 10 Patch Notes: New Game+ Mode Added | Tech & Science