'Far Cry 6' Pagan Min DLC Release Date and Time: Here Is When 'Pagan: Control' Launches
The latest piece of downloadable content for Far Cry 6, entitled Pagan: Control, is just around the corner and will give you the opportunity to play as a classic villain from the franchise.
The first thing you need to know about this add-on is that it is available as a standalone item and can also be redeemed via a season pass. When you buy this overarching package, you will get a trio of DLC instalments (including Pagan: Control), as well as a digital copy of the classic Far Cry 3: Blood Dragon expansion.
The season pass is priced at $39.99 and can be purchased directly from the publisher Ubisoft itself. Alternatively, you can get it from your relevant gaming platform (whether that's the PlayStation Store, the Xbox Marketplace or a PC website like Steam).
As mentioned, the contents of the season pass are split into three, with add-ons launching every other month. United under a "Become the Villain" label, each of the DLCs has you stepping into the shoes of an iconic antagonist from previous Far Cry titles.
In terms of story, the connective tissue here is that these rogues have each been transported to some kind of purgatory after dying in their respective games and must fight for redemption (in a premise that is somewhat comparable to the recent Spider-Man: No Way Home). The first add-on launched back in November and focussed on Far Cry 3's notoriously unhinged Vaas, while the one set to launch in March will let you explore the psyche of religious fanatic Joseph Seed.
However, this month's outing is all about the despotic Pagan Min from Far Cry 4. Troy Baker will once again be reprising his role as the charismatic autocrat, in an experience that draws inspiration from the roguelike craze.
In a nutshell, you will lead Pagan on a quest to quite literally fight himself (thanks to the DLC's afterlife conceit) by collecting items and gradually amassing more power. As per genre tradition, death will result in you losing a lot of your gear, but certain parts of your arsenal will remain.
'Pagan: Control' DLC Release Date and Time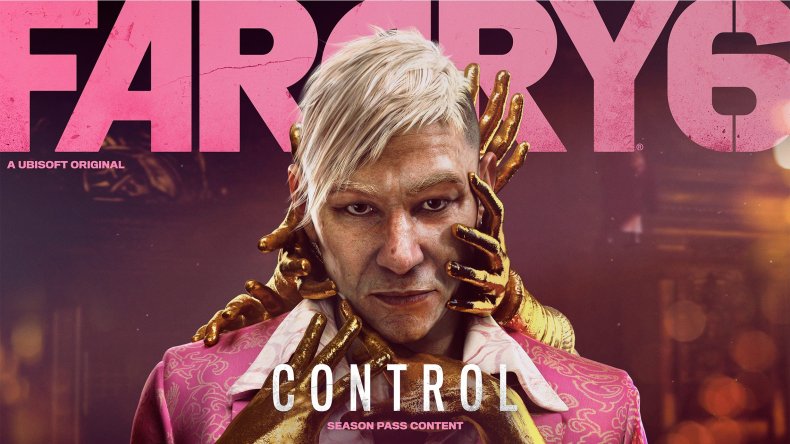 The good news for those who cannot wait to sink their teeth into the Pagan: Control DLC is that it actually launches today (Tuesday, January 11).
In terms of a specific release time, nothing has been confirmed by Ubisoft but most Far Cry 6 updates (including the earlier Vaas DLC) are rolled out at 10 a.m. ET. For those in other time zones, this translates to 7 a.m. PT or 3 p.m. GMT.
Newsweek has contacted Ubisoft to confirm an exact release time but, at the time of writing, there has been no response.
This is not the publisher's only blockbuster for January, as Rainbow Six Extraction is also coming out this month. Not only that, but it was recently announced that the multiplayer shooter will be debuting on Xbox Game Pass at launch.