Is This Far-Left German Politician a New Threat to Merkel?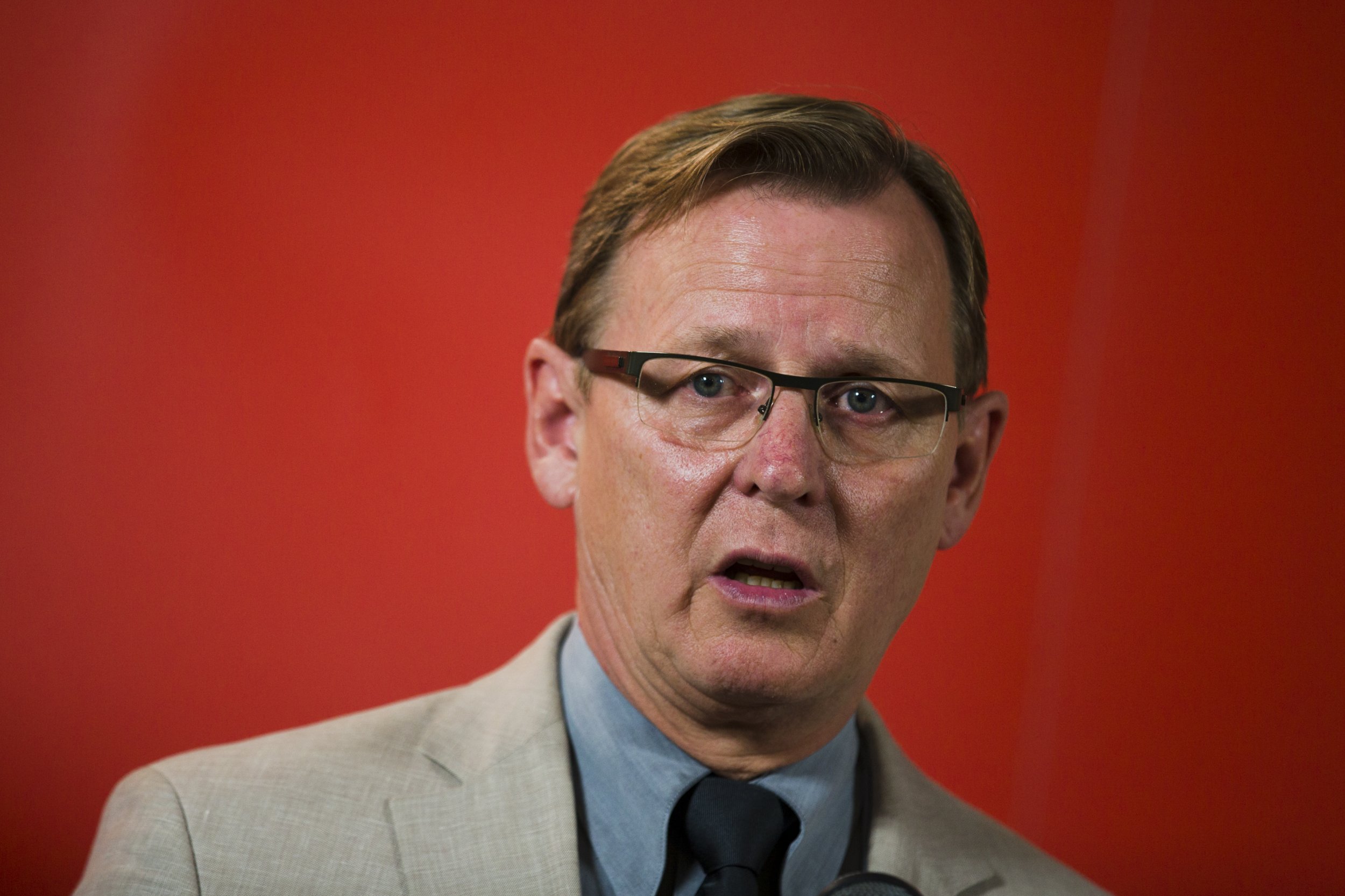 A small eastern state is set to embark on an experiment that could shift the political landscape in Germany, loosening Angela Merkel's grip on power and raising the chances of a future government in Berlin that includes fervent supporters of Russia.
Bodo Ramelow, a no-nonsense trade unionist who grew up in West Germany, is expected to become state premier of Thuringia on Dec. 5 in a coalition of his Left party, the environmentalist Greens and the center-left Social Democrats (SPD), ending 24 years of conservative rule there.
Ramelow would be the first politician from the Left, a pro-Russian, anti-NATO descendant of communist East Germany's ruling party, to run a state government in Germany.
If his experiment succeeds, it could pave the way for the same three-party alliance at the national level in 2017, when Germany next holds a federal election.
Such a coalition, dubbed red-red-green after the colors of the respective parties, could be well positioned to oust Merkel's conservatives, who have ruled for the past nine years.
"A red-red-green three-way coalition is unparalleled in Germany and I think this constellation can become a normality," Ramelow told Reuters. But the 58-year-old, often seen with a pet terrier named Attila, faces an uphill task.
Seen as a moderate in his party, Ramelow is distrusted by the Left's old guard. Bad blood also runs deep with the Social Democrats, who have watched traditional blue-collar supporters defect to the Left, many due to anger with former SPD Chancellor Gerhard Schroeder's shake-up of the German welfare state.
The SPD, who rule with Merkel in a federal "grand coalition" of right and left, is still trying to recover from this row over reforms. The party has trailed Merkel's conservatives by about 15 points in opinion polls for years and is desperate to find coalition options that would end its status as junior partner.
Last year the SPD agreed not to rule out the possibility of a future federal coalition with the Left, previously taboo.
"Thuringia will provide a model of how the three left parties can play together in the backyard," said Thomas Jaeger, politics professor at Cologne University.
"Then you can think about trying it nationally as it's the only realistic way of getting the SPD into power," he said. "It may not work but it's a risk worth taking for the SPD."
BURDEN OF HISTORY
Ramelow faces one big hurdle before he can take power. On Dec. 5 he must be voted in by the state parliament. That may prove difficult because the leftist parties hold only a one-seat majority in the Thuringia assembly.
Ramelow, who has criticized Western sanctions on Russia due to their impact on local firms, is seen by some as the new face of the Left. Born in Lower Saxony, he worked as a trade unionist. Within months of the fall of the Berlin Wall he moved to the East and joined the fast-moving political scene there.
His West German roots may make him more palatable to many voters than comrades with more radical views, but he faces a battle in persuading former Communists from the East to confront their past as apparatchiks in a state that locked up dissidents.
"He has to deal with the idea that the perpetrators are back," said Jaeger.
Ramelow said this would be a priority. His left-wing coalition has promised to do more to help victims of communism. It describes the regime as 'unjust', a disputed term.
"I must think of the people who have been retraumatized by my candidacy. People who sat in Stasi jails, whose lives have been destroyed," Ramelow said.
President Joachim Gauck, a civil rights activist in the East, has said he doubts people can trust the Left. Merkel, who also grew up in the East, has jumped on his party's history with unusually strong words.
"Karl Marx is to be carried into the offices of the state government. That can't be possible," she said in September.