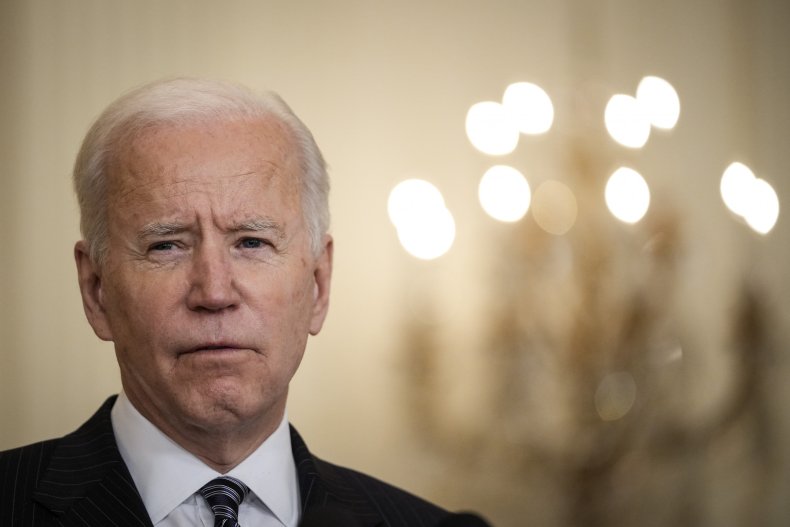 Far-right activist Josh Bernstein believes that President Joe Biden can still be removed from office due to a "Constitutional crisis" brought on by 2020 presidential election "irregularities."
Bernstein, a supporter of former President Donald Trump, said that his efforts to aid post-election vote audits could lead to Biden's removal during an interview posted to YouTube by podcast host Charles Moscowitz last week. Bernstein previously hosted a YouTube show of his own but was banned from the platform last year after calling for Rep. Ilhan Omar (D-Minn.) to be "executed." He has also called for Democrats to be "sterilized."
"For people that think it's all lost and there's nothing going on, I am part of the audit team where I'm at," Bernstein said, in a clip surfaced by Right Wing Watch, a project of the liberal group People for the American Way. "And we are also working with patriots in New Hampshire to get their audits done, and in Pennsylvania and in Georgia and in Michigan... we want a Constitutional crisis."
Bernstein said that the audits would find results similar to those in Antrim County, Michigan, a county often cited in false election fraud claims involving Dominion Voting Systems. An early unofficial tally of votes in the county wrongly showed Biden winning the GOP-dominated area. The mistake, attributed to an error by a Republican county clerk rather than Dominion machines, was quickly noticed and corrected, having no bearing on the result.
A hand recount completed by Antrim County in December confirmed a win for Trump that differed from the official machine count by only 12 out of 15,718 total votes cast. The former president lost Michigan by more than 154,000 votes. There is no credible evidence of any massive voter fraud that could have changed the outcome of the election in any state.
Regardless, Bernstein insisted that results similar to Antrim County could lead to a scenario where Biden would be removed due to irregularities. Biden's removal could be achieved, he claimed, by employing a little-known legal maneuver known as a writ of quo warranto, which translates from the Latin as "by what warrant" and is used to challenge the validity of a public official's right to hold office.
"When information comes out to be just like Antrim County, we can then catapult that into another state and then another state and another state and another state," said Bernstein. "The next thing you know, we are now in a Constitutional crisis. What happens then? Well, you know, you could do a writ of quo warranto, which actually allows people to be removed post-election if there has been, you know, 'irregularities,' we'll call it."
"I don't want to get too far into the weeds because I don't want to get you in trouble," Bernstein added. "But just understand that come hell or high water, we are going to get these audits done. We will never quit, we will never comply, we will never stop."
Newsweek reached out to the White House for comment.