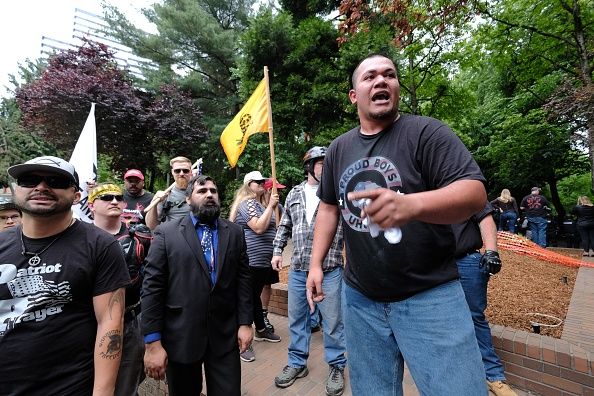 A man from Portland, Oregon said he was punched by a member of a far-right group with ties to a Republican Senate candidate.
Tim Ledwith, 34, told The Guardian that he was punched by Proud Boys member Tusitala "Tiny" Toese. The Proud Boys is a "western chauvinist" group who spread "anti-political correctness" and an "anti-white guilt" agenda. It was founded by co-founder of Vice Media, Gavin McInnes, according to the Southern Poverty Law Center.
Toese is also a member of the Patriot Prayer group, which is led by Republican candidate Joey Gibson, who is running in the U.S Senate primary in Washington. The group is known for its violent rallies. Ledwith told the publication around 2:30 p.m. on Friday, June 8 in a shopping center in Portland and claimed that Toese and another unidentified man were yelling at random people from a truck.
"They were yelling: 'Support Trump, build the wall,'" Ledwith told The Guardian.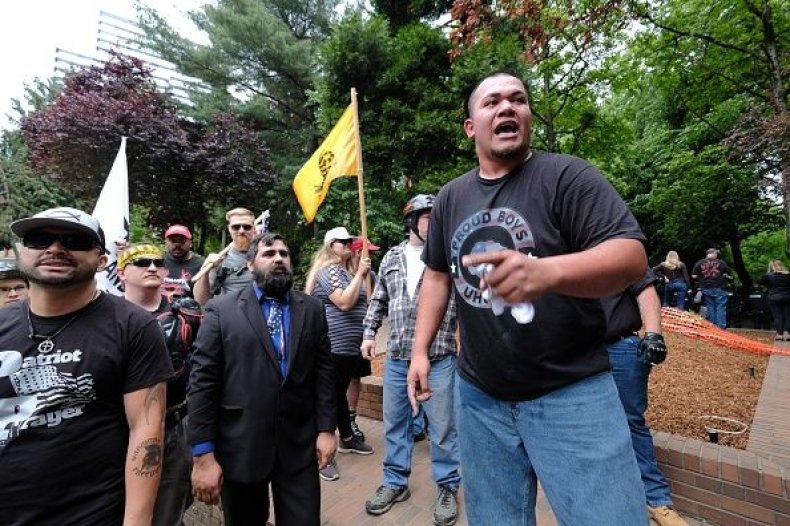 Ledwith said he cursed at the men, which led to Toese and Donovan Flippo, a Patriots Prayer and Proud Boys supporter, to get out of the car and confront Ledwith.
"They were calling me a faggot and slinging epithets at me," Ledwith said. "Tiny walked over calmly and … punched me in the face. I'm like, half his size. I was not a threat to them. I'm 34 years old, not 17. This is not a thing that happens to me day-to-day."
The punch left a gash on his lip, and Ledwith was taken to the hospital and received stitches, he told The Guardian. A spokesman for the Portland Police Bureau confirmed to the publication that Ledwith reported the attack and that is currently under investigation.
The Proud Boys and the Patriots Prayer groups were both in Portland, Oregon for a rally on Sunday, June 3, according to the SPLC. The event was advertised as "Tiny's last march before he leaves to go back to his island" of American Samoa," but it was unclear what the rally was exactly for, SPLC wrote. Last year, Toese was arrested and charged with harassment, assault and disorderly conduct for fighting at a protest in August 2017, the Willamette Week reported.
In response to the attack, Gibson told The Guardian in a text message that there were only rumors about it on social media and said he would "ask around" about the attack.
"I didn't pay attention because I hear stuff like that all the time," he wrote to the publication.
Newsweek has reached out to Gibson for comment but did not hear back in time for publication.