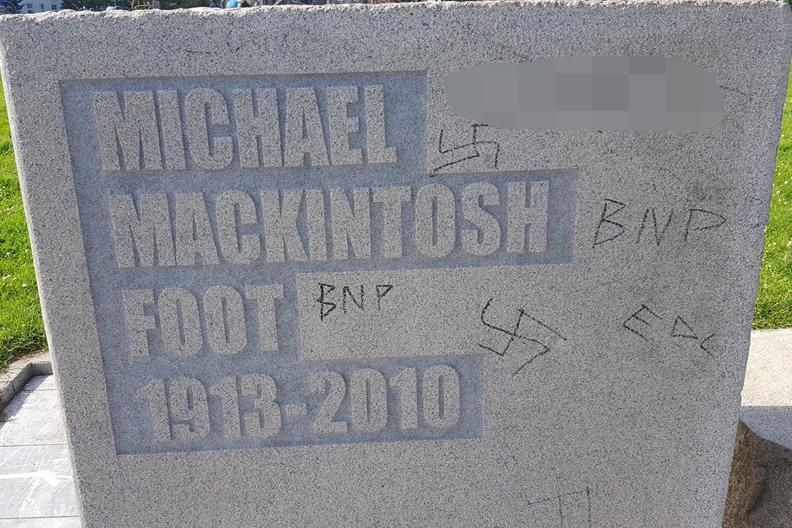 Vandals have defaced a memorial to the former Labour leader Michael Foot with swastika signs and offensive language, in Plymouth, Devon. The initials of the British National Party (BNP) and English Defence League (EDL), two prominent far-right groups, were also written on the memorial stone, which was funded by public donations and unveiled in July in the city's Freedom Field Park, opposite the home of the former parliamentarian. Foot was an MP for 40 years and leader of the Labour party from 1980 to 1983.
"Michael stood up against fascism and to see these symbols of hate on his memorial is sickening," said Luke Pollard, who stood as a Labour candidate for Plymouth in the 2015 general election. He posted a photo of the defaced memorial on Facebook, writing:
"I was proud to be one of the organizers of the appeal for a lasting memorial to Michael and I know from the tweets, messages and conversations how important it is to so many people in Plymouth. We live in toxic times which means it is even more important we stand up for what is right. Taking a stand against hate is in all of us. Nazi graffiti is unacceptable wherever it may be."
Amid the rising tide of extremism in the aftermath of Britain's decision to leave the EU, members of the public expressed concerns. Some took to Twitter to show their outrage at the act of vandalism:
Alastair Campbell, who was chief strategist for former prime minister Tony Blair, called the actions "disgusting beyond belief."
"This is a disgusting act of vandalism and we are fully aware of how shocking this is to the community, and of course to Mr Foot's family and friends," said detective constable Rob Souness, from the Plymouth diversity team of Devon and Cornwall Police.
"Thankfully the graffiti has been removed but we are still investigating this matter."
Johnny Mercer MP for Plymouth Moor View denounced the actions of those who defaced the memorial: "Actions like the ones taken by a small and moronic minority in Plymouth to deface the Michael Foot memorial are a complete disgrace. They are not representative of our city or our country and we should make every effort to make it clear to the mindless few who perpetuate these views that it is unacceptable and it will not be tolerated on any level," he said in a statement issued to Newsweek. "In times like this we really must focus on what brings us together as communities rather than any differences. The outpouring of public support for the family of Michael Foot and the willingness of people to decry this act just goes to emphasise what a tiny minority it is of people who are willing to carry out this sort of action.
"I must also recognise the work of Plymouth City Council who responded quickly and effectively to identify the vandalism and have the memorial cleaned. It is not glamorous work, but it is a question of civic pride and they deserve to be noted."
This article has been updated to include a comment from John Mercer MP.