Far-Right Group Patriot Prayer and Leader Joey Gibson Fail in Bid to Dismiss Lawsuit Over Alleged Riot
An Oregon judge has denied a motion by far-right leader Joey Gibson to dismiss the $1 million lawsuit brought by a bar where he allegedly started a violent confrontation.
Gibson and five other men associated with his activist group Patriot Prayer were sued by the owners of Cider Riot, a drinking establishment in Portland, Oregon. Gibson and the men had allegedly engaged in a violent confrontation with political opponents outside the bar after May Day demonstrations on May 1. The lawsuit, which was launched two days after the incident, alleges that Gibson and his group caused the conflict. It seeks damages for negligence, trespassing and causing emotional distress to employees and patrons.
On July 22, Gibson's attorney James Buchal filed a motion for dismissal, claiming that Gibson was only using his "free speech," and Cider Riot's attorneys had filed a "SLAPP" lawsuit, short for Strategic Lawsuit Against Public Participation—a type of lawsuit purely intended to silence critics using the court system. Multnomah County Judge Andrew Lavin denied the motion, saying evidence had been presented that showed Gibson's actions went beyond free speech.
"Would a reasonable [person] conclude that certain individuals outside Cider Riot on May 1st engaged in conduct that went beyond constitutionally protected speech or demonstration and therefore became tortious and/or criminal?" asked Lavin at the hearing. "The answer to that is yes."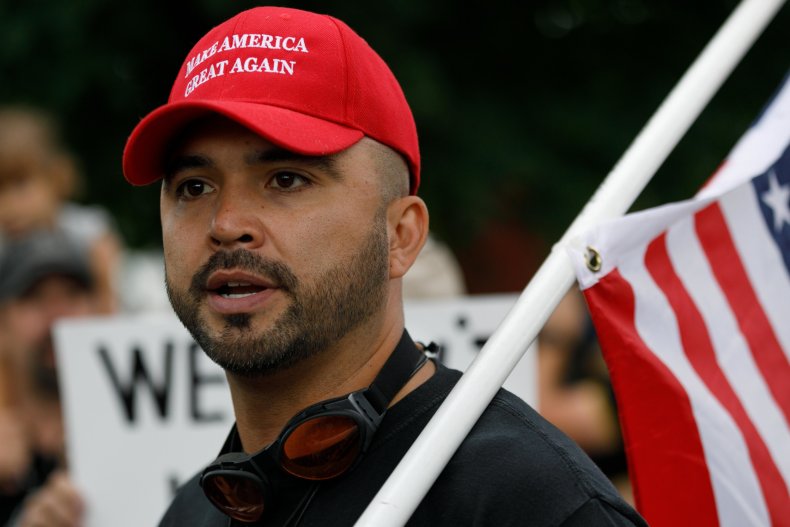 Lavin stopped short of suggesting that Gibson or Patriot Prayer were criminally responsible for the incident, saying that his ruling is "not a comment on the merits of either side's case."
Numerous videos were taken of the incident and some were later posted online, but the judge says that evidence does not clearly show what happened. The outcome of the trial will likely depend on arguments attorneys make based on interpretations of the evidence, including the videos.
"No single piece of video... tells the whole story of what happened outside of Cider Riot on May 1," said Lavin. "And taken together the evidence as a whole paints a picture that is somewhat ambiguous in certain ways, and subject to multiple interpretations, each of which is arguably reasonable."
Patriot Prayer was formed in 2016 and claims to defend the interests of American Christians. The group has been called "violent extremists" by The Southern Poverty Law Center. Gibson has specifically denounced white nationalist and neo-Nazi groups, but events organized by Patriot Prayer have been known to attract members of such groups.
"What the community saw from Mr. Gibson and his crew on May 1st went beyond the right to freedom of speech," said Cider Riot attorney Juan Chavez to The Portland Mercury. "That right does not allow anyone to engage in conduct that results in harassment, violence, or menacing without consequence."
In October, reports suggested that Gibson and Patriot Prayer were using an apparently non-existent "church" to funnel donations into legal funds. The group had earlier been banned from several online crowdfunding companies and payment processing services.
Gibson previously launched an unsuccessful attempt to move the trial away from the Portland area, claiming that a left-wing bias in the area would result in an unfair trial. Gibson and several co-defendants also face felony riot charges related to the incident. The trial date of the lawsuit is yet to be announced.