A Holocaust Memorial Day commemoration at Auschwitz, in Poland, was joined by a group of far-right anti-Semites staging a protest.
The protesters from the nationalist Polish Independence Movement entered the former Nazi concentration camp on Sunday and told reporters they were there to question the official history that the Nazis killed millions of Jews during World War II. They did not clash or intermingle with people attending a commemoration ceremony inside the camp.
Poland has been having an intense national debate over the past year about how to discuss the role Polish people played in Nazi atrocities during World War II. Historians note that the Nazis killed around 3 million Polish Jews and that thousands of Poles were complicit in these deaths. But the Polish government recently attempted to pass a law that would criminalize calling concentration camps like Auschwitz "Polish death camps."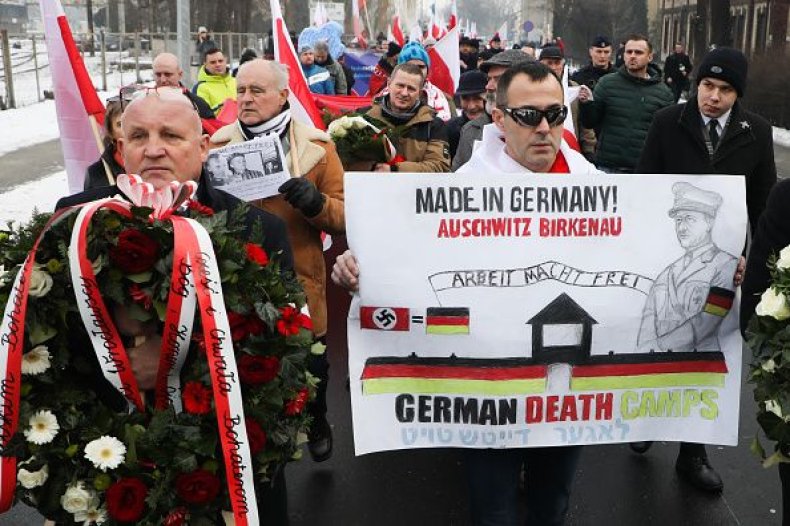 Poland's allies in the European Union and Israel heavily criticized the law, straining their relationship with a European Union member that has moved farther to the right in recent years. Widespread outrage over what was viewed as a revision of historical facts and the curbing of free speech eventually caused the government to backtrack. In June, Poland's prime minister moved to decriminalize the law in response to the backlash.
Nevertheless, the government's position on the matter appears to have emboldened far-right groups like the Polish Independence Movement who support the false narrative that Poles were not at all to blame for the death of Jews in Poland during the Holocaust. These nationalists argue that more emphasis should be placed on the number of Polish people who died during the war. Around 1.9 million Poles died during World War II in addition to the 3 million Polish Jews killed.
"It's time to fight against Jewry and free Poland from them," the group's leader, Piotr Rybak, was quoted as saying by the Polish press on Holocaust Memorial Day. "The Jewish nation and Israel is doing everything to change the history of the Polish nation."
Police are now looking into the demonstration and have estimated that there were between 70 to 100 participants.
Poland's far-right has become increasingly visible since the conservative Law and Justice Party took over in 2015. In 2017, neo-Nazi and white-nationalist groups marched with demonstrators celebrating Polish independence.
On Monday, the United Nations Secretary General Antonio Guterres warned that anti-Semitism is on the rise around the world, and noted that anti-Semitic incidents had increased by around 57 percent in 2017.