Far-Right Leader Apparently Accepting Donations From Unofficial 'Church'
Joey Gibson, the leader of far-right activist group Patriot Prayer, appears to use an untraceable church to fund his legal defense, according to a report from The Oregonian.
Gibson began suggesting followers donate to the "Church for Faith and Freedom" on social media and the Patriot Prayer website in September. Gibson claimed that political opponents unfairly blocked other methods of money reaching the group. In appeals for donation, he explained that the church was "helping us Christians by accepting donations on our behalf in order to legally fight back against this discrimination."
Patriot Prayer has been described as a far-right or alt-right group centered in the Portland, Oregon area. The Southern Poverty Law Center has described the group as "violent extremists" and "trolls" who attempt to incite violence from far-left activists. While Gibson has specifically denounced white nationalist and neo-Nazi groups, events organized by Patriot Prayer have been known attract members of such groups. Gibson's group, which was formed in 2016, instead portrays itself as defending the interests of American Christians.
Patriot Prayer had previously been banned from several crowdfunding and payment processing sites, including GoFundMe, Go Get Funding, GivingFuel and PayPal. At least one of the companies banned the group for "advocating and celebrating violence," according to Willamette Week.
Gibson is currently being sued for $1 million and facing felony riot charges after a May 1 incident where he is alleged to have attacked political opponents at a Portland bar. Gibson resides in Vancouver, Washington, which is considered a suburb of Portland.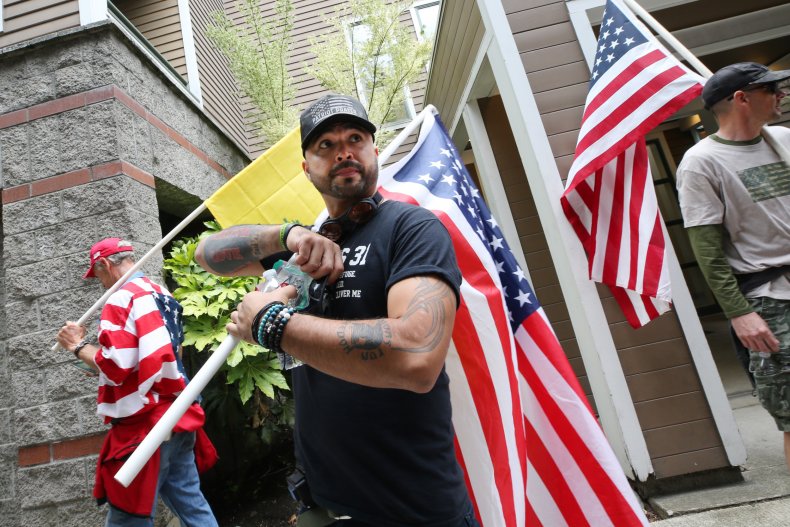 According to The Oregonian, there appears to be no record of the Church for Faith and Freedom officially existing in the region, with officials who oversee churches and nonprofits in Oregon, California and Washington state all failing to find any trace of the church. When the paper asked Gibson about the church, he responded with "no comment."
The church's website invites donors to support "followers of Christ who Preach the Word of God on the Streets." There are several links on the site soliciting donations of various amounts for "preachers" in four cities in the west coast states to "Help support preachers bringing Jesus to the streets." The church is listed as open from 9 a.m. to 5 p.m. on weekdays, but closed Saturday and Sunday. No address or contact information is given.
Videos on the Patriot Prayer website don't appear to be largely focused on preaching or theology. They instead paint the group as anti-government and anti-establishment, while also supporting President Donald Trump, who Gibson appears to see as a victim of an undefined "establishment."
"Seeing the way he's been attacked, it's unbelievable. It's unbelievable what they're putting him through," Gibson says in a recent video posted on the group's website. "The establishment is corrupt, and the establishment hates Trump."
Although the Pacific Northwest is broadly not seen as a hotbed of far-right politics, Gibson's views are not completely without support in the region. In February of this year, Willamette Week reported that a Portland police lieutenant had been consulting with and passing on information regarding political opponents to Gibson, and giving the group tips on how to avoid arrest.