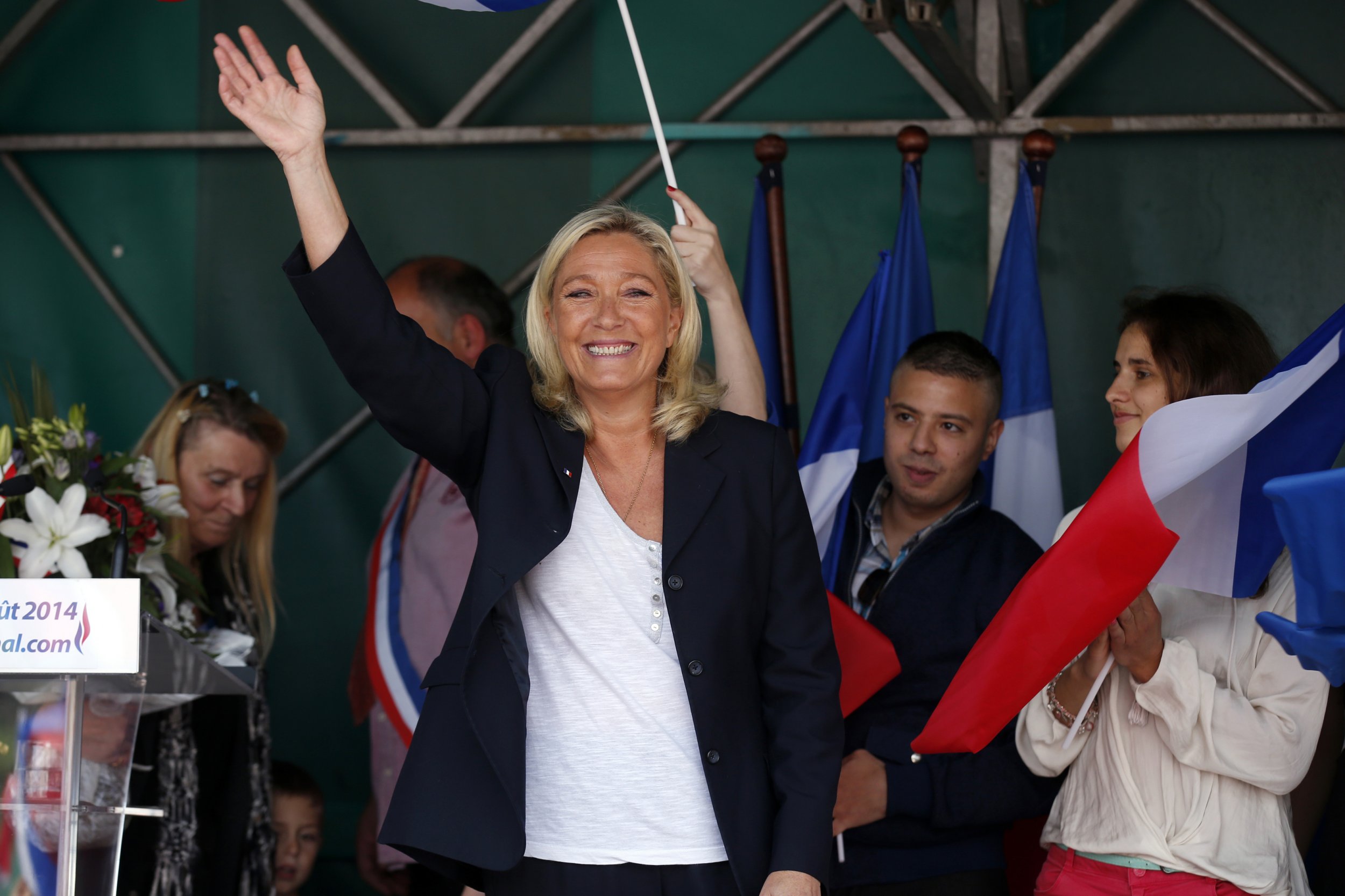 Marine Le Pen, the leader of France's nationalist and socially conservative Le Front National, is twice as popular as president François Hollande among the French electorate, according to a recent poll.
Only 14% of people surveyed by Ifop, a leading market research company, said that they would vote for Hollande if the presidential elections were held this week, compared to 29% for Le Pen. 26% of respondents said they would vote for former president Nicolas Sarkozy if he were to be selected as the candidate for the UMP (Union for a Popular Movement) party. Sarkozy announced his intention to challenge Hollande for the presidency in the 2017 election in September.
Marine Le Pen and her party have continued to surge in popularity, amidst growing dissatisfaction with mainstream politics. Yesterday's results constitute an increase in support of 10 points since 2012. In May, Le Front National came out on top in the country's European election, with 25 per cent of the vote.
The Ifop poll places le Pen slightly ahead of her nearest rival, Alain Juppé, of the centre-right UMP party. 28% said that they would vote for Juppé, if he, rather than Sarkozy, were the UMP candidate, compared to Le Pen's 30%. Juppé's popularity marks a surprising comeback for the former prime minister who was convicted of corruption in 2004.
The results show that, under current popularity ratings, Hollande would be unable to even qualify for the second round of presidential elections, as he comes in behind fellow Socialist Party presidential hopefuls Arnaud Montebourg and Manuel Valls, France's prime minister.
Hollande's popularity has dropped three points from the last Ifop poll, which placed him at 17% in September. His ratings have consistently fallen since he took office in May 2012, as unemployment remains stubbornly high and the economy continues to flounder.
Hollande's ratings represent an all-time low for a sitting president since Ifop began undertaking presidential popularity polling in 1958. In December 1991, socialist president François Mitterrand sank to a low of 22 percent, while Hollande's conservative predecessor Nicolas Sarkozy's popularity hit a low of 28 percent in April 2011 in Ifop polls.
Fréderic Dabi, the deputy director general of Ifop said in a radio interview yesterday: "It is absolutely unprecedented for a sitting president to be a minority in his own camp. We see that less than half of all Socialist voters would vote for him in the next presidential election."
He added that the survey, which was conducted among a representative sample of 1,382 people registered on French electoral lists, marked "a real turn to the right" in French politics, and highlighted the electoral weakness of the Socialist government.
Dr Emmanuel Martin, an economist and director of the Institute for Economic Studies Europe, a leading think-tank based in Paris, attributes the rise of Le Pen and her party to "a range of converging causes", stemming from France's economic crisis and popular dissatisfaction with mainstream parties.
"Marine Le Pen is attracting people from all sides of the political spectrum - from right and left. What her party offers is the perfect synthesis of all their protective urges."
"Le Front National is both nationalist and socialist. It pledges a bigger welfare state - for the French only, while promising to leave Europe and undertake a policy of 'de-globalisation'. It's simultaneously protectionist and paternalistic - offering exactly the kind of policies people look for in times of crisis."
Martin also highlighted the decline of the two main parties in France, and the personal failures of François Hollande, who, he said "has been unable to implement his promised solutions [to the economic crisis] because of the sheer amount of debt France is in."
"His governments have killed the economy by raising income taxes on high earners to the absurd rate of 75%, unemployment has risen to 3.3 million and government spending makes up 57% of GDP."
He added that the opposition UMP is facing "a crisis of leadership" and internal struggles, after corruption scandals and alleged vote rigging by former leader Jean François Copé. "People don't believe in them anymore," he said.
On top of this, added Martin: "Le Pen has done an excellent job of removing the stigma attached to her party. She's successfully shaken off the image of her father, has tried to remove the racist elements from her party... and now repeatedly invokes popular republican values. She's even managed to attract large numbers of younger people, often on university campuses."
"She will make it through to the second round of the Presidential elections, without a doubt," Martin concluded.