Far-Right Party That Trump Retweeted Just Declared War
Britain First, the far-right political party once retweeted by President Donald Trump, emailed a "declaration of war" to its supporters in a tirade against immigration. The extremist group also said it has "hate" for "politicians" and "lying journalists."
Trump propelled Britain First to international notoriety when in November 2017 he retweeted anti-Muslim messages by its deputy leader Jayda Fransen. The president faced a backlash of criticism and Twitter banned Britain First from its platform, as did Facebook a few months later.
In their latest dispatch to supporters asking for financial help, the group says: "Britain First is no ordinary political movement: We are a declaration of war against the corrupt, rotten establishment that is dismantling our beloved, sacred nation. We hate politicians, lying journalists and Islamist extremists."
British Labour MP Jo Cox was murdered in 2016 by right-wing extremist Thomas Mair who yelled "Britain First" as he shot and stabbed the mother of two in a broad daylight attack on the street. Mair was jailed for life. A separate plot by two neo-Nazis to kill another Labour MP was foiled and both men jailed.
Get your unlimited Newsweek trial >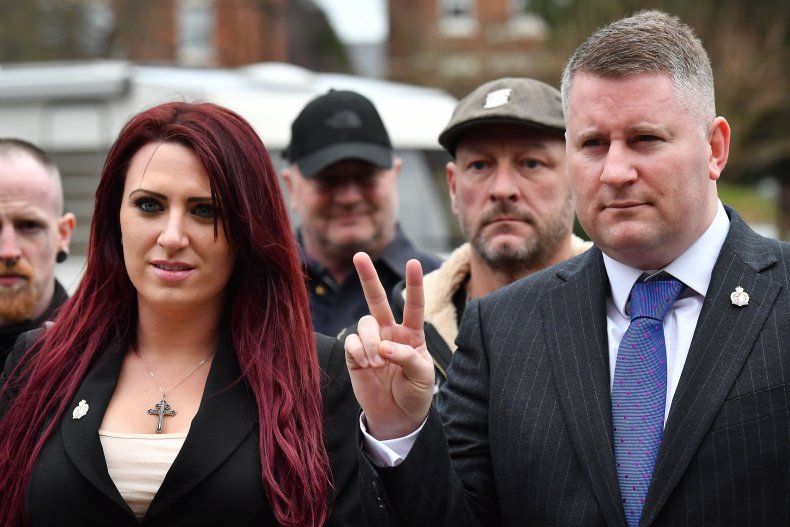 "This is exactly why we said we hate lying journalists," Britain First told Newsweek by email when asked for comment.
Recently, Trump echoed the political rhetoric used by far-right groups such as Britain First when he claimed immigration is "changing the culture" of Europe and that it is a "very negative thing."
"I know it is politically not necessarily correct to say that, but I will say it and I will say it loud," Trump said at a press conference with Prime Minister Theresa May during his visit to Britain.
Get your unlimited Newsweek trial >
The latest Britain First email says: "Millions of migrants are pouring into Europe and changing the makeup of our towns and cities.… British culture, history and traditions are suppressed and labeled 'racist' while local councils spend hundreds of millions of pounds celebrating Ramadan and Eid…. We love the British people and want to see our country preserved and passed down to future generations."
Britain First uses the Trump incident as a propaganda tool. On its website, Britain First calls on supporters to message Trump encouraging him to intervene with Twitter and Facebook to overturn the group's ban from the platforms.
Fransen and Paul Golding, Britain First's leader, were jailed for religiously aggravated harassment in March 2018. In one of the incidents that led to their convictions, Fransen banged on the windows of a takeaway and screamed "pedophile" and "foreigner" at those inside, including two children, reported the Guardian.
In November 2016, Fransen was found guilty of religiously aggravated harassment after making comments to a stranger during a "Christian patrol" in Luton, England, in January that year.
Fransen admitted telling Sumayyah Sharpe that Muslim men force women to cover up to avoid being raped "because they cannot control their sexual urges," adding "that's why they are coming into my country raping women across the continent." Sharpe was with her four young children at the time.
This article was updated to include a comment from Britain First.
Far-Right Party That Trump Retweeted Just Declared War | World