Antifa and Patriot Prayer Clash With Batons and Pepper Spray on the Streets of Portland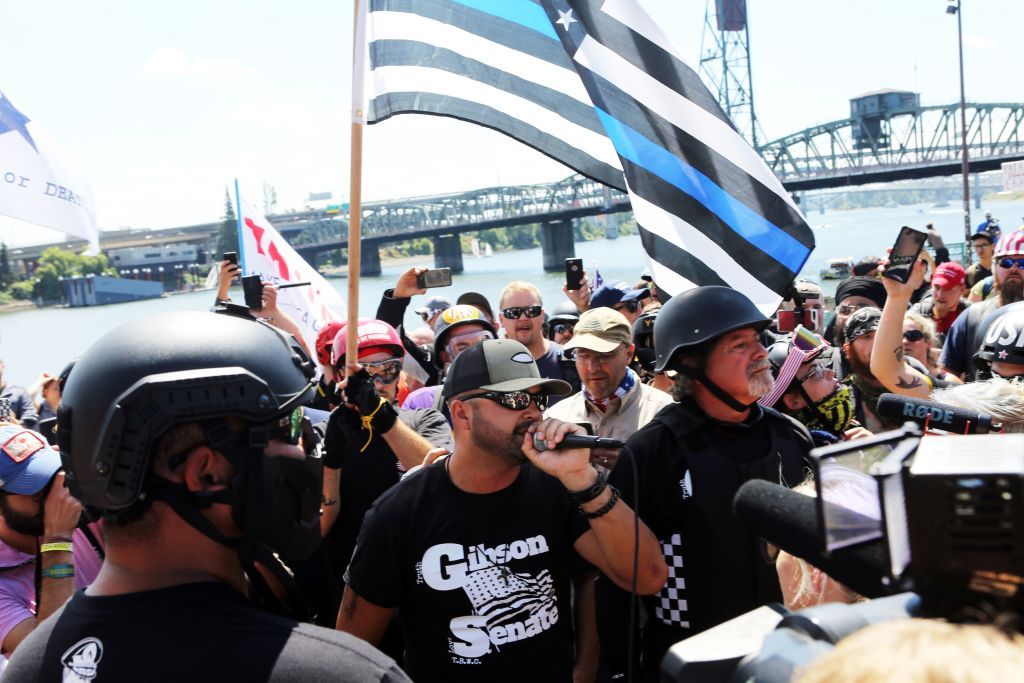 Right-wing and left wing protesters brawled on the streets of Portland Saturday night during a "law and order" march by the conservative Patriot Prayer group.
Patriot Prayer members fought black clad members of Antifa on Southwest Washington Street, reported the Oregonian, using batons, bear spray and fists to attack each other before being dispersed by police in riot gear using pepper balls.
Videos posted on social media appear to show members of rival groups beating each other in skirmishes in the city, with police clearing the streets after 7.30pm local time to break down the clashes, reported the Portland Tribune.
In a statement released Saturday night, Portland Police said that officers observed "people in possession of hard-knuckled gloves, firearms, batons and knives. Officers also observed people use pepper spray."
Four people were treated for injuries on the scene by emergency medics during the protests, but police were not aware of anyone being hospitalised as a result of the clashes, according to the statement.
Police said they used rubber bullet to disperse protesters, and that no arrests were made.
The right-wing groups had launched the "law and order" protest following last Saturday's demonstration against police brutality by left-wing activists, where an elderly man's car was battered by protesters as he attempted to drive through downtown Portland.
Patriot Prayer leader Joey Gibson, a former Republican senate candidate, has accused police and Portland's mayor of failing to control last week's protest.
According to reports, members of the Proud Boys far-right fraternal organisation took part in the last night's protest.
On Friday, members of the group were filmed beating protesters after an event at the Republican Party offices in New York. The NYPD said three people had been arrested following the incident.
Saturday's are the latest in a series of violent confrontations in recent months between far-right and left-wing groups in cities on the U.S. west coast.